GOP sheriff receives 'threat' on his life after asking Obama and Bush to help end the shutdown
After an Ohio sheriff posted a letter to former presidents in an appeal to end the government shutdown, threats against his life followed, but he won't back down.
Butler County Sheriff, Richard K. Jones wrote letters to former presidents George W. Bush and Barack Obama, asking their help to bring the country back together.
Soon after the Butler County Sheriff's Office published the letter on their Facebook page with a caption, "Action needs to be taken now."
Many responses followed the posting of the letter online, but when Sheriff Jones received a death threat, he decided to make an announcement in a Facebook Live video on Thursday.
In the video, Sheriff Jones explained his reasoning behind the letters, and also to let everyone know that a threat against his life will not stop him from doing what he thought is right.
At the beginning of the video, the sheriff addressed his reason for sending letters to former presidents Bush and Obama stating that they are "well respected" and represent both parties. Moving on to the threat Sheriff Jones received against his life, he said:
"I've received a threat. Is it a viable threat? You really shouldn't threaten the police. But, if you are listening to me, I want you to be aware of that I don't take threats very kindly, and if you think that I am scared or it scares me or intimidates me, you are badly mistaken. It does not. I've been doing this for a long time."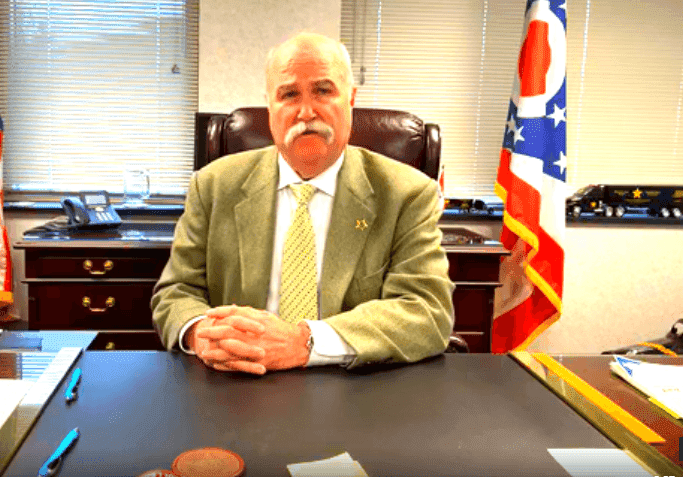 The sheriff wanted the person who threatened him to be aware that the matter is under investigation, and that finding the person responsible is a priority, and
added
:
"If you think threatening my life, making threats on my life is going to stop me from speaking out, you are severely wrong."
Jones finished off his statement in sharing his hopes that Americans can get the country back together and said:
" I'm just a sheriff in a little place in Ohio trying to make sense of this. I talk to people on both sides of this that are worn out and tired and worried about their country. "
As the partial government shutdown steadily heads for day 35, negotiations continue to fail as key members President Trump, Senate Majority Leader Mitch McConnell, Senate Minority Leader Chuch Schumer, and White House Speaker Nancy Pelosi can't agree on anything. 
Until they talk matters out, the shutdown will not come to an end. Judging by their interactions leading up to, and during the partial shutdown, things will have to change, or it will only get worse.
During a televised discussion between President Trump, Pelosi and Schumer on December 11, matters got heated, and Trump commented that he'd be proud to shut down the government. Ten days later, it is precisely what he did.
On January 2, 2019, Pelosi, Schumer, McConnell, joined by the House Minority Leader Kevin McCarthy, returned to the White House for another meeting regarding the partial shutdown.
No points of discussion could be agreed upon, and efforts to end the shutdown failed. Shortly after, Pelosi officially became White House Speaker and tried passing bills to re-open government temporarily.
However her efforts were in vain as Pelosi couldn't get the votes to pass the Senate, and McConnell refused to give them time on the Senate floor.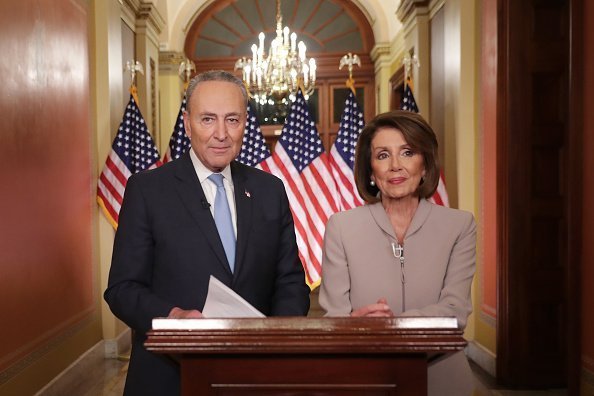 On January 8 both sides addressed the nation, stating their case as Pelosi and Schumer told the country from Capitol Hill that they won't approve the wall, while Trump spoke of the border crisis and the need for a border wall. However, Trump walked out on a meeting the next day after Pelosi told President Trump she would never let him build his wall.
Matters appear to become personal, as Pelosi asked Trump on January 16 not to give a State of the Union address while the shutdown is in effect. Trump's response had Pelosi's travel plans to Afghanistan publicized after which he denied her the use of military aircraft and told her to fly commercial instead.
On January 23, the issue of the State of the Union address resurfaced as Trump wrote a letter where he rejected Pelosi's requests to delay the address until the government reopened. Pelosi responded with a letter that stated:
"I am writing to inform you that the House of Representatives will not consider a concurrent resolution authorizing the President's State of the Union address in the House Chamber until the government has opened."
While the powers that be are unable to resolve critical issues, causing the shutdown to continue, others are doing their part in helping the 800,000 federal employees affected.
On a recent Facebook post, Jon Bon Jovi's non-profit restaurant, JBJ Soul Kitchen in Red Bank, New Jersey, invited furloughed employees and their family's to free meals. Other restaurants across various states are doing the same, and opening their doors to their fellow suffering Americans.