10-year-old boy uses savings to buy a bike for his favorite gas station attendant
A ten-year-old South African boy has gone viral after his mother shared the story of how he used his holiday savings to buy a bike for his friend, a gas station attendant.
Vaughn and his mom, who goes by the name Mandy Moo Fish on Facebook, regularly haul bikes back and forth Giba Gorge in South Africa, and on one of such trips, they stopped over at a gas station in Gillitts, west of Durban.
That was two months ago, and Vaughn was not feeling well, but he would make an unexpected friend.
"About 2 months ago we met a wonderful man named Tony at the Caltex by the fire station," Mandy narrated. "Vaughn was very sick, and within moments the attendant had him laughing and smiling."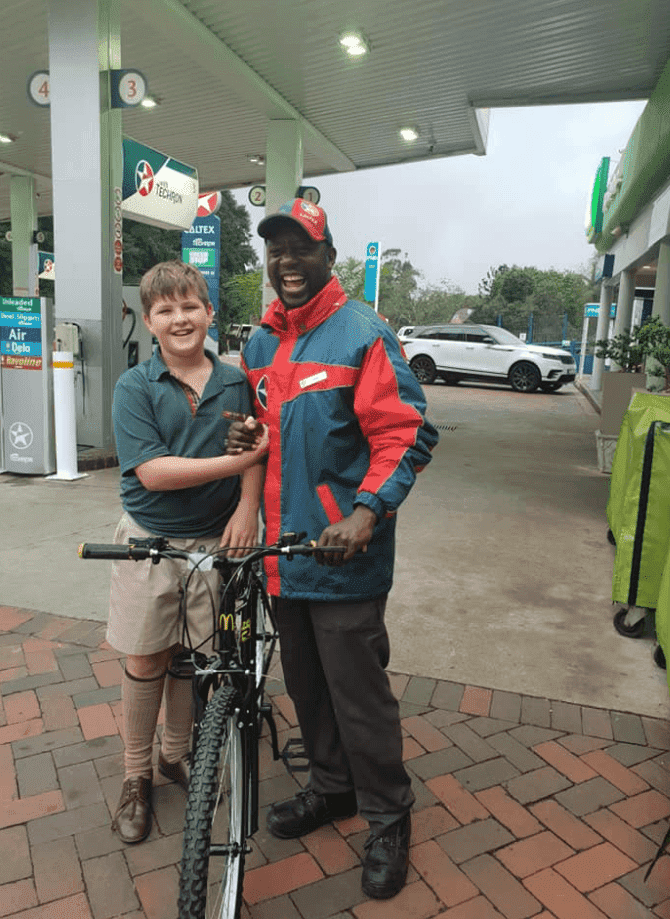 The mom further revealed that Vaughn and Tony's friendship continued to grow:
"Since then we regularly visit the station and Vaughn eagerly looks out for his new friend. Tony always takes the time to talk to Vaughn about the various bikes we haul to Giba and back and listens so obligingly to him as he chatters away."
On one of the days when Mandy and Vaughn got to chat with Tony, the station employee asked them to look out for a reasonably-priced bike for him. Little did Tony know that Vaughn would go the extra mile with his request.
Wow! Awesome kiddo and to the petrol attendant! His work didn't go unnoticed, and this young man show his appreciation for it! Great story, and a happy and United ending ❤

— Frakestein 12 (@12Frakestein) January 28, 2019
Mandy explained that her son had been saving up for months for a holiday, but one night, he had a shocking question for his mom:
"He came to me and asked if I really wanted a holiday and upon asking why he said he would rather put his savings towards helping Tony get his bike. And so today, we cracked open the piggy bank and took all the silvers to Game where he bought his friend a bicycle."
This boy used his savings to buy bicycle for his favourite petrol attendant. This is the new South Africa we want ... love, respect, no racial divisions. We are 1, am proud of you young man ..... pic.twitter.com/C2bAeSgaM0

— Katlego Maseng 🧠 (@KatlegoMaseng1) January 27, 2019
Mandy said Tony was "stunned" as he accepted his gift from the Grade 5 pupil. The attendant also told TimesLIVE he was "really touched by this nice gesture."
"Above all things, I regard kindness of heart, and over the years I've tried to live like that and teach my child to do the same," Mandy wrote. "Our children make us proud on so many occasions, but today my heart and his is so full of joy."
The Facebook post, which Mandy shared on January 24, has so far generated 10,000 reactions with over 2,000 shares.
Like Vaughn, Arman Shah is another young boy who went viral last month for his impressive act of kindness. A fifth-grader at Avalon Elementary School in Orlando, Florida, Arman used the money earned from working in his uncle's store to pay off the lunch debt of other students.
Arman's generous act made it to the news and earned him recognition from Nike who surprised him with custom-made shoes.
No doubt, the world would be a better place with more Vaughns and Armans.