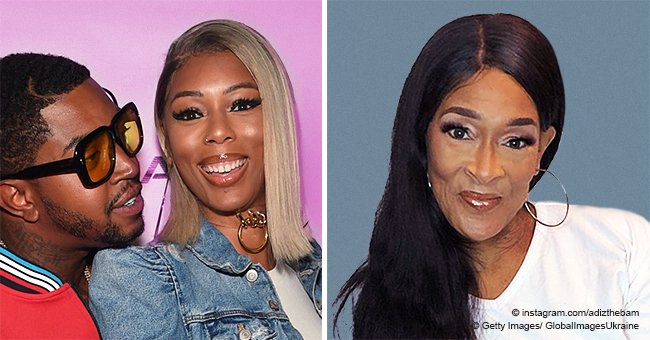 Lil Scrappy's wife Bambi Benson sparks praise after sharing photo of her youthful-looking mom

Bambi Benson shared an adorable photo of her mother, a stylist named Cee Cee, on Instagram and her fans are loving it.
Benson wrote in the caption that her mother is "hella cute," and tagged her mother's Instagram account, @iammsceecee, for good measure.
Since the photo was first shared on the social media platform, more than 15,000 of Benson's friends "liked" it, and many complimented her mother in the comment section.
One user, known only as Lemon Squeeze, said she thought Cee cee was Sharee from "The Real Housewives of Atlanta," while another user added:
"Moms are the best! I wish I had still mine."
Benson often shares photos of her mother on Instagram. In fact, she was accused of lying about her mother's age earlier this month.
Fans simply couldn't believe that Cee Cee looked so good and many questioned how old Benson's mother really was. One fan remarked:
"Omg, your mama... [Bambi] stop telling stories, this can't be yo mama. LOL!! Thought she was Sharee from housewives of ATL. That's where you get it from. Don't know her…but LOVE HER."
Another said that "Black really don't crack," and said Benson also stole her mother's whole face. She added: "That's where you get it from!"
Benson and her husband Lil Scrappy are close to both their mothers, with Lil Scrappy's mother sharing a sweet photo with her grandchild back in 2018.
In another post, Benson said her their son is growing up so fast, and "Momma Dee" said in the comments that her "family is simply beautiful."
The 32-year-old Benson is a rapper and model best-known for starring in the VH1 hit reality series "Love & Hip Hop: Atlanta."
Before her claim to fame, she played basketball during junior high and high school. Back then, Benson still wanted to pursue a career as a journalist.
She also appeared in several Hip Hop music videos and worked with A-lister starts like Lil Wayne, 50 Cent and Jamie Foxx.
Benson married her Love & Hip Hop: Atlanta co-star, Lil Scrappy, two years and the couple welcomed their first child in 2018.
Please fill in your e-mail so we can share with you our top stories!