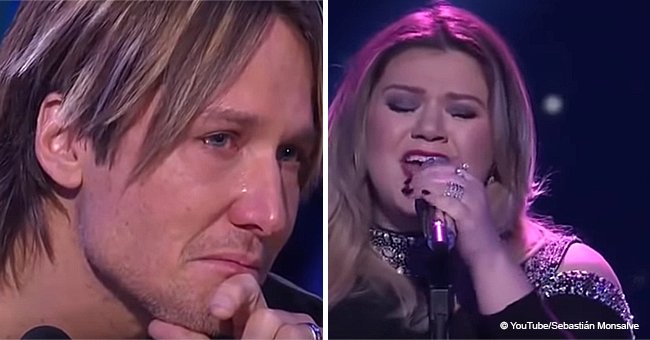 Video of Keith Urban Crying to Pregnant Kelly Clarkson's Performance Brings Chills to This Day
Kelly Clarkson gave a very emotional performance during a 2016 episode of "American Idol." Years later and the video still gives you the goosebumps!
The performance video dated February 25, 2016, has a heavily pregnant Clarkson making a haunting rendition of her hit song, "Piece by Piece." She poured her heart into the music and her soulful singing wracked everyone in the audience. The judges including J. Lo and Keith Urban were no exception.
Clarkson herself and Greg Kurstin co-wrote "Piece by Piece." It tells of how a father abandoned his family for a fresh start with another's. The story told is Clarkson's which makes the song a significant one to the entertainer.
While performing, she couldn't contain her emotions and even had to apologize to the audience at some point as she broke into tears.
Clarkson struggled to get the fame and fortune she boasts of now, and it all started right on that same stage as she delved into the music industry following her winning the very first season of the singing competition. Her journey is an inspirational one. Indeed, she didn't have it easy having been left by her father at a very young age.
He left her mother and her two other siblings to start a new family. "Piece by Piece" narrates this and also proudly tells of Clarkson's "now": the love her husband, Brandon Blackstock, has for her and their child.
Cheered on by the audience and the excellent pianist that continues playing even when she pauses, Clarkson managed to finish the performance and she received a standing ovation.
One particular person that got shaken by the performance was Keith Urban. The sterling singer couldn't hold it in as he cried while watching Clarkson sing.
According to "Hollywood Life," Keith teared up so much because unlike Clarkson, he had had a very close-knit relationship with his father whom he lost just a few months before the performance. He wasn't over it and he did not hide his emotions.
A source also revealed saying:
"Being the best father he can be to his two little angels is the most important thing in the word to Keith. Kelly's song hit home on all sorts of levels, and he couldn't help but break down in tears."
His response is enough to get you teary as you watch and according to an interview with "Rolling Stone," the country singer has explained that he finds crying a means of closure as he confessed to crying once a month.
It may seem strange to you watching a grown man tear up as he did, but you have to admit that it is just as sweet!
Please fill in your e-mail so we can share with you our top stories!