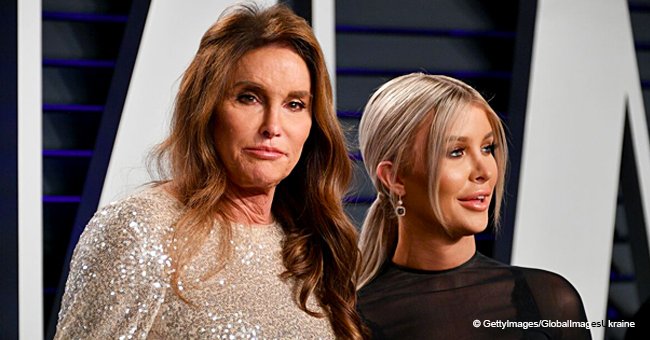 Caitlyn Jenner's Partner 'Thanks Paps' for Photos of Her Flashing Underwear in See-through Dress

Model, Sophia Hutchins thanks the paparazzi for keeping a memory of her night with Caitlyn Jenner in the form of some explicit photos. She captioned the pictures with words of thanks to the photographer for putting her underwear on display.
The Vanity Fair Oscar Party had in attendance a large number of stars and faces in the spotlight. Among the many celebrities that graced the occasion was former Olympian, Caitlyn Jenner.
The 69-year-old was in the company of her partner, Sophia Hutchins who made sure the eyes of the public never left her due to her choice of outfit.
For the night, the 22-year-old model wore a see-through black dress which put her underwear in display and highlighted her impressive features. Her face was not without glow, and the high heels complemented her blonde hair.
Hutchins was pleased by the photos, and it appears the model's preference was a picture of her in a semi-squat position as she tried getting into the car. Her posture in this shot emphasized the backside which was out for the viewing, thanks to the see-through dress.
The photo uploads on her Instagram handle comes with the funny caption,
"Thanks paps for photographing some of my assets."
In an interview on The Hidden Truth with Jim Breslo late last year, Hutchins described the relationship she has with Caitlyn. She described their closeness as a partnership while also explicitly stating they are not involved in any romantic relationship.
She further disregarded the age difference between them saying they are "a fantastic match for one another."
The night will be remembered by many as one of Hollywood's most glamorous night. However, for some members of the Kardashian-Jenner family, it will go down as a glorious moment for some family reunion..
Caitlyn Jenner and his daughter, Kendall Jenner were all smiles while posing for photographers on the red carpet. The pair were locked in a sweet embrace in each other's arms following their meeting at the Vanity Fair's afterparty.
Caitlyn wore a short and shiny gold dress designed with flowing sleeves. Her freely cascading brown locks added grace to her face in conjunction with the simple smile she wore.
The retired Olympic gold medal-winning decathlete embraced her 23-year-old daughter as they both stood before the cameras.
Please fill in your e-mail so we can share with you our top stories!