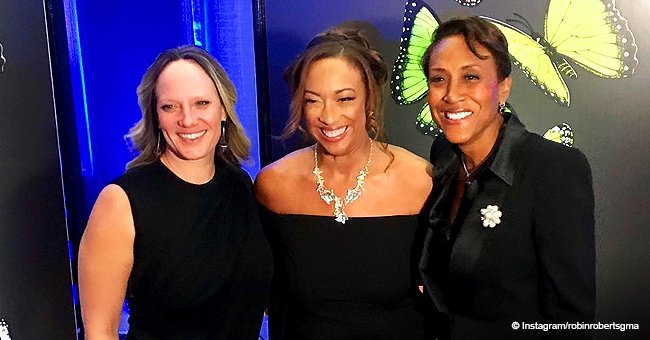 Robin Roberts Melts Hearts in Pic with Partner Amber Who's Rocking Figure-Hugging Black Dress
Robin Roberts recently attended a benefit gala with her longtime partner, Amber Laign, and both women look stunning in a pic shared to Instagram by the "Good Morning America" host.
When it comes to helping others and raising money for a good cause, count Robin Roberts in.
The TV host is also a philanthropist at heart, and she recently attended the Hord Foundation Gala in Danbury, Connecticut, to help raise funds for the new college scholarships the foundation will be giving away this year to African American students.
Roberts attended the event in the company of her longtime girlfriend, Amber Laign, and they both looked stunning wearing all black for the occasion. Amber wore a figure-hugging dress and heels, while Robin rocked a pantsuit with satin details on the jacket's lapel.
In a pic shared to Instagram, Robin and Amber posed alongside Michelle Hord, granddaughter of the Hord Foundation's creator, Noel Hord. Roberts gave her followers a bit of context on her caption:
"Hope you had a wonderful weekend and are safe and warm this Monday morn.

Amber & I had a great time Sat night at the Hord Foundation Gala in Danbury, Ct. We enjoyed meeting so many incredible people.

Over the last 2 decades, the Foundation has awarded more than $5 MILLION in scholarships. My dear friend Michelle Hord also spoke about "Gabrielle's Wings" which she founded after the sudden tragic death of her precious 7 year old daughter. Please go to my Facebook page to read more about that and Michelle's moving speech. It's as beautiful as she is inside and out. #MondayMotivation."
Fans took over the comment section to gush about Robin's look and also to express their support for Michelle and her incredible work. "Such beautiful empowering women, you're rocking that pantsuit, Robin," wrote one user.
Another added, "Everything about you illuminates class, kindness, and strength," and a third one chimed in to say, "Awwee that's awesome. Turned her tragedy to triumph .. I pray God to continue to bless her mission."
Robin and Amber have been together for 13 years, even though their relationship was made public in 2013, at the same time that Roberts came out as a lesbian in a Facebook post where she thanked her family and friends for sticking by her side as she battled myelodysplastic syndrome.
"I am grateful for my entire family, my longtime girlfriend, Amber, and friends as we prepare to celebrate a glorious new year together," she wrote at the time.
Unlike Robin, Amber prefers to live out of the spotlight, although she's made some appearances on "Good Morning America," and is continuously featured on Robin's social media accounts.
The lovely couple recently made a winter trip to Asia, visiting Thailand and making a short stop at Seoul, South Korea, and they shared a few videos of their journey with fans ahead of the New Year celebrations.
"On this #ThankfulThursday I have soooo much to be thankful for! Sweet Amber took this pic of me on Christmas in Vietnam...pure serenity," Roberts captioned a pic of her overlooking the sea from an infinity pool. And continued:
"Incredibly grateful for our exhilarating, rejuvenating time together there and in Thailand. We're blessed to safely be back home now...our hearts full of gratitude and wonderful memories. What are you most grateful for today? Wishing all a very #HappyFridayEve."
Fans are always gushing about the pair on Robin's comment section, and most of them believe the TV host is an inspiration for people in the LGTBQ+ community.
Please fill in your e-mail so we can share with you our top stories!