14-Year-Old Girl Kills Herself and Dad Decides to Invite Children Who Bullied Her to Funeral
The grief-stricken father of a 14-year-old Australian girl who committed suicide invited her bullies to attend the funeral and see what they had caused. Now, the man and his wife have become huge advocates against bullying, as they ask the government to take its devastating impacts more seriously.
Tick and Kate Everett were devastated when their 14-year-old daughter, Amy 'Dolly' Everett, took her own life in January 2018. The girl had been dealing with bullying, both in school and online, for a long time, and it came to a point where she couldn't handle it anymore.
After hearing the news, several people showed their support for the family, prompting Tick to break the silence on a Facebook post where he took the chance to call out his daughter's bullies, extending an invitation to her funeral in Katherine, a cattle-ranching town in the remote Northern Territory in Australia.
"This week has been an example of how social media should be used, it has also been an example of how it shouldn't be," he started. "I know for some suicide is considered cowardly, but I guarantee those people wouldn't have half the strength that my precious little angel had, Doll had the strength to do what she thought she had to do to escape the evil in this world."
And continued:
"If by some chance the people who thought this was a joke and made themselves feel superior by the constant bullying and harassment see this post, please come to our service and witness the complete devastation you have created."
After outing their daughter to rest, Tick and Kate decided to take action against bullying and founded Dolly's Dream, a non-profit organization that seeks to raise awareness in communities, children and parents about the serious issue of bullying and its devastating effects.
Dolly's parents said they missed many alarms. "There's so much that I found out now, as opposed to then, and it probably would've made the outcome so much different," Kate explained.
With Dolly's Dream, the couple aims to establish a national framework for schools to address bullying. "We hope that we can tell parents what to look out for," Tick said. "Talk to your kids, see what's on their phone. You're going to upset them, that's human nature, but had we known what we know now, Dolly would still be alive."
According to statistics, suicide is the top cause of death for 15 to 44-year-olds in Australia. However, those deaths are not discussed much in public because there's fear that talking about it will trigger more suicides.
Australian Prime Minister Malcolm Turnbull paid tribute to Dolly in a statement, mentioning that "Dolly's passing highlights the devastating impact that bullying can have on its victims" and that "Every step must be taken to reduce the incidence of bullying, whether offline or on, and eliminate it wherever we can."
Kate and Tick were named as Australians of the Year by ABC Australia last month.
"Over 250 communities have held fundraisers and events to support Dolly's Dream, with a particular focus on regional and rural Australia," the network explained of the award.
"Kate and Tick's non-stop advocacy, meeting with the Prime Minister and Education and Health Ministers across the country, has resulted in governments taking childhood bullying and its devastating impacts more seriously."
The Everett family's request to the world is simple: be kind to others, words have weight.
The Center for Disease Control and Prevention's data showed that the nation's overall suicide rate had declined in the year 1986 until 1999. However, it has been climbing ever since. Unfortunately, parents keep missing the signals that could have prevented these tragic deaths. 
Last October, Dean and Alysia Valoras' lives changed when they lost their eldest child Alexandra Valoras. She also committed suicide.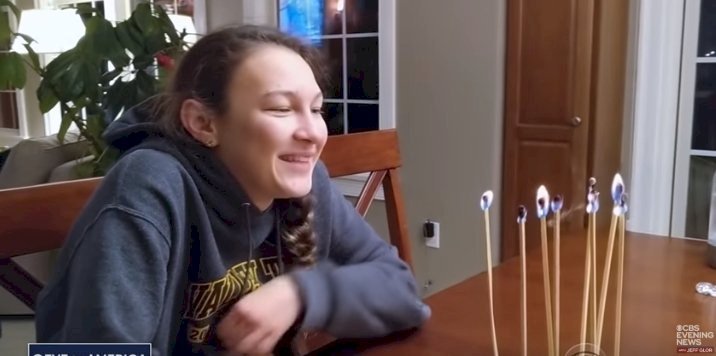 The couple was totally blindsided by the unexpected passing of their daughter. she was a joyful girl and was near the top of the junior class at Blackstone Valley Regional Vocational Technical High School in Upton. She had built her own robots and dreamt of going to MIT.
Still, she was dealing with a lot of despair and self-loathing, and her journals were filled with pages where she expressed her inner anxiety writing things like: "You are broken", "You are lazy", and "You are a failure."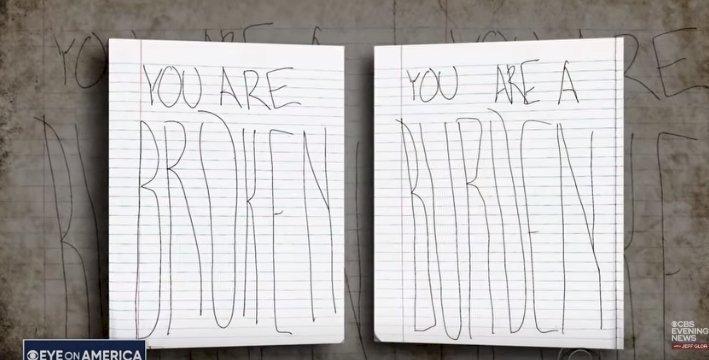 After Alexandra jumped off a bridge, it was her sister who found her journals. Her last diary entry, just hours before she took her own life, read:
"Don't blame yourselves for not seeing warning signs. I hid for a reason. I didn't want you to know how deep in my own mess I was. So it wasn't anyone's lack of perception."
Her parents chose to speak up about their daughter in the hopes that other families could avoid the same tragedy.
The National Suicide Prevention Lifeline is 1-800-273-8255. Other international suicide helplines can be found at befrienders.org.