Kim Kardashian Flaunts Curves & Legs in See-through Bodysuit That Leaves Little to the Imagination
March 12, 2019 | by

Jaimie-lee Prince
Kim Kardashian went almost nude in a braless leopard suit that showed off her famous curvaceous shape. She also looked like a French artist. 
The reality star somehow managed to pull off a show-stopping look that featured a semi-sheer bodysuit as she went for a night out in Paris on Wednesday. The post is found below. 
The gold-tinted bodice by Azzedine Alaïa covered Kardashian's breasts at its front with two pieces of black cloth. A black underwear piece also served to take care of her lower regions. 
Kardashian has been wearing a number of stunningly revealing outfits as of late. Such as this one she wore in late February.
The only other solid area of the ensemble was at the neck, where about three inches of black covering wrapped the 38-year-old's neck. She accessorized with a matching black French painter hat. 
In the caption of the series of photos that she posted, Kardashian wrote, "An a whatta???" One picture showed her sitting in a room while others displayed the star sprawled on a bed and standing.
As she walked through Paris, Kardashian wore a pair of see-through heels, revealing the leopard printed outfit went all the way to her feet. She wore her hair out and adorned a black button-down velvet coat for the night. 
Last week Friday, Kardashian again shocked fans by going to the Theirry Mugler exhibition in a toga-like gown. it was another semi-sheer piece, this time highlighting her nipples.
The gold gown had a plastic corset that complimented her shape and she again wore clear high heels for the occasion. She was donned in a large gold bracelet and wore her hair up in a high bun.
Kardashian and husband Kanye West are both known for their fashion-forward choices. The force of two is doing big things in both the entertainment industry and in their family life. 
Now expecting baby number four, Kardashian's representative revealed the steps the couple is taking in preparation. She already shares five-year-old North West, three-year-old Saint West and one-year-old Chicago West with her partner. 
Kardashian told Andy Cohen in January: 
"I got drunk at our Christmas Eve party and I told some people. I can't remember who I told because I never get drunk."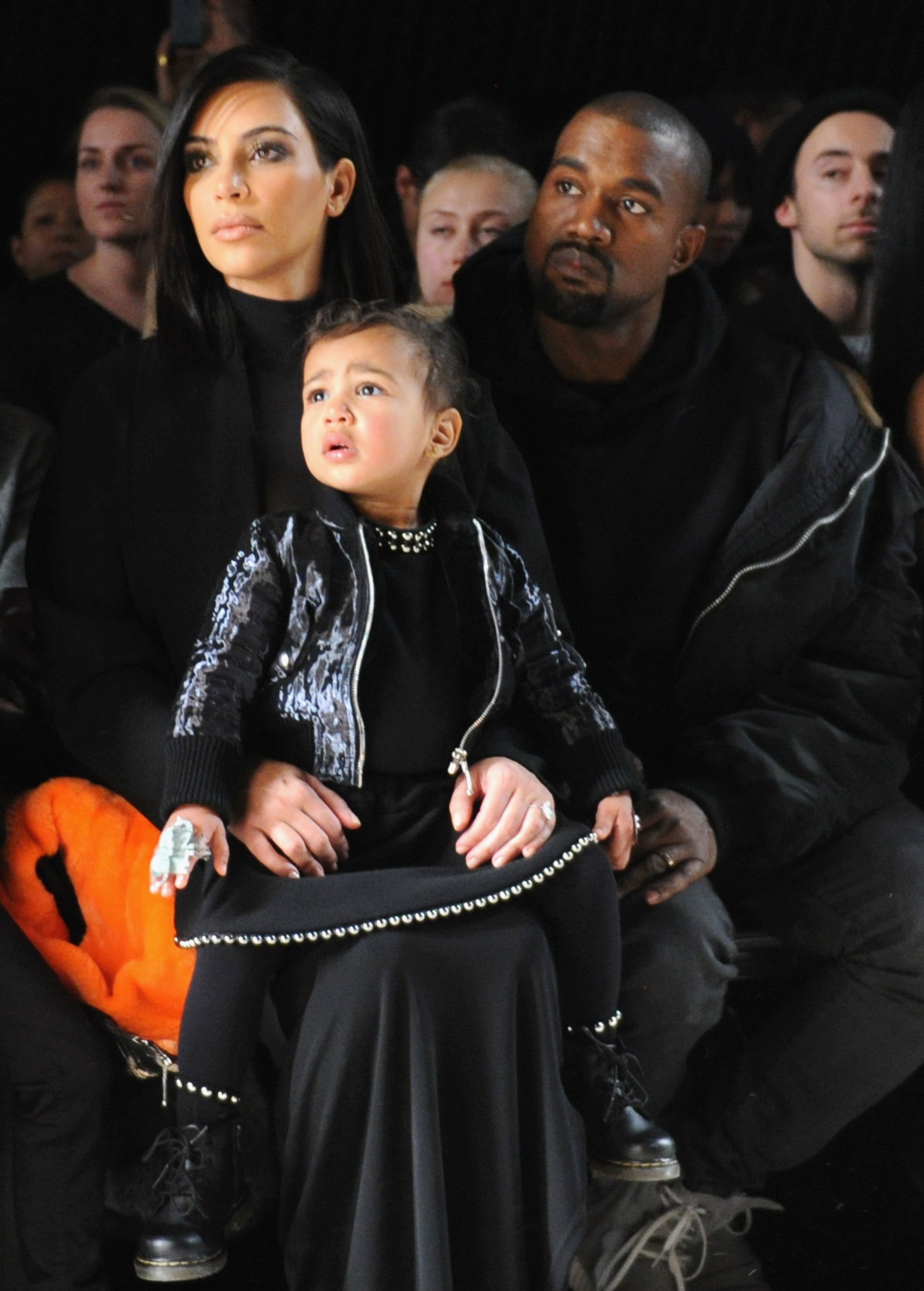 A source also revealed: 
"At this point they've been working on the baby's nursery at their home and putting all that stuff together. They're also trying to think about getting a new car – with four kids, two adults and a couple nannies, they definitely need to invest in a car that suits the entire family so that's an ongoing discussion."
The couple will be welcoming their fourth child through the use of a surrogate, just like Chicago. This one will be different, however. Regardless, we wish the proud parents a healthy baby as they create their family of six.