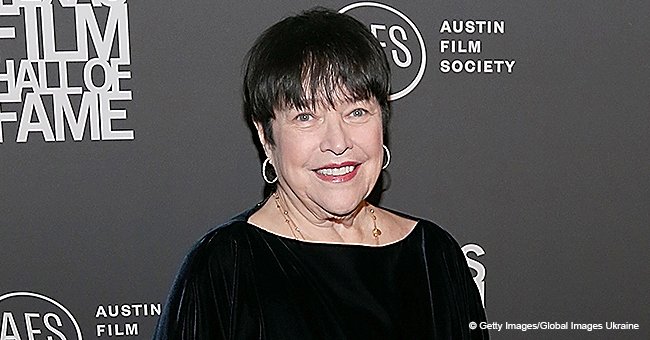 Lesbian Parties and Uma Thurman Fantasies: Throwback Interview Shows Another Side to Kathy Bates

Not only does Kathy Bates look fabulous after her recent weight loss, but an old interview with the actress resurfaced that adds another layer of depth to the outstanding actress.
Shortly before the release of her movie "Tammy" released on July 2, 2014, Kathy had an interview with PrideSource Magazine in the promotion of the new thought-provoking film.
She starred opposite Sandra Oh as her lesbian partner, and the two actresses hit it off from the start. 'I'm just absolutely in love with Sandra. Let me just say that she really brought our relationship to bloom," Kathy told the magazine.
Without hesitation, Kathy answered the curiosity of choosing the actress she would like to play a lesbian couple with:
"Ahh, let's see. Who do I love? Oh, I could totally see this: I shared a plane trip with Uma Thurman once, and I thought she was pretty cool. I could see doing a movie with her and having a lesbian relationship – although I'm much too old for her! (laughs). That would probably be a fantasy movie relationship."
In the movie, Kathy's character threw a big lesbian party and prompted the question of the best lesbian party she had ever been to. Again the question seemed an easy one as she said:
"I don't know if I've been to a lesbian party quite like the one we have in 'Tammy.' (Laughs) I've known and loved many lesbians in my life … but I don't know if I've ever gotten them all into the same room at the same time!"
Kathy's real-life love story began in 1990 when she met actor Tony Campisi. The couple fell head over heels and married the following year in April. However, their marriage only lasted until 1997, and the reason for their divorce remains a mystery.
It got said that a contributing factor could have been their extra-marital affairs, but neither of them had ever spoken about it.
The actress' career started in 1971 when she starred in the movie "Taking Off." But it wasn't until 1990 that her acting career took off in the film "Misery," which earned her an academy award for Best Actress. Pun intended.
When Kathy recently got spotted on the red carpet during award season, she looked fabulous. The 70-year-old actress had lost a ton of weight and added a changed hairstyle to the mix. It's the best Kathy had ever felt and has her niece to thank for advice that worked for her:
"My niece told me this little, secret; I guess it's no secret, it's a biological thing, that at some point when you're eating, you have this involuntary sigh and that's really your brain and your stomach communicating that you've had enough. The trick is to pay attention to that and push your plate away."
https://www.instagram.com/p/Bu1R7fbnbX5/
Having battled both breast and ovarian cancer from 2003 until 2012, Kathy's only regret is that she didn't have the lifestyle than that she has now.
Earlier this year Kathy got referred to as a "Game Changer" when she got honored by WebMD and chosen as the national spokesperson for LE&RN.
Please fill in your e-mail so we can share with you our top stories!