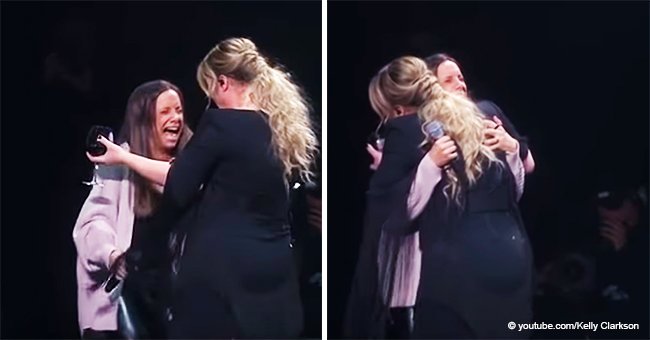 Kelly Clarkson Calls a Girl from the Crowd on Stage and the Fan's Reaction Is Priceless

Kelly Clarkson made a fan's dream come true when she invited her up on stage during a concert. It wouldn't be the first time millions of people saw how excited this fan could get.
Kate Brewer has her husband, Dave Brewer, to thank for perhaps the most epic night of her life. Dave set up the whole thing for his beloved wife and told his her nothing about it.
On March 8 during Clarkson's "Meaning of Life" tour, the singer paused for a segment called a "Minute and a Glass of Wine." The popular break gives Clarkson a chance to talk to and share her stage with fans.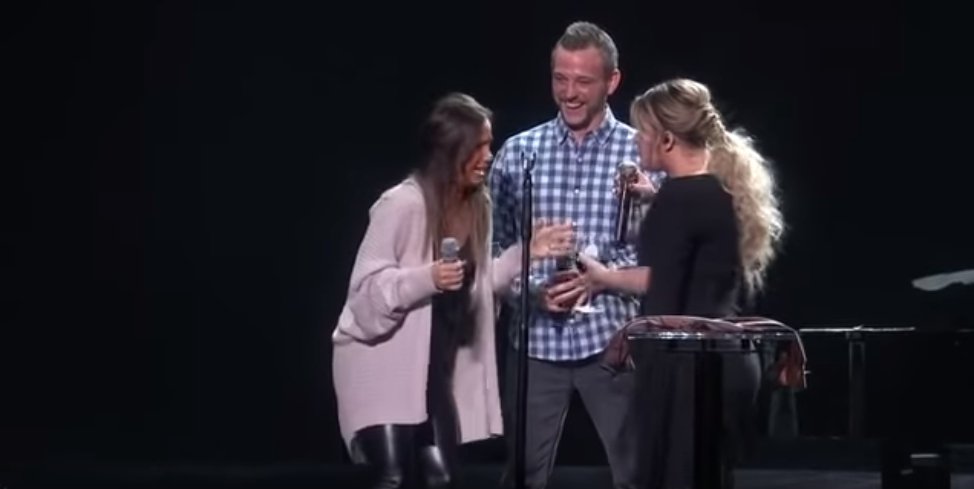 Source: YouTube/ Kelly Clarkson
She chatted away and then made the introduction. She began by teasing the clueless fan using a number of hints of who she was going to invite up. "Let's see how quickly she can pick up the clues of who she might be," she began.
Clarkson's first couple hints were not very telling. She described someone who made the singer "a little part of a very special day of her life." She also said the mystery guest has an "awesome husband."
Clarkson finally gave it away when she mentioned that: "a video of her being surprised, stunned by her friends and family at her wedding has gone viral, [and] received millions of views." The clip is found below.
At that point, Clarkson encouraged Kate and Dave to make their way to the stage. At first, Kate said she couldn't do it, but she eventually gave in. When she reached the stage her mouth was still wide open in shock.
While Kate was making her way to the stage, Clarkson showed the viral video which now has five million views. In it, Kate went absolutely bonkers when her friends did a flash mob wedding surprise to Clarkson's "My Life Would Suck Without You."
It's safe to assume that Kate's reaction back then was only contended by her reaction to meeting her favorite singer in person. She finally calmed down when Clarkson started conversing with her and she realized this was really happening.
Clarkson insisted she was "not that cool" as she had a friendly chat with her superfan. Unfortunately, Kate's mic seemed to be having some issues so what she said was indiscernible.
Still, her initial reaction was priceless and her pure joy was a source of inspiration in itself. It seems she really deserved to meet her idol. Being her sweet self, Clarkson even commented Kate on her toned figure.
Later, Kate shared a clip to her Instagram of the special day and thanked the singer for "making [her] entire life." She also revealed how she rewarded her husband.
She wrote:
"@dbrew17 after this you now have permission to hang any and all Tom Brady paraphernalia throughout the house including above our bed."
Clarkson enchanted fans recently when she sang her cover of Bradley Cooper and Lady Gaga's hit "Shallow." The song came out with the 2018 movie "A Star Is Born."
Before she began, she praised Gaga, again showing that modest attitude that fans love. Clarkson then jokingly said, "I hope I don't suck, and if I do, I hope she doesn't see it."
She went on to belt out powerful vocals, somehow staying in tune as she soothed the ears of her audience. When she reached the high notes, she again showed off her bellowing pipes.
Please fill in your e-mail so we can share with you our top stories!