Transgender Woman Sparks Backlash after Complaining She Was Called 'Sir' Twice by Rail Staff
A 60-year-old transgender woman, who is seeking compensation from Southern Rail for calling her "sir", was slammed by "This Morning" viewers.
Katie Yeomans, 66, started transitioning in 2015. Katie, who has had reassignment surgery, was known as "David" before the transition. She explained how she felt "angry and insulted" after she was "misgendered"  by two staffs of Southern Rail.
According to Katie, a train guard first called her "sir" when she inquired about her route to Portsmouth. Soon after the incident, a desk worker referred to Katie as "sir" when she asked for directions.
The viewers of "This Morning" criticized Katie, saying that the staffs could have made an honest mistake because of her manly voice. While many viewers claimed she was being harsh on the staffs, others were sympathetic towards her.
Some viewers took to Twitter to express their view on the matter.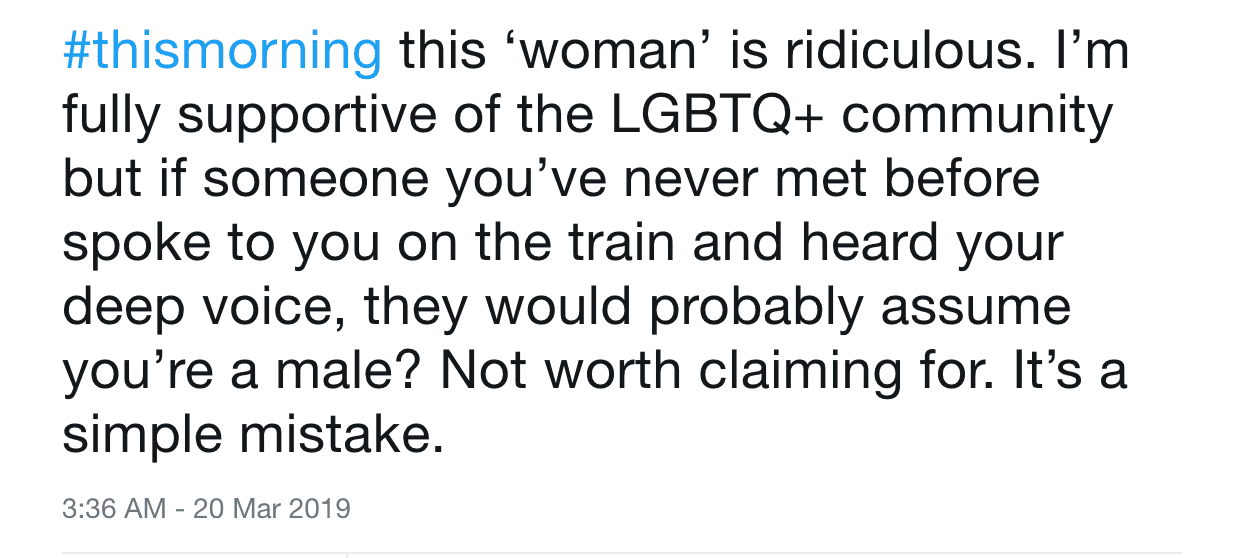 One user wrote: This 'woman' is ridiculous. I'm fully supportive of the LGBTQ+ community but if someone you've never met before spoke to you on the train and heard your deep voice, they would probably assume you're a male? Not worth claiming for. It's a simple mistake." 
While some tweets were logical, some tweets were harsher than the others. 
Another user tweeted: "Sick of all the misgendering shite now! If you really feel like you have to change your gender then cool! Best of luck to you, but you have to forgive the odd slip up... you are more than likely (with trans women in particular) still going to sound and look like a man!"

A third user used a rather humorous approach to address the case. "Does Katie Yeomans think that rail conductors from station to station ring around wach other and text a picture saying "make sure you call this bird sir you see her! Ffs. Grow up." they wrote.
Katie was dressed up in a womanly attire when she was called "sir". She said one of the staff members could not see her because his glasses were steamed up.
Katie Yeomans is asking for an apology and compensation after claiming a rail company 'misgendered' her on two separate occasions #ThisMorning pic.twitter.com/usLr3QmmSe

— This Morning (@thismorning) March 20, 2019
In other news, a journalist has claimed she is being investigated by police after she "misgendered" a transgender woman.
Journalist Caroline Farrow is to be subjected to investigation following a post she made on social media in September.
She made the comments after appearing on ITV's Good Morning Britain alongside Sushie Green, whose daughter Jackie is a transgender.
"I have pointed out to police that I am a Catholic journalist/commentator and it is my religious belief that a person cannot change sex," she explained in an attempt to justify her anger.