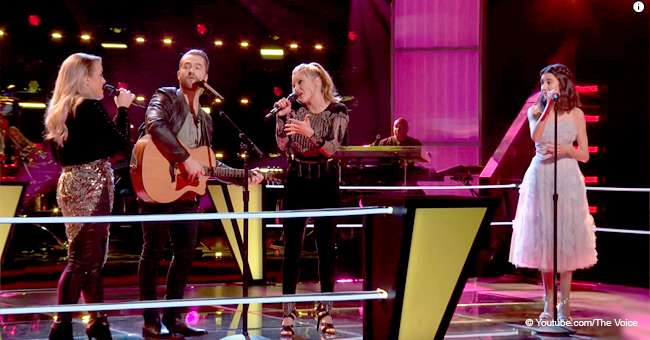 'The Voice' Fans Think It's 'Not Fair' for One 14-Year-Old Singer to Battle against a Trio

For the first time, four people took the stage on "The Voice" Battle Round and fans were highly unimpressed with the move. It was three against one, and the odds were not in Mikaela Astel's favor.
Season 16 is not starting off well in terms of fans' perspective of fairness on "The Voice." A change of rules saw the show's first trio in the Blind Auditions round. Kelly Clarkson won out the other coaches and captured "The Bundys" for her team.
This ended up being a controversial decision. One fan pointed out that the name of the show is "The Voice" and not "The Voices." Things got even more heated when the Battle Round came around.
Mikaela Astel was faced with the task of outsinging The Bundys with Fleetwood Mac's "Songbird" to earn a spot in the next round. She failed in her efforts but received lots of praise from the judges. The video is found below.
John Legend commended the trio and then told Astel that her voice "is both strong and really vulnerable at the same time. It's such an interesting voice." He also touched on her nerves, attributing it to her age.
Adam Levine also excused Astel for looking a bit shaky:
"Mikaela you're so great and you're so young. It's such a learning experience to be where you're at in this moment. You look a little nervous but I mean come on, like if she was up there with one other person it'd be nerve-wracking let alone three."
Online, fans were more than in agreement with Levine and her being forced to go against a trio of experienced singers. Their harmonization was on point, which makes sense considering the group has already toured.
Country singer Blake Shelton also spoke to Astel about her performance. He suggested that she did better in rehearsals where she didn't have to face as much pressure.
He added:
"The last thing any of us would ever want to do is discourage you from doing this because this is what you're meant to do."
Kelly Clarkson wrapped it up by saying she chose The Bundys because she "just wants to make sure everyone's ready before [throwing them] into the Lives."
Reactions online ranged from slight disappointment to downright anger to extreme sadness that Astel would be leaving the show. Some people went directly after Clarkson.
Many were starkly against the idea of having trios whom they insisted "should be banned" from the talent show. Nonetheless, the group was very deserving of the opportunity as they gave an amazing performance.
The Battle Round also saw incredible performances from Savannah Brister and Maelyn Jarmon, who did a head to head with Adele's "When We Were Young." Legend chose Jarmon as the winner for that round.
The newest co-judge on the show particularly enjoyed the battle between his two mentees. He stood up and waved his arms around like a conductor as the singers delivered a highly amicable musical "fight."
Legend, who just joined this season, is already stealing the spotlight away from longstanding coaches Shelton, Levine, and Clarkson. The four judges prepared a funny skit to showcase how things were expected to change.
In a promo for the show, the three existing judges discussed Legend amongst themselves. They went over the singer's credentials, listing out his numerous awards.
Legend walked in while the group was singing a song together and asked to join on. The group obligeed but regretted their decision when they feel upstaged by Legend.
"Now I'm worried," Clarkson says, closing out the hilarious skit. The next episode of "The Voice" will air on NBC on Monday, April 1 at 8 pm.
Please fill in your e-mail so we can share with you our top stories!