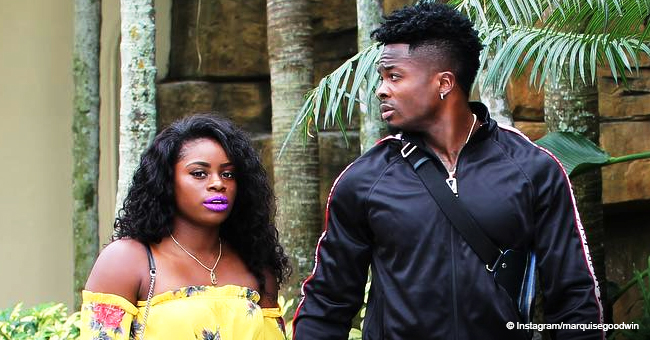 Marquise Goodwin and Wife Open up about Spending Time with Twins before Losing Them after Birth
Morgan and Marquise Goodwin shared their grief at the loss of their twin babies almost a year after the death of their premature son.
Morgan Goodwin and her husband, star football wide receiver Marquise Goodwin, are coming to terms with yet another devastating loss.
The couple is mourning the loss of their twin sons, who passed away shortly after their premature birth at 19 weeks, four days gestation.
"I would stay with them the whole time they were in my room. The whole time. I did let them go back to get dressed and take pictures and get measured and stuff and then [they] brought them back. But I had them the whole time when we were in the room."
A DEVASTATING BLOW TO THE YOUNG COUPLE
Morgan, 25, and Marquise, 28, were looking forward to the birth of their twin boys when tragedy struck.
In late November, 20 weeks away from her due date, Morgan went into labor one of the babies was born dead, while the second boy survived the birth, but succumbed shortly after.
Far from being rare, there are indications that more than half of all successful fertilisations end in miscarriage.
MARQUISE AND MORGAN SPENT TIME WITH THEIR SONS
Marquise revealed that he was with his sons the entire time, even when they were being cared for by the medical staff. The couple's grief is all the greater since this is not their first experience with losing a child.
THE LOSS OF THEIR FIRST BABY
Morgan and Marquise went through the agony of losing a baby just a year before when their first born son died on November 12, 2017. The baby was also born prematurely and the couple shared heartrending photos of their tiny child on social media.
MORGAN'S LIFE WAS AT RISK
After the birth of the twins, Morgan was administered antibiotics for three days to combat an infection accompanied by a fever, and doctors kept a close eye on her spiking blood pressure.
For the celebrity, this is the third heartbreaking loss, after Morgan miscarried in college and they lost their premature son.
Morgan and Marquise have opened up about their loss in the hope of offering comfort to other families who have gone through the same harrowing experiences.
THE HEARTBREAKING TABOO
Morgan Goodwin is only one of many women working through the pain of losing a child, and she feels it's time the subject was discussed openly:
"It's something that [many] women experience but nobody talks about it. So you don't talk about it. When you experience a miscarriage or you experience pregnancy loss and you don't see anybody talking about it, then you think that nobody else is going to do it. And you get to a point where it's like, 'Oh my gosh, I don't want to talk, I don't want to tell anybody that I had a miscarriage.' "
Far from being rare, there are indications that more than half of all successful fertilisations end in miscarriage.
Geneticist William Richard Rice of the University of California, Santa Barbara, revealed that between 10 and 20% or as many as 1 in 4 known pregnancies ended in miscarriage.
For Morgan Goodwin, it is time for women to end the silence surrounding their private pain, and to comfort and support each other in their common grief.
Please fill in your e-mail so we can share with you our top stories!