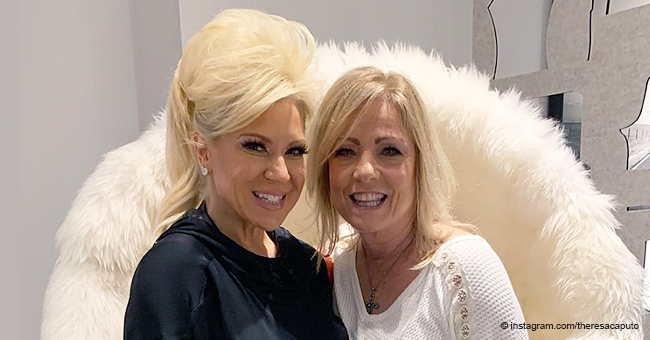 Theresa Caputo Shares a New Photo of Herself and Her Cousin and She Looks Happy

Theresa Caputo in a new photo of herself and her cousin is smiling and looks happy. The photo is ill-timed as her ex; Larry Caputo recently made a shocking reveal.
Theresa Caputo is a medium best known for being on the "TLC" reality television series "Long Island Medium," since 2011. The reality star is not only famous for her readings, but she is known for her high bouffant hairstyle and long nails.
The Caputo name was recently in the news after her former husband, Larry Caputo, admitted to battling depression, and in a world where such an admission is expected to cause some sort of sober reflection, in Theresa's case, it triggered the opposite.
The medium posted a picture on Instagram that showed her looking happy and radiant which showed her wearing an all-black ensemble with her signature hair held back.
Theresa appeared cozy with her cousin, Lisa, who also wore a smile, as the two perched on a white furry chair. The New York-born medium had for accessories, diamond stud earrings, and adorned her fingers with heavy rings.
The 52-year-old wrote as the caption "Two of my favorite things in one picture; Lisa and a white furry chair," with three hashtags attached.
Reacting to the post, her followers wrote comments like:
"I thought two of your favorite things were long nails and hair spray,"

Photo: Instagram/TheresaCaputo
"That chair is amazing! You are amazing too!"

Photo: Instagram/TheresaCaputo
"Theresa, you look amazing,"

Photo: Instagram/TheresaCaputo
"You can do better than Larry."

Photo: Instagram/TheresaCaputo
Whether the last comment is true or not, the mother-of-two is enjoying her single status, despite the struggles of her ex.
In an exclusive interview with "Radar Online," Larry revealed that for a long time after his separation from Theresa, and following their divorce, he was in a depressed mental state.
The former couple's marriage lasted for 28 years. They separated in 2017 and finalized their divorce last December. The father-of-two told the news outlet that he lost weight during that period, adding that he endured a lot of stress brought on by the reality show and the pressure of providing for his family.
All that seem to be in the past, as Larry is in a better place, mentally and emotionally; the past months gave him time to decompress and pay attention to himself.
Beyond that, he is in a new relationship, and although things are good between him and the medium, he does not see the two of them getting back together as "the chemistry is gone."
Theresa's show new season is currently airing, and it features a reading for Kim Kardashian.
Please fill in your e-mail so we can share with you our top stories!