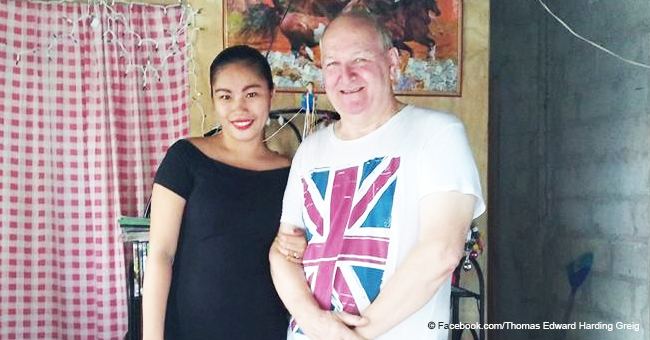 Woman, 23, Claims She and 71-Year-Old Husband Are 'in Love'
Despite the almost 50 years of difference, this couple fully enjoys their love. Lorie fe Dales says people have called her a "mail-order bride," but that's far from the truth and she's deep in love with her husband.
Thomas Greig, 71, and Lorie fe Dales, 23, a couple who are approximately 48 years apart, are not letting age or even a geographical location, limit their relationship.
The pair met through Facebook chat in 2014, after Dales' looks enchanted the retired business owner. Although Dales admits she was taken aback because of his age at first, she soon realized they had a lot in common and started to fall for the man.
However, there was another problem for the smitten pair, he lives in Wellesley, England, and she lives in Cebu, Philliphines.
GOING THE DISTANCE
After a few months establishing a relationship through chats, the British man traveled to the Philippines to meet the woman that stole his heart.
"We met here in Cebu, and I was so scared, shocked, and I didn't know what to say as he is my first boyfriend. But the feelings I had were mutual, and we could feel that we are both in love," Lorie said.
And continued:
"For him, it was a love of first sight and to me that time I didn't really love him yet, but I was attracted to him though. He was attracted to my cuteness, and I liked his blue eyes the most."
They soon became exclusive and maintained the spark alive talking through Skype. By the end of 2014, Thomas visited Lorie one more time and proposed. She said yes, and one month later, on January 2015, they tied the knot in a small civil ceremony where just the two of them.
"For us, age is just a number; it is a question of 'mind over matter' if you don't mind it doesn't matter - that's our saying."
EXPANDING THE FAMILY
A year later, they welcomed their first child, a girl named Mary that is now 2-year-old.
Lorie says that there have been some ups and downs in the relationship since they're still living in different countries, but they have managed to overcome every single misstep.
"It wasn't easy at all being far from each other, but from time to time we have gotten used to it, and regarding the intimacy aspects we just always remind ourselves not to worry, we will be together again," she said.
And added: "We communicate through Skype every day and we always see each other, so that makes me feel ok as soon as we are near to each other."
Thomas visits his wife and daughter from time to time and stays as long as five months. He hopes to be able to move to Cebu very soon.
FACING CRITICISM
As for their families, Lorie says hers was skeptical at first, but when they realized she was in love, they started to support her.
However, most people criticize her relationship and call her either a gold digger or a mail order bride. She said:
"People say that I'm a mail order bride, saying my husband has bought himself a young wife, but that's no true. For us, age is just a number; it is a question of 'mind over matter' if you don't mind it doesn't matter - that's our saying."
The couple is now focusing on giving the best to their daughter, and even though Lorie feels discouraged by the distance from time to time, she always tries to look at the bright side of their situation, and that is that they're in love.
Please fill in your e-mail so we can share with you our top stories!