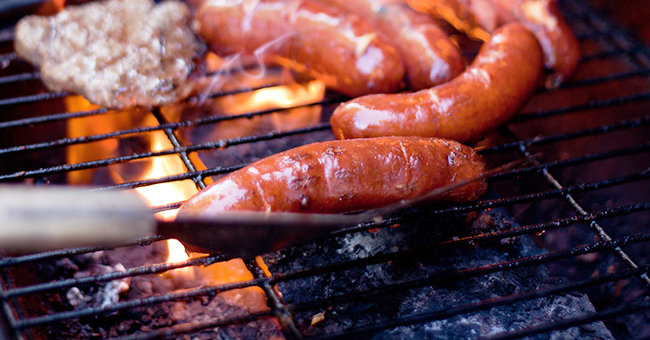 Source: Flickr/Matt Janicki
Here's Why Flame-Grilled Meat Tastes so Good
While there are many ways to prepare meat, none comes close to the aroma and mouthwatering taste of barbequed meat. The secret, as it turns out, lies in "the holy grail" of culinary chemical reactions.
The Maillard reaction brings us the meaty flavor of roasted garlic, the toasty flavor of toast, the nutty flavor of freshly roasted coffee, and the unmistakable seared taste of grilled meat.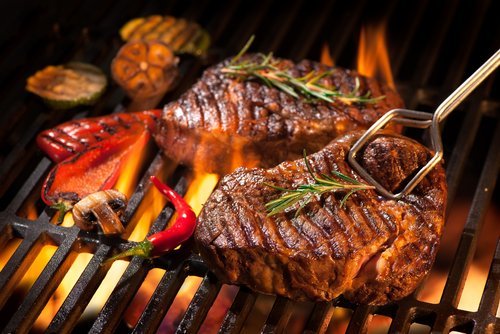 Flame grilled beef steaks. | Source: Shutterstock.
This reaction only takes place when food reaches around 285 degrees Fahrenheit and causes reactions between amino acids and sugars.
When the meat gets grilled over charcoal or logs of wood, it releases drippings that combust with a "tsss" as soon as it hits the super-hot coals. Those drippings contain sugars, proteins, oils, and fats that vaporize back up into the meat.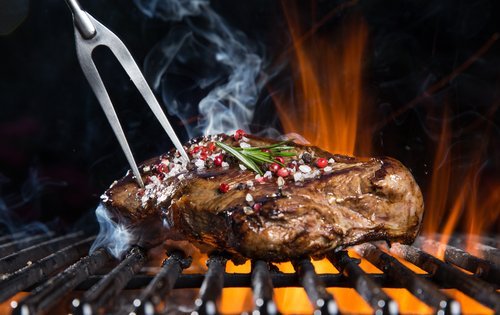 Close up of a steak being grilled. | Source: Shutterstock.
This gives a charcoal grill the edge over a gas grill in the sense of flavor and serves as the middleman in creating that unique smokey, flavorful, seared taste. With gas grills, the desired temperature for the Maillard reaction to take place usually is not reached.
The original smokey flavor comes from a compound called guaiacol. It is produced when the compound lignin, found in wood, gets fired up.
The chemical reactions between the meat, heat, and charcoal come together for a unique taste and have been indulged in over centuries. For barbeque fans everywhere, we included a delicious recipe of Judy Joo's version of hanger steak.
The steak gets marinated in a potent soy-and-sesame oil marinade that his ready in just 15 minutes and serves four.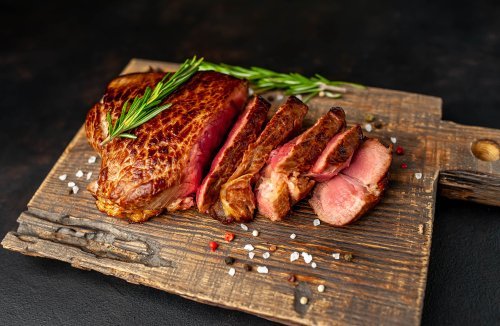 Sliced marinated beef steak served with herbs. | Source: Shutterstock.
For the marinade you will need: 3 tbsp sugar, 6 tbsp soy sauce, 2 tbsp vegetable oil, plus extra for grilling, 2 tbsp toasted sesame oil, 1 tbsp peeled grated ginger, 3 cloves garlic, grated or finely chopped, 1 shallot, finely chopped, Handful of thinly sliced spring onions, 900g hanger steak, and toasted sesame seeds to serve.
To prepare the marinade, you stir the garlic, ginger, shallots, soy sauce, sugar, and some salt and pepper to taste together in a large bowl. Stir until the sugar dissolved and then add the steak and massage the marinade into the meat.

Marinated steak served with garnish. | Source: Shutterstock.
Leave the meat at room temperature for 15 minutes before grilling and allow a total of about nine minutes on a medium-hot grill for medium-rare or longer according to personal preference.
Transfer the meat onto a chopping board and leave to rest for five minutes. While going against the grain, thinly slice the steak and top with spring onions and sesame seeds when ready to serve.
While in the spirit of sharing recipe's, a chef revealed the perfect tip for roast vegetables to ensure an amazing taste, and the ideal side to the mouthwatering hanger steak.
Please fill in your e-mail so we can share with you our top stories!