LeAnn Rimes' New Tattoo Sparks Heated Debate among Her Fans
Celebrity tattoos are always a subject of curiosity for fans who seldom fail to present their analysis of the ink and often troll them. When American singer, actress, and author, LeAnn Rimes, posted a picture of her new tattoo, a heated debate was sparked on the Internet. 
On 15 June the singer posted a picture of her arm with a new tattoo which said, 'god's work' on her Instagram account.
"Thank you @winterstonefor my beautiful new ink! You are a LovE!," she captioned the post. 
The tattoo was not controversial in itself, but many debated on how the word "God" should've been written with a capital 'G'. 
Commenting on her post, a fan wrote: "It's God. Not god. FYI."

Another one chimed in: "I luv it but God is GOD! God should have a capital G."

A third fan wrote: "God is spelled with a capital G always. Maybe you should seek Him and He will let you know it is God."

While many argued over the matter, many fans agreed with the songwriter, saying that it's the faith that counts.
"God or god - he knows your heart! Have a fabulous day," a fan commented in Rime's support. 

Another comment from a fan read: "love the work, love you girl. be on your own journey you have nothing to prove to anyone but yourself and your faith."

One of the fans opined how haters should leave Rimes alone, writing: "Don't you complainers have anything else to do? Something important? It's HER body and HER tattoo. Leave LeAnn alone."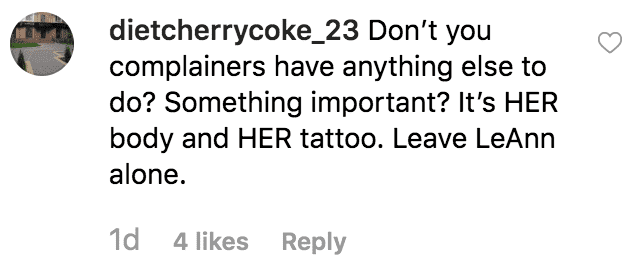 Similar controversies had sparked regarding Rihanna's Polynesian inspired tattoo and Jesy Nelson's gun tattoo, with fans being outraged about cultural appropriation and making statements of how the tattoo would promote guns respectively. 
The tattoo is not the only thing that is interesting about the songwriter and her life-- her unconventional relationship with Eddie Cibrian also has some amazing bits according to their social media.