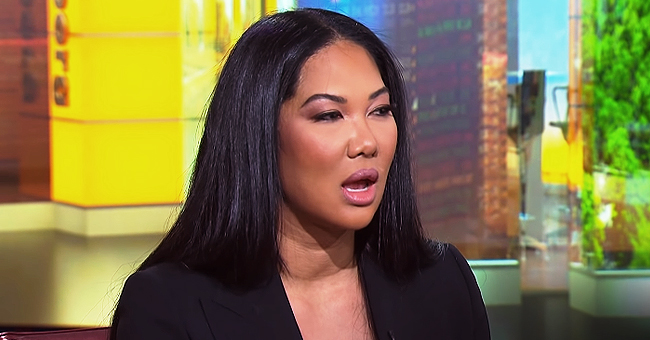 Youtube/Bloomberg Markets and Finance
Kimora Lee Simmons Criticized over Comments about Jordyn-Tristan Scandal on KUWTK
Model and designer Kimora Lee Simmons is being dragged online after the season finale episode of "Keeping Up with the Kardashians," where it was revealed she advised Khloé Kardashian not to "take the high road" on Tristan Thompson and Jordyn Woods' cheating scandal.
Almost six months after Khloé Kardashian broke up with her baby daddy, Tristan Thompson, after he kissed Kylie Jenner's former best friend Jordyn Woods, fans finally got to see how the situation went down on the season finale of "Keeping Up with the Kardashians."
KIMORA LEE'S ADVICE
Khloé, although devastated and hurt by the betrayal, chose to keep a calm stance on the situation while dealing with it with the help of her family. However, as she and sisters Kim and Kourtney, and best friend Malika went on a girls' weekend to Palm Springs, things took a different turn.
"You want Khlo Money to come back? Guess what, Khlo Money's coming back."
Longtime family friend Kimora Lee Simmons facetimed the girls to give Khloé a few words of advice about protecting her family, and sadly, she instigated the Kardashians to bully 21-year-old Woods online.
"I just think you guys cannot let people take advantage of you like this," Kimora told them. And continued:
"Kim has said, Khloe, that you were like trying to take the high road, and you were saying, 'I'm too old for this,' and 'This girl is young,' but if you don't protect your family, you don't protect your child, your household, what goes on in your home, what kind of s**t are you running? That's your baby daddy, whether you're with him or not. You cannot allow this kind of disrespect."
UNLEASHING KHLOÉ'S RAGE
Kimora's words were the catalyst for Khloé's pent up rage to erupt fully.
"You're so f***ing right, and I'm done," the Good American designer fired back. She continued to rant even after Kim hung up with Kimora, saying:
"I'm gonna go back to the old Khloe. And I get it -- we all have to go through different layers of our life. We all change and get older, we do. And for True, I don't want to act like that, but for also True, I want people to be f***ing afraid. You want Khlo Money to come back? Guess what, Khlo Money's coming back."
Eventually, Khloé's rage led her to yell at Tristan's friend over the phone, calling the NBA player a liar. She also yelled at her mom, Kris Jenner, after hearing that Jordyn Woods would do an interview with Jada Pinkett Smith to clear her name.
Khloé ended up blaming Woods for breaking her family apart in a tweet that got her a lot of backlash, and that she later deleted. However, she backtracked a few days later, putting all the blame on Thompson.
FANS' REACTIONS AND KIMORA'S REPLIES
Fans' disappointment at Kimora's words didn't take long, as people started to fill her social media slamming her for condoning the bullying of a girl the same age as her daughter.
"Interesting, did you give your daughter the same advice when she was getting bullied by her classmate? I guess when the tables turn y'all don't know how to deal…do better, you're an adult," one fan chastized Lee Simmons.
To which she replied:
"I don't condone bullying at all. I am def more old school. I pop heads. Guys and girls included. Everybody responsible. There are adult men and women involved. Not children."
Another fan chimed in to say, "Yea but when they take your hubby…would you feel the same???"
"Absolutely not chile! That's the whole point of the issue. Regardless of who-what-were. It's an issue with everyone! That's not bullying," Kimora answered.
Despite her words, fans believe Simmons is in the wrong, and some are even calling to boycott her new Baby Phat clothing line.
Simmons has turned off the comment section on her Instagram account, after receiving an overwhelming amount of negative feedback.
Please fill in your e-mail so we can share with you our top stories!