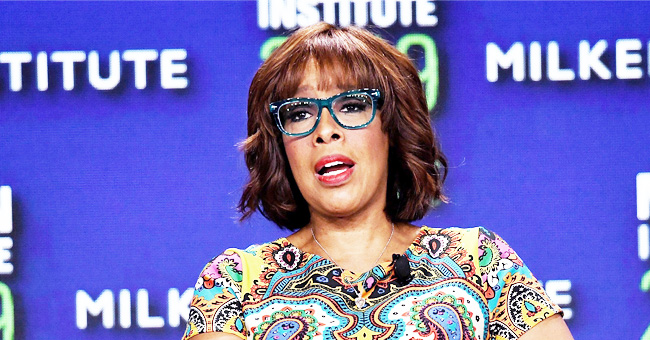 GettyImages
Gayle King's Bus Journey to the Hamptons with 'Fellow Sweating Humans' Captured in Pics
Gayle King might have signed an $11 million deal with CBS, but she still rides the bus to the Hamptons. Unfortunately, her latest experience was far from glamorous, and she documented the trip on Instagram for the delight of her—somewhat confused—followers.
Gayle King seems to have a fear of helicopters, which might explain why she decided to take the bus on her weekend visit to the Hamptons, instead of choosing a more effective and fastest way to reach her destination.
The CBS's "This Morning" anchor documented her experience as she got stuck in traffic for hours aboard a bus with no air conditioner, in one of the hottest days of the year.
She seemed to take the situation with amusement, giving her fans hour-to-hour updates through Instagram.
A BUMPY AND HEATED TRIP
Gayle started her journey by posting a selfie in her bus seat with a not-so-happy expression in her face.
"On the BUS heading to the Hamptons temperature in the high 80's and bumper to bumper traffic & we have NO air ... I'm now wondering if I'm a bus person. Driver and fellow sweating humans all very nice... FUN!" she captioned the post.
As many fans flooded her comment section asking why did she take the bus, her former assistant and current digital director of the Oprah magazine teased her by stating:
"I distinctly remember you telling me when I was your assistant you'd never get on a bus to the Hampton's again...guess you forgot."
AIR CON IS LIFE
Later, Gayle gave a second update, this time sharing a pic of herself posing at the bus doorway with a smile in her face. She was rocking a summery yellow dress with flowers and shimmering flip flops and accessorized with a simple diamond heart necklace.
King explained the situation in her caption:
"Ding ding ding! Breaking news after two & half hours of no air in hot bus .. our driver was able to get us another bus .. just pulled off highway to make the swap that's the good news .. traffic still bumper to bumper to the Hamptons yeah yeah yeah I know first class problems ... it is what it is ..I am now wondering HOW scared am I of helicopters ???? Air conditioning what a beautiful thing."
Although the air conditioner issue was solved, in the end, it took Gayle four hours to arrive at the Hamptons, roughly two more hours of the time it usually takes to reach there by car from New York.
Despite the many inconveniences, Gayle was in good spirits and even snapped a photo with the bus driver, sharing in on Instagram to her more of 694k followers and adding in the caption:
"WE MADE IT!! Special mommy hug to driver Desiree (as she says desire with an extra E) who got us here safely!!!! Left city at 12:30 arrival 4:35 ...so fun ... have a great weekend!"
FANS' REACTIONS
Fans filled Gayle's comment section gushing about her humbleness and thanking the driver for driving safely.
"This picture is why everyone loves Gayle -you are always finding the gratitude in all things!" wrote one user.
Another added, "I love how you acknowledge people that provide you service! Says a lot about you! Have a Wonderfully Blessed Day!"
And a third one said,
"Excellent glad you made it safe! Thanks, Driver Desiree true champion at driving. Have a blessed weekend."
A NEW CHAPTER
Earlier this year, King negotiated an $11 million contract with CBS, doubling her previous salary as the host of "This Morning" under the direction of CBS News president Susan Zirinsky, and accepting the responsibility of becoming the new face of CBS News as a whole.
Gayle earned the praise and respect from the audience after her interview with R. Kelly last April, where she managed to keep calm and poised amid the disgraced singer's angry outburst.
"There has long been recognition that she is a unique broadcaster, journalist, storyteller, humanitarian," Zirinsky said of King to The Hollywood Reporter. "Gayle brings a unique sensibility and sensitivity. What this represented was a sea change."
King, on the other hand, feels privileged by her new position. "I am now a part of that history. Let's see what we do," she claimed.
Please fill in your e-mail so we can share with you our top stories!