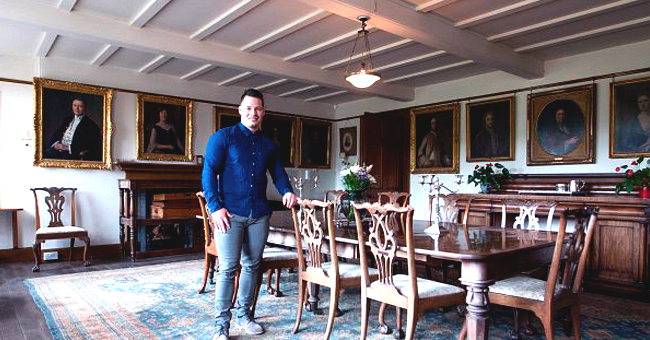 twitter.com/people
Jordan Adlard Inherits British Aristocrat Lord Charles Rogers' $60M Estate after a DNA Test at 31

It was a case of 'grass to grace' for a struggling care worker as he got to inherit an estate worth $60M belonging to a late British Aristocrat. A DNA test confirmed the care worker is indeed the son of the late Charles Rogers, thus granting him ownership of the property.
Jordan Adlard-Rogers, formerly a care worker and struggling to make ends meet, is now a proud owner of a $60 million estate.
The 31-year-old Jordan's story changed when a DNA test confirmed him as the son of late British Aristocrat, Charles Rogers. Now living a comfortable life, the former care worker has vowed to give back to the local community.
JORDAN'S LIFE OF STRUGGLE
Jordan has never really had things his way; he always went through long periods of financial hardship, and his childhood days were not rosy either.
Reportedly, Jordan grew up in British Public Housing and always had things rough. However, all that has changed as he is now heir to the multimillion dollars estate and living a comfortable life.
JORDAN'S NEW LIFE
Jordan Rogers moved into the 1,536-acre Penrose Estate with his soul mate, Katie Hubber and their newborn son, Joshua. The late Charles Rogers' family gave the estate out as a gift to the National Trust in 1974.
In exchange, they were granted a 1,000-year lease to live there. Apart from being the new heir to the Estate, which also serves as a tourist attraction in Cornwall, Jordan is also entitled to receive $1300 every week in Trust fund payments.
JORDAN'S VOW TO GIVE BACK TO THE COMMUNITY
Having a new lease of life hasn't made Jordan forget where he is coming from, as he vowed to help those who are in need. The former care worker previously lived in Porthleven before moving into the estate.
He quit his job as a care worker and plans to set up a charity to help the communities of Porthleven and Helston. He explained that he is not going to forget where he was coming from and would thus help people in need.
JORDAN WISHES HE KNEW HIS FATHER
Jordan revealed that he always had suspicions that the late Charles Rogers could be his father. Charles made several unsuccessful attempts to have a DNA test carried out. It was only after his death that the DNA tests took place and revealed Jordan's true identity.
Jordan also said that though people say that he is fortunate, he would trade anything to go back in time so that Charles would know he was his son.
Please fill in your e-mail so we can share with you our top stories!