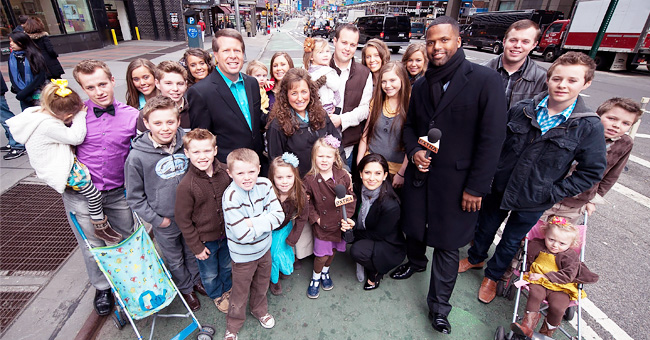 Getty Images
A List of All the Duggar Grandchildren and Their Ages

The ever-growing Duggar family certainly is "Counting On" as the number of grandchildren increases every year. Fans are finding it hard to keep track of how many babies the family has already welcomed.
In the past, Jim Bob made it clear that he hopes he one day has 200 grandchildren. It seems his children might have seen his statement as a challenge.
So far the Duggar grandchildren are already thirteen children. There are four more babies expected to arrive by the end of the year.
Josh and Anna:
Josh and Anna Duggar are expecting a baby girl in November 2019. They already have six children together. Their oldest Mackynzie Duggar,11, was born in October 2008.
Anna miscarried a baby in 2010 before having Michael Duggar,8, in June 2011. She then had Marcus, Meredith, and Mason. Marcus is 6, Meredith is 4 and Mason is 2.
Derick and Jill:
Jill and Derick have two adorable sons together. Their first was born in April 2015 and is named Israel Dillard. He is 4.
Their second son is 2-year-old Samuel Dillard. He was born in July 2017. Fans are eagerly waiting to see if the couple has plans to expand their family more.
Ben and Jessa:
Ben and Jessa Seewald just welcomed a new baby into their house. Little Ivy Seewald was born in May 2019.
They also have two older sons. Spurgeon Seewald, 4, who was born in November 2015 and Henry Seewald, 2, who was born in February 2017.
Austin and Joy:
Austin and Joy Forsyth are the proud parents of 15-month-old Gideon Forsyth who was born in February 2018. Joy was also 20 weeks pregnant before suffering a miscarriage in June 2019.
The little girl was named Annabell Forsyth. The family is currently still dealing with their loss and asked fans to remember them in their prayers.
Joseph and Kendra:
Joseph and Kendra are preparing to welcome a little girl into the world. Kendra is due in November 2019.
They already have a little boy together. Their son, Garrett Duggar was born in June 2018 and just turned a year old.
Jeremy and Jinger:
Jeremy and Jinger Vuolo welcomed their little girl, Felicity Vuolo in July last year. The little girl will turn one this year.
Josiah and Lauren:
Last year, Lauren tragically miscarried their first child Asa Duggar. However, before they could lose hope the couple found out they were expecting again.
Lauren is due to welcome their miracle baby in November 2019. They are expecting a little girl.
Please fill in your e-mail so we can share with you our top stories!