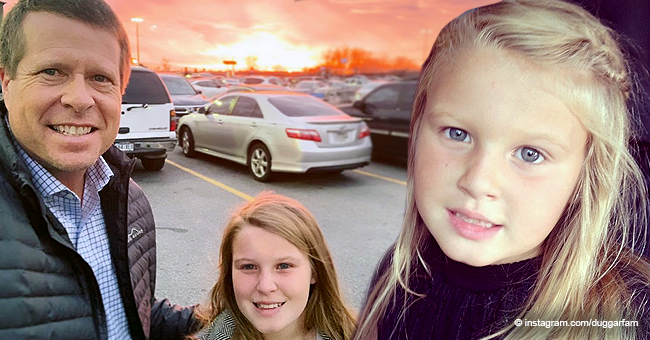 instagram.com/duggarfamily
Jennifer Duggar: A Look at Her Life

As the seventeenth Duggar child, Jennifer sometimes slips under the radar as her older siblings fill the spotlight. However, the young girl is growing up fast.
Born Jennifer Danielle Duggar she is most often called Jenni. She is the 17th child of Jim Bob and Michelle Duggar.
Jennifer is younger than Josh, Jana, John David, Joseph, Josiah, Jedidiah, Jeremiah, Jason, James, Justin, Jackson, and Johannah Duggar, Jill Dillard, Jessa Seewald, Jinger Vuolo, and Joy Forsyth but older than Jordyn and Josie Duggar.
Birth:
Jennifer was born on August 2, 2007. She has been on camera since the day she was born and has appeared on the family's TLC reality shows since then as well.
Her birth was filmed by a TLC camera crew. It formed part of the special Duggars' Big Family Album which aired on September 22, 2007.
Personality
Jenni is often portrayed as the shy one in the family. Fans often compare her to her father as she appears to be very close to him.
The family describes her as extremely methodical. According to her siblings, she is also very thoughtful towards those around her.
Schooling and Home Life:
LIke all Duggar children, Jenni is homeschooled. She is also in charge of working in the kitchen with her sister Johannah.
She was initially put in a buddy team with her older siblings Jill, Joy, and James. Buddy teams were designed by the Duggar teams to ensure each child contributes to the house.
Older buddies also need to help dress, bathe, and feed their younger buddies. Jenni's buddy team have gained a reputation for being extremely close to each other, even after Joy and Jill moved out when they got married.
Jenni, like all the Duggars, has been raised as an active member of Bill Gothard's Institute for Basic Life Principles. She was also just a year old when the family's first reality TV show "17 Kids and Counting" started.
Travel:
By the time the TLC reality show ended in 2015, Jenni and her family had already done some extensive traveling for the show. The young girl went on a number of exotic vacations including trips to Scotland, Ireland, London, Israel, China, and Japan.
Wedding Involvement
With as many older siblings as Jenni has, it's no wonder she has been a flower girl four times. First in her brother Josh's wedding before appearing in Jill wedding to Derick Dillard and her parent's Jim Bob and Michelle Duggar's vow renewal ceremony in 2009.
She even appeared as a flower girl for her cousin Amy Duggar's wedding to Dillon King and her sister Joy Duggar's wedding to Austin Forsyth. She was also a bridesmaid at her brother Joseph Duggar's wedding to Kendra Caldwell in 2017.
Please fill in your e-mail so we can share with you our top stories!