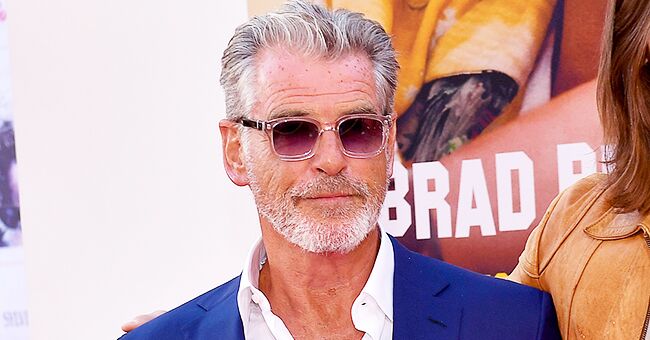 Getty Images
Pierce Brosnan Hangs Out with Jason Momoa after a Friendly Game of Golf in Hawaii
The 66-year-old
actor was captured alongside "Aquaman" star, Jason Momoa, relaxing after a golf game in Kauai, Hawaii, and the pair looked great!
On Sunday, former "James Bond" actor, Pierce Brosnan, took to his Instagram page to offer fans a peek into his away time on a Hawaii island, "Kauai."
Pierce shared an image which featured himself, co-star Jason Momoa and their "lad" as they enjoyed dinner in "PV Eats."
The photo showed Brosnan looking as elegant as always. He rocked navy shorts and a white polo shirt, while Momoa maintained the 'cool guy' look by donning patterned trunks, a burgundy vest, and backward-facing face-cap.
"' PV eats' the new place to hang on the North Shore of Kauai …after a round of golf with the lads, Jason and Neal…",
Pierce captioned the image.
The third individual in the image which was revealed as "Neal" in the caption had the same "casual and cool" look like the actor pair. He wore a long-sleeved black shirt and accompanied it with a black face-cap.
It was apparent the trio were having a great time as they all posed for the camera with wide grins over their faces and struck a "shaka sign." The shaka sign is a well-known friendly gesture that is attributed to
Hawaii
.
The "Kauai" vacation is a break from Pierce's busy schedule. As reported by Daily Mail, earlier this month, he was listed among the crew members to feature in Netflix's new film "Eurovision."
The movie is based on a singing competition which bore the same name.
WHAT DO WE KNOW ABOUT THE NEW MOVIE?
Storyline:
As disclosed by Deadline, the film will be based on the televised singing contest "Eurovision" which began in Switzerland in 1956. The singing competition is well known for its bizarre outfits, daring acts, and "political voting."
Writers:
The movie will be a work of legendary comedian, Will Ferrell, and Andrew Steel – "Saturday Night Live" head-writer.
Eurovision will be Ferrell's second film with Netflix, and it was also stated by Deadline that he would also feature in the movie.
Release date:
Netflix has not announced when the movie will be out, but it is expected to be released in a few years. Quite a wait, but one can undoubtedly anticipate a "top-notch" piece.
Please fill in your e-mail so we can share with you our top stories!