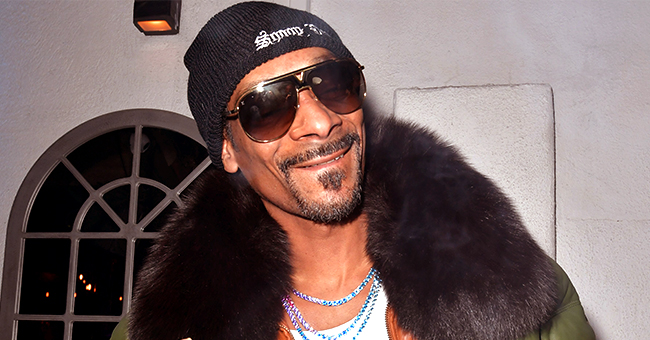 GettyImages
Snoop Dogg Says He's 'Tired of Seeing Girls Shaking Their Booties,' Encourages Them to Step Up

Snoop Dogg appeared on The Breakfast Club to promote his latest album "I Wanna Thank Me." The rapper said a lot, but the most captivating thing he discussed seemed to shoot all he stands for in the foot.
The rapper flew into New York for 50 Cent's birthday party. During his visit, he branched on the show where he spoke about Jay-Z's NFL deal, Nipsey Hussle, Tupac and the part he played or did not play in the rapper's death among other things on the radio program.
But there was one thing he mentioned that stood out and is receiving various reactions from viewers.
"I'm tired of seeing girls shaking they booties and showing they and feeling like they gotta show their ass. You can be something different. Use your mind, cover your body up. Let a man have some imagination and think and be like one of them women in the office up in there. Change something. Do that," Snoop said.
This statement came as hypocritical to Charlamagne, "that's a lot coming from you," the anchor said before noting that Snoop Dogg has likened women to nothing but hoes and tricks. The rapper acknowledged this saying "I do that too."
This reaction is similar to most viewers, who are calling him out for making such hypocritical and hasty comments. While few people see reasons for the statement, a more significant percentage consider it offensive.
Viewers are questioning whether he is in the right position to make such observations considering his past albums are X rated, coupled with the fact that he was a pimp back in the day and did nothing to hide it.
One comment attacked Snoop, by emphasizing that he built his career on naked women in his music videos. Some believe that women should not get attacked in this context, not from the men who have created an atmosphere that encourages that attitude.
Of course, he may also be trying to correct his past mistakes and make women understand that they can choose to be more. His approach to the subject is taking the message out and concentrating on the speaker.
Snoop Dogg is never afraid of making controversial statements, during the interview, he was asked for his opinion on Hussle saying he is this generation's Tupac Shakur; he agreed.
"The spirit Nipsey had was the spirit Tupac had as far as being up close and personal with the people and just trying to give back," he spoke of the rapper.
He believes Nipsey was an extension of Tupac, finishing what he couldn't. He said it's still difficult to speak about Nipsey's death. The late rapper was to act as Snoop Dogg in the movie "All Eyez on Me." In his new album, Snoop dedicated a track to Hussle titled "One Blood, One Cuzz."
The YouTube clip gives us an insight into the life of the smooth-talking rap icon, airing his mind on various issues ranging from music to business to politics.
The new album is a vibe altogether, and the fact that it has fans buzzing shows the almost 50-year-old rapper still got it.
Please fill in your e-mail so we can share with you our top stories!