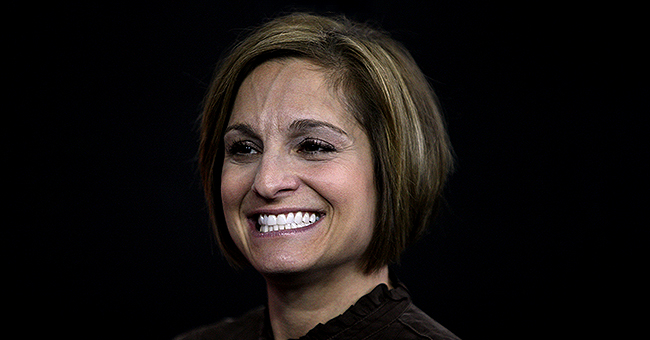 Getty Images
Mary Lou Retton Shared New Photo of Freshman Daughter & Fans Love Her Chic Dorm Room
Mary Lou Retton's daughter is a college freshman. She shared a photo of her third child sitting in her dorm, and the décor of the room left her followers amazed.
Mary Lou Retton shared on Instagram, a photo of her daughter, Skyla, sitting in her college dorm room. The new college student wore an oversized T-Shirt with the name Texas Tech printed on it.
The dorm room featured a charming décor, a comfy bed with several pillows, and a frame with the words, "Welcome home, Sky." Retton captioned it:
"All moved in! I am sure going to miss her, but it's her time to shine. #TexasTech #HappyTears #ProudMama."
Skyla, responded to her mum's words, writing:
"But I love you so much, and miss you so much."
Other followers of the gymnast, stayed away from the mother-daughter love and focused on how great the freshman's dorm looked. One of Retton's followers wrote:
"This is a dorm room? Wow! Things have changed."
Another wrote:
"That's a great dorm room. My room wouldn't fit on the bed. Lol."
While a third commented:
"If that's a dorm room, score!"
Few months ago, the Olympic gymnast who is now celebrating her daughter going to college was a guest speaker at the 2019 guest lecture of the University of Mary Hardin-Baylor.
During her presentation, the mum-of-four spoke on her resilience and determination to win the '84 Olympics gold. Retton said:
"I had to leave comfort zones; I had to be resilient, but, most importantly, I had to learn to seize the moment when my time came."
The West Virginia native transferred her spirit of determination to her daughters, Shayla, McKenna, Skyla, and Emma Jean.
The girls followed her footsteps into competitive sports, and McKenna and Emma are gymnasts just like their mother. The sporting spirit also comes from her daughters' father and husband, Shannon Kelley.
Kelley played as a sporting quarterback for the Texas Longhorns in the '80s. After retirement, he took on coaching jobs and worked as the quarterback coach at Fairmont State University for two seasons.
Retton currently works in the athletic department of the university.
The parents-of-four met while they were in college and got engaged in '89. By '90, the two got married and had their first child some years later.
Retton and Kelley are family-oriented and continuously cheer their daughters on as they make a name for themselves in competitive sports.
Please fill in your e-mail so we can share with you our top stories!