Four Marriages and Two Grown-Up Sons of Pamela Anderson
"Baywatch" star, Pamela Anderson's love life reads like the tides as her on and off relationships led to four marriage with three men and two sons, who are following their passions in life.
TOMMY LEE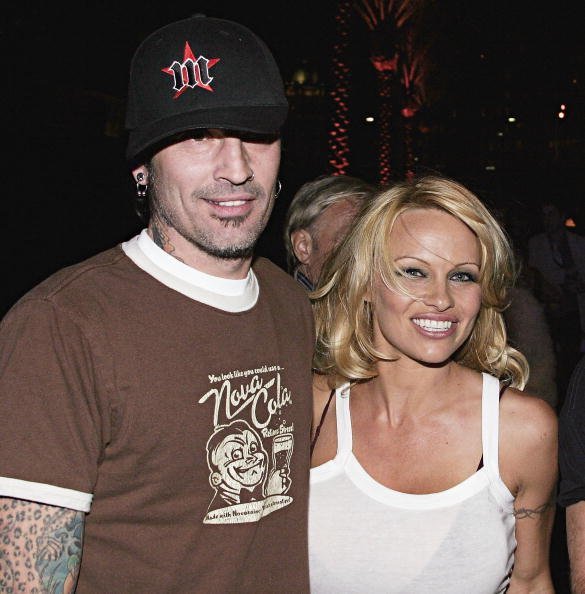 Pamela Anderson got hitched to the Motley Crue drummer, Tommy Lee after they spent only four days together in February 1995. Little did Pamela know that she would soon be marching to the beat of a different drum than she intended as she said her vows in a bikini on a beach in Cancun. 
At the time, Pamela had adolescent hearts pumping wildly with her role as C.J. in "Baywatch," while Tommy enjoyed the success Motley Crue achieved.  
However, Pamela's mother found out about the wedding from news outlets just like the rest of the world, and it didn't take long before Pamela and Tommy's marriage struck the wrong chords.
Shortly after their honeymoon, the couple went on vacation and recorded a sex tape, which got stolen out of their home later in 1995.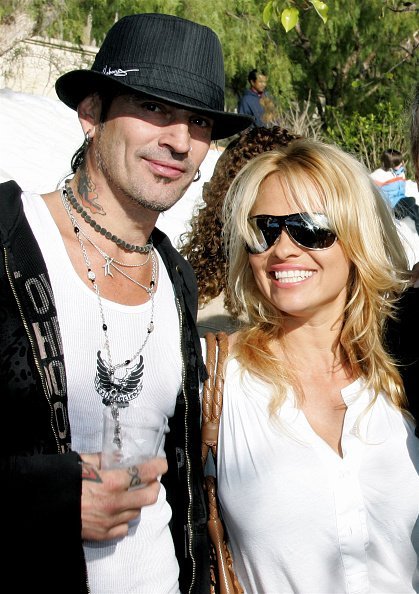 Tommy had hired people to do work on their family home, and among the workers was Rand Gauthier, a former porn star that stole the tape and sold it, according to Motley Crue's autobiography, "The Dirt: Confession of the World's Most Notorious Rock Band."
It didn't take long before the recording made its way onto the internet, which had Pamela fuming. She sued the distribution company, Internet Entertainment Group, but the damage was done. None the less, Pamela signed a confidential settlement with IEG.
The following year, Pamela gave birth to their first child and son, Brandon Thomas on June 5, 1996, followed by the birth of their second son, Dylan Jagger on December 29, 1997.
In 1998, Tommy got arrested on charges of spousal abuse after he reportedly kicked Pamela in the kitchen while she held one of their sons because she refused to cancel plans they had made with her parents. Tommy pleaded no contest in court after Pamela reportedly got left with "bruises, a torn fingernail, and feared for the safety of her two sons," and spent six months in county jail.
The couple got divorced shortly after, but they kept seeing each other sporadically for several years. "We've only given it a try 800 times — 801, here we go. Pamela and the kids have moved in with me. It's awesome. It's definitely working," Tommy said in 2008.
Another shock hit the media in March 2002, when Pamela announced that she had contracted hepatitis C from the tattoo needles she shared with Tommy. Reportedly, Pamela got cured of the disease in 2015.
KID ROCK
When Pamela made the shocking announcement, she had just started dating singer Kid Rock, but they split up two years later in 2003. After running into each other on a yacht owned by a mutual friend in St. Tropez in July 2006, Pamela and Kid Rock rekindled their romantic flame.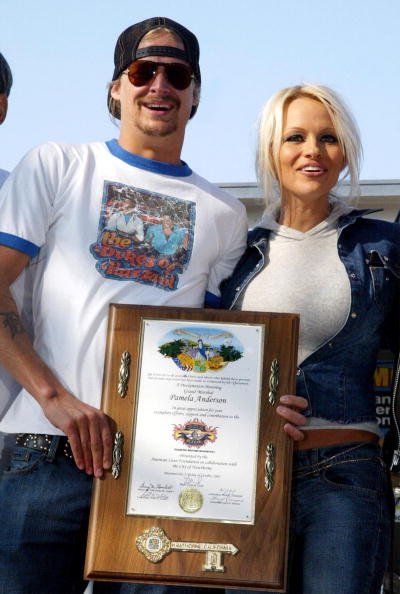 On July 18, 2006, Pamela announced their engagement on her website, followed by their wedding ceremony on July 25, 2006, on a yacht close to St. Tropez.
But then came the release of Sacha Baron Cohen's comedy film, "Borat" in November 2006. Pamela and Kid Rock attended a screening of the movie at the then-president of Universal Pictures, Ron Meyer's home, but after seeing the movie Kid Rock "started screaming at Pam, saying that she had humiliated herself and telling her, "You're nothing but a whore! You're a slut! How could you do that movie?" 
The source of Kid Rock's rage came from a specific scene during the film, where Sacha went into a Virgin Megastore and tried to put Pamela in a traditional marriage sack to take her back to Kazakhstan to become his wife.
While shooting the scene, Sacha didn't realize that Pamela "clipped her jaw" when he flung her over his shoulder and later said that she had "lost two things" that day. "One, she lost a tiny bit of bone from her jaw, and secondly, she lost a husband."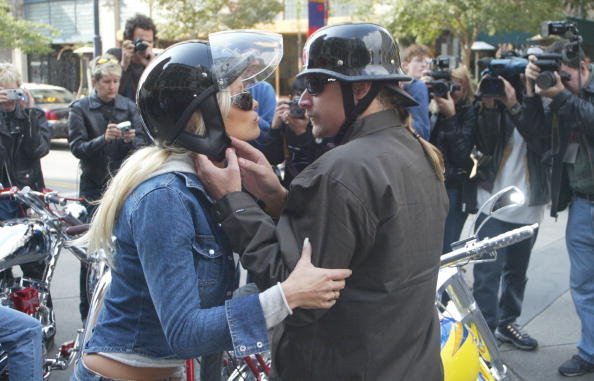 With Pamela and Kid Rock's marriage out of tune due to "Borat," the couple filed for divorce later in November, which got finalized early in 2007.
RICK SALOMON
Shortly after Pamela's divorce from Kid Rock, she married Rick Salomon in Las Vegas during a 90-minute break between magic shows wherein she appeared. After a few short months together, the couple had their marriage annulled in 2008.
However, the couple decided to give their relationship a second chance, and Pamela confirmed to E! at Sean Penn's Help Haiti Gala in Los Angeles in January 2014, that they had just gotten remarried. "We're very happy," Pamela said. "Our families are very happy, and that's all that matters."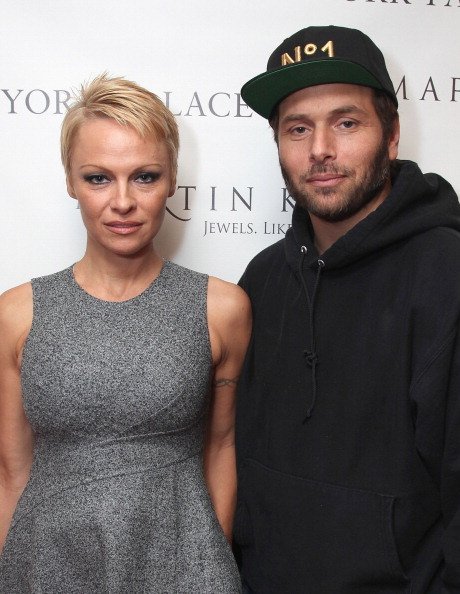 But in July 2014, the couple headed for splitsville again when Pamela filed for divorce. Shortly after, the "Baywatch" actress changed her mind, and they reconciled. Not surprisingly, Pamela changed her mind again and filed for divorce for the third time in February 2015.
"She could pull it back again. It is always on and off," a source told Us. "She doesn't know what she wants, and he's too nice for her. She likes bad boys."
On Pamela's 52nd birthday in 2019, Rick got spotted enjoying a fun day out with the actress and her family after her recent split from boyfriend Adil Rami. Sons Brandon and Dylan posted videos on social media of their fun day on a boat, and again later when they all went for dinner.
BRANDON LEE
Growing up amid the turbulent and well-publicized relationships of his mother, Brandon wanted to stay out of the spotlight during adulthood, but things don't always work out as planned.
At the age of eighteen, Brandon started modeling after he got an opportunity to work with the Tommy Hilfiger brand. Soon after he booked runway shows for the likes of Phillip Plein and Dolce & Gabbana while he also featured on the covers of D'Scene Magazine and GQ Germany. 
Pamela's firstborn also dipped his toes into acting and starred in the Netflix comedy "Sierra Burgess Is A Loser" in 2018, and got cast in the series "Tales" set to air in 2019. Fans will also get to see Brandon in the reboot of "The Hills" called "The Hills: New Beginnings" and will be Brandon's first time on reality television.
Brandon decided to step into the spotlight after much consideration, as he told Interview Magazine," I've had a pretty crazy life, and I spent the majority of it hiding from the spotlight, trying to be a normal kid. I used to resent all of this. But I've come to a point in my life where I want to show people what I'm truly like. "
The youngster also made headlines in 2018, after he allegedly assaulted his father, Tommy Lee. Thankfully, father and son seemed to have made peace since then.
DYLAN JAGGER LEE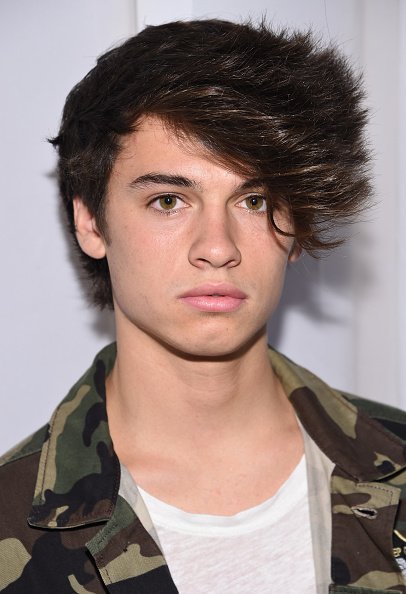 Dylan stepped into the limelight in 2016 when he attended the Saint Laurent menswear show in Los Angeles alongside his brother, Brandon, and became a regular at fashion week since then. 
While Dylan works as a model, he dedicates most of his free time to his music, which he hopes will lead to a career in the music industry.
"As of right now, I am working really hard to become a music producer/DJ. That is my dream, and I want it to become a reality. I work every day on my music, and I hope that soon I can make it happen! My favorite group/artists would be The Chainsmokers, Jack ü (Skrillex and Diplo), Dillon Francis, and Zedd. Those are the people who inspire me," Dylan told WMagazine in 2017.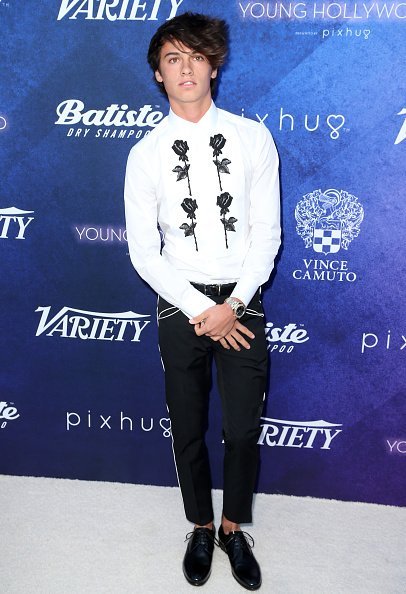 Even though Dylan likes to stay healthy, he hardly ever sees the inside of a gym and gets exercise through his favorite pastime of surfing and long runs on the beach with his dog.
Relatedly, Pamela Anderson attended the 26th annual Cannes amfAR Gala in May 2019 and drew attention for unusual reasons.
While the "Baywatch" star looked elegant in an uncustomary modest dress, she also made a rare appearance at the gala with her son, Brandon.