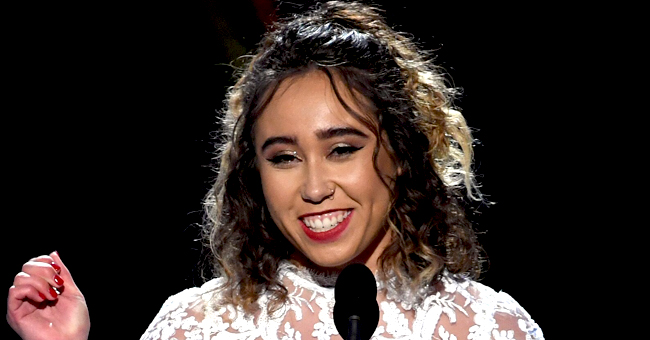 Getty Images
Gymnast Katelyn Ohashi Reveals She No Longer Hides Her Rare Skin Condition
For many years, gymnast, Katelyn Ohashi battled with a rare skin condition and eating disorder which made her uncomfortable with her body. Now, the star is much more confident with her body as she revealed in an interview with ESPN.
Years back, if anyone had told 22-year-old gymnast, Katelyn Ohashi, that she would pose nude for ESPN's Body Issue, she probably would have laughed it off.
This is because the star previously found it difficult to accept her body, and she felt ashamed of it. Now, she feels super-confident about it and tells the sports channel that she would no longer hide her skin disease.
KATELYN'S EARLY DAYS
Growing up, gymnastics was the only thing Katelyn who began her journey into the sports world at the age of three knew. She was always at the gym in her early days, and when at home, she would practice by herself.
That changed when the young Katelyn turned an elite gymnast, and everything became more about the sport and less about her or her needs. She still loved the game, but her joy for it had significantly reduced.
KATELYN'S STRUGGLE WITH BODY SHAMING
Right from the age of fourteen, Katelyn heard negative comments about her body weight, and this led to other several painful experiences.
The gymnast and her friends resorted to disordered eating, ultimately leading to her suffering from a significant back pain that led to her quitting the sport at the age of sixteen.
Stopping gymnastics was a relief to the young athlete, and it took a whole year before she returned to the sport. This time, Katelyn joined a UCLA gymnastics team which prioritized that she ate properly.
She shared that her goal is to find joy in the sport again and this time, do it entirely for herself. The star also revealed that she had a skin condition called granuloma annulare, which covered her whole body.
For long, she hid under the radar due to the condition, often refusing to take pictures with her skin revealed. However, Katelyn now feels the need to show her skin to the world and has been left amazed with how people with her condition have been inspired to show themselves.
Ohashi is now a confident athlete, and that could be seen from her nude pose for ESPN while performing a stunt.
OHASHI IS FAMOUS FOR HER STUNTS
The 22-year-old is not new to performing her routines and gave the world a glimpse of her talent at the 2019 ESPY Awards red carpet. Ohashi posed for the cameras in an epic handstand. The gymnast posed upside down, in her dress, without taking off her heels.
The gymnast became an internet sensation when she shared footage of herself performing a perfect 10-scoring routine in January.
Please fill in your e-mail so we can share with you our top stories!