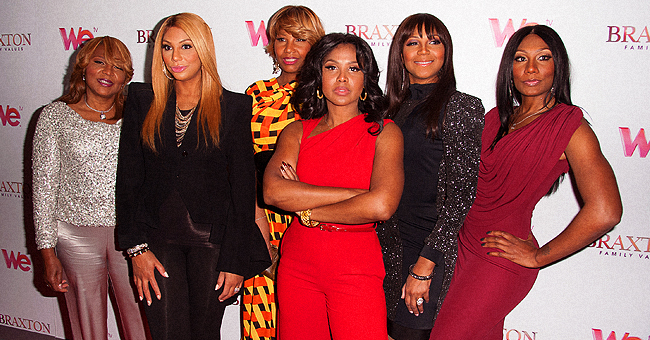 Getty images
Braxton Sisters Show Their Skills While Dancing to 'Case' by Nigerian Artist Teni

Rather than squabble, the Braxton sisters decided to dance the night away and started a debate among their fans.
The Braxton sisters did a dance-off, and fans are arguing heatedly about which of the sizzling ladies has the hottest moves.
The final fan favorite may be a surprise to many.
THE BRAXTON FAMILY DANCE-OFF
In the video, posted by "The Shade Room," and which garnered over 1,400,000 views, the Braxton girls were shaking their booties and putting on their best cool moves.
They gyrated around what looked like a lounge to sultry Latin sounds, but for the fans, most of the Braxton beauties failed to impress.
It is wonderful to see the sisters having a good time together, and putting aside their differences
AND THE BEST BRAXTON DANCER IS...
The fans were unanimous the Braxton with the best moves is definitely Traci, with her sisters putting on a poor show in comparison, and the comments showered in.
"Traci need to give everyone lessons! When u get older & your bones start to ache dance but Traci is killing it literally."
"Traci has been waiting for this moment! She was not trying to be Afro-offbeat !"
"Traci not playing no games wit y'all."
"(expletive) is Toni doing! only one with moves is Traci."
It is wonderful to see the sisters having a good time together, and putting aside their differences. Toni explained the family dynamic:
"We're family and that's our model. In the end, we always figure it out, even if we're not loving each other at that moment, we'll always love each other."
FINDING BALANCE AND HAPPINESS
At this moment in their lives, the Braxton sisters are, each in their own way, reaching for their ideal of happiness and balance in their lives.
Tamar is finally living a true and nurturing love with David Adefeso, Toni revealed that her engagement with Birdman is still on and Trina is overcoming the loss of her ex Gabe on December 20, 2018, and has accepted a marriage proposal from boyfriend Von Scales.
"Everything is about forgiveness and moving forward. You know, we're getting older now and ever since my ex-husband, Gabe, passed away, I just realized how short life is. You know, the foolishness is just unnecessary and as long as we have breath in our bodies, there's always time to make amends and reach resolve," Trina said.
Words of true wisdom.
BRAXTON FAMILY IS IN MOURNING
Just four months ago the Braxton family received a brutal blow when their niece Lauren Braxton passed away in April 2019.
24-year-old Lauren Braxton was the daughter of Michael Braxton Jr., only male Braxton sibling.
Lauren was found unresponsive in her home in Baltimore and was pronounced dead by paramedics.
Michael has revealed that his daughter's sudden death was the result of a heart condition.
Please fill in your e-mail so we can share with you our top stories!