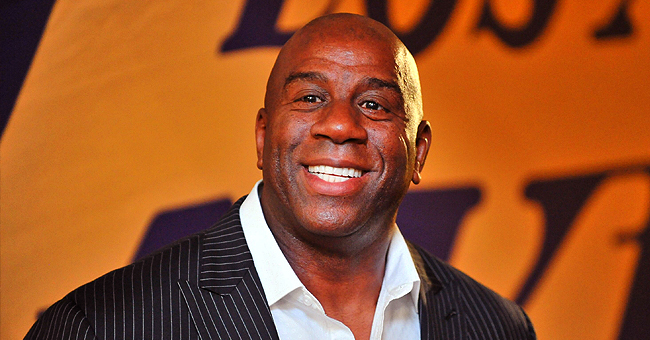 Getty Images
NBA's Magic Johnson's Son EJ Poses with Mom Cookie in Pic from Joint 60th St. Tropez Birthday Party

EJ Johnson, one of the sons of NBA legend Magic Johnson, uploaded a photo on Instagram showing him and his mother, Cookie, rocking beautiful dresses.
The 27-year-old man has been openly gay since 2013 when TMZ published pictures of him holding hand with a male friend. Thankfully, his family has supported him the entire time.
From that point on, EJ has been posting photos on social media, proving how proud he is about his sexuality.
"This has certainly been the most painful and difficult year of my life."
EJ and Cookie posing together
One of the most recent images he shared on Instagram was a throwback that portrayed him in a tight, sleeveless, purple gown, and a necklace while holding Cookie's hand.
His mother, on the other hand, opted for a beautiful, sleeveless, black dress. Together, the mother-and-son duo was walking in the middle of a crowd who was taking pics of them.
According to the location tag of the Instagram post, they were at the Les Caves du Roy in Saint-Tropez, France. For the caption, EJ wrote: "Double mint queens."
Soon after posting the pic, Tina Lawson, Beyoncé's mother, commented on it saying that both EJ and Cookie looked "hot."
Magic's 60th birthday
The Johnsons were in France celebrating Magic's 60th birthday. The party was filled with stars, including Samuel L. Jackson, Jennifer Lopez, Alex Rodriguez, Byron Scott, and so on.
Most guests opted for white outfits, although some of them wore different colors. Apart from Cookie and EJ, Magic's daughter Elisa was also present. Andre Johnson, the former NBA star's eldest son, was nowhere to be seen.
EJ's most difficult year
On June 4 this year, when EJ turned 27, he shared a slideshow on Instagram with a lengthy caption. In it, he revealed that the past year was the most painful and difficult for him after losing one of his best friends, Lyric McHenry.
"This has certainly been the most painful and difficult year of my life as well as one of great growth, power, strength, and beauty," EJ shared. "After losing the most important person in my life, I wasn't sure if I would be able to laugh, smile, or find joy again."
Thankfully, he found strength in his friends and family as he tried to pick himself up after the tragic incident.
At the moment, EJ is in a much better place and is focused on his career as a socialite and TV personality while also pursuing his fashion vocation.
Please fill in your e-mail so we can share with you our top stories!