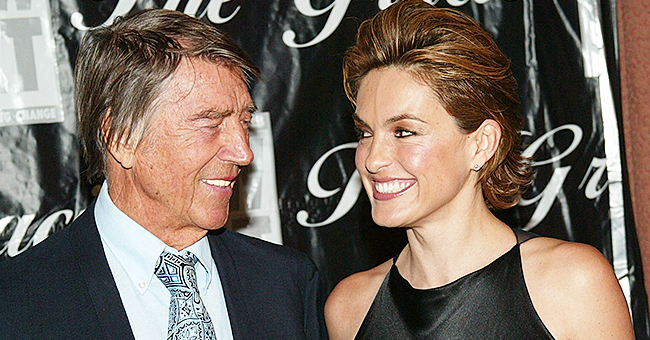 Getty Images
Story of 'Law & Order: SVU' Star Mariska Hargitay's Dad Mickey Hargitay Who Was Once Mr Universe
Award-winning actress Mariska Hargitay is the daughter of Mickey Hargitay, a former winner of the Mr. Universe Contest, whose story is both intriguing and inspiring.
Mickey Hargitay was a bodybuilder and actor who has achieved so much in his eighty years sojourn on earth.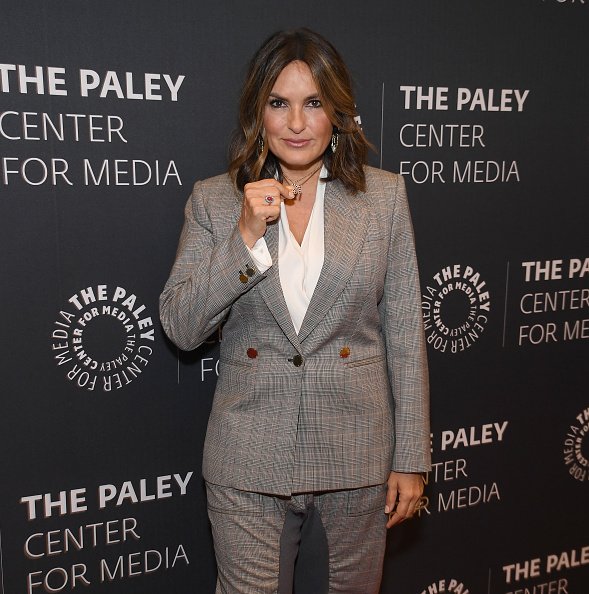 Mariska Hargitay at the "Law & Order: SVU" Television Milestone Celebration on September 25, 2019 | Photo: Getty Images
From getting married to a woman as beautiful as Jayne Mansfield, to winning a Universal contest, and having a foray of sorts into the world of acting, he has inspired many people among which is actor, Arnold Schwarzenegger.
THE STORY OF MICKEY HARGITAY
Growing up as a child in the Eastern European country of Hungary, the young Mickey, who was born Miklos Hargitay in 1926 enjoyed playing football and was a skilled one at it.
In those days, he and his brother thrilled Hungarians with their acrobatic displays. The young Mickey joined up with the anti-Nazi resistance as the Second World War grew fierce.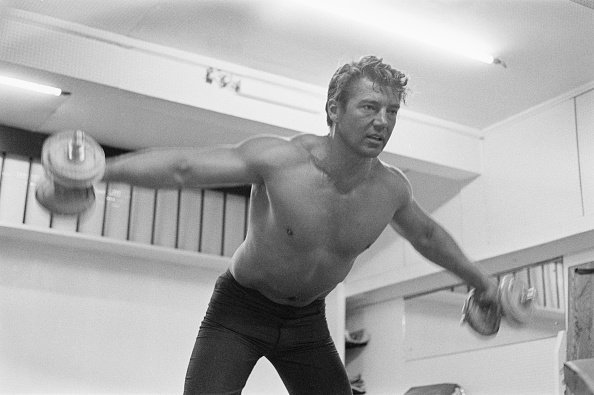 Late American actor Mickey Hargitay during one of his training sessions in 1963 | Photo: Getty Images
After the war, the Communists began taking over, and for fear of being drafted into the military, Mickey migrated to the United States.
He first stayed in Indianapolis, worked as a builder and also performed nightclub dance acts with Mary, who later became his first wife.
Mickey Hargitay's journey into the world of bodybuilding began the day he walked into a gym and lifted a bar that weighed 215lbs.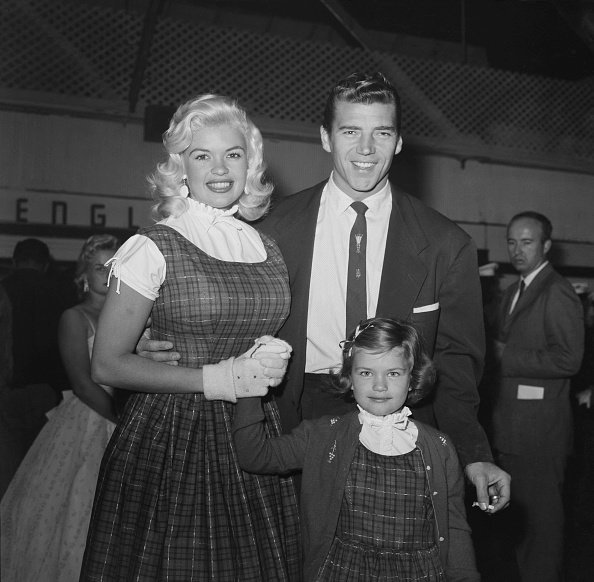 Actress Jayne Mansfield with her daughter Jayne Marie Mansfield and Mickey Hargitay during a Christmas Parade party in Los Angeles | Photo: Getty Images
That act stunned the owner of the gym as Mickey weighed 180lbs. That journey soon began earning him rewards as he soon won Mr. Indianapolis and Mr. Eastern America.
Apart from that, his body frame and good features helped to popularize the sport which before then was seen as weird.
Mickey Hargitay became so popular, making the cover of many magazines. It was in one of those magazine covers that Mae West saw him and asked him to join her chorus of Muscle Men, who wore G-String while performing.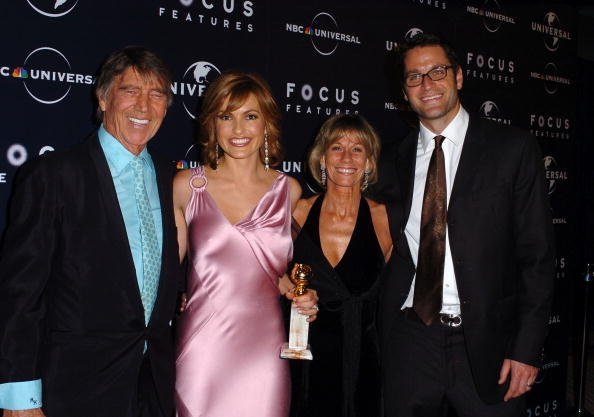 Mariska Hargitay with father Mickey Hargitay at the 6th Annual Golden Globes Award | Photo: Getty Images
It was in one of these performances that Mickey met Jayne Mansfield, a star actress of that time, who was rumored to be attracted to him at first sight.
The pair soon became close, and soon divorced each of their spouses, before getting married in 1958, sparking massive publicity.
The couple made appearances in many movies and lived a public lifestyle, as they were followed by Paparazzi who thronged their Beverly Hills Mansion.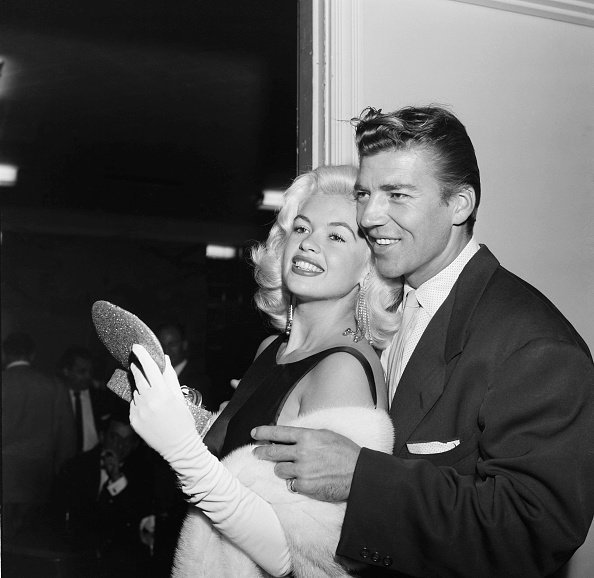 Actress Jayne Mansfield and Mickey Hargitay at the WAIF BALL in Los Angeles,California | Photo: Getty Images
They divorced in 1964, with Hargitay going on to become a successful contractor and Real Estate Investor. Jayne Mansfield died in 1967 following a car crash.
Mickey Hargitay died in 1967, leaving behind his wife, Ellen Siano, two sons and two daughters.
One of those children is Mariska Hargitay, who along with her two brothers, were in the rear seat of the car whose crash killed her mom, Jayne Mansfield.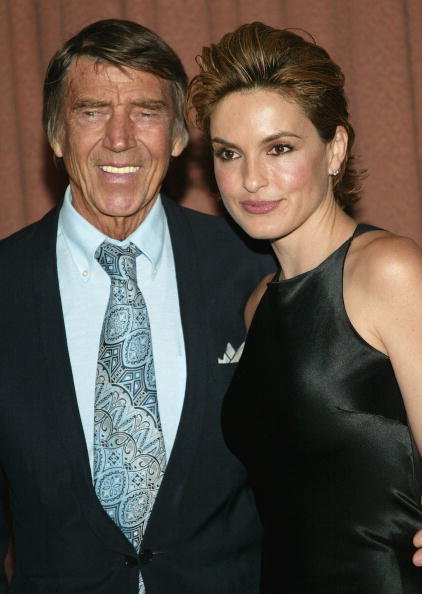 Mariska Hargitay and father Mickey Hargitay at the 2004 American Women in Radio & Television Gracie Allen Awards gala on June 22 2004 | Photo: Getty Images
Mariska is herself a successful actress and revealed that her father, Mickey, taught her how to deal with the pain of losing her mom, and also helped her to launch her acting career.
The "Law & Order: Special Victims Unit" star is a mother of three children and the skills she developed while playing the role of a Police Officer have helped her to manage her life as a wife, mother, and friend.
Please fill in your e-mail so we can share with you our top stories!