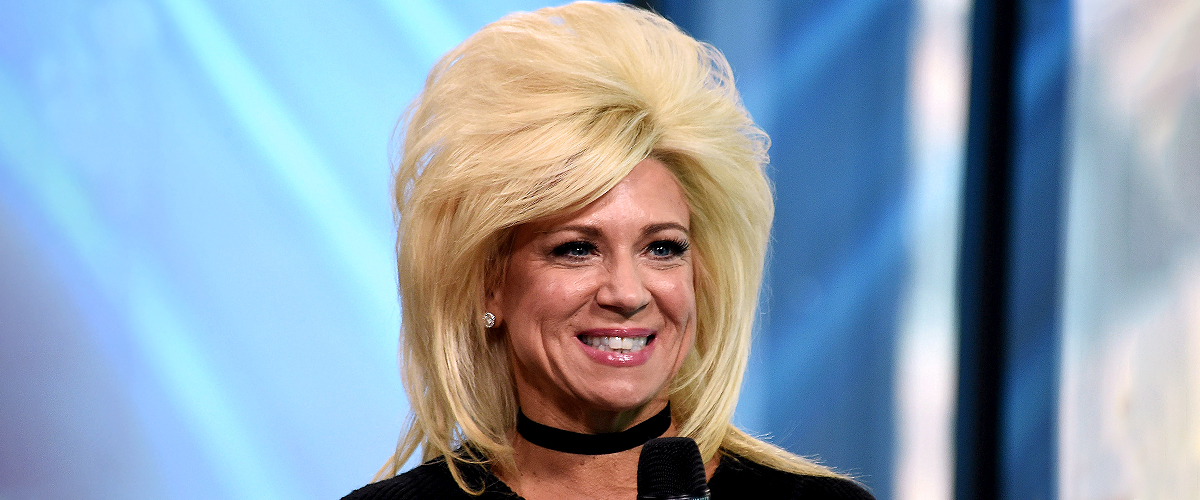 Getty Images
Theresa Caputo Reveals That Her Son Larry Jr. Is Back Home after Undergoing a Major Surgery

Theresa Caputo gave fans an update on her son who just had a common, but major surgery and is now back home.
Larry Caputo Jr. looked like an adorable mama's boy as he sat on a couch playing with a dog while his reality star mother smiled proudly for the camera.
The blonde medium uploaded the photo to her Instagram account on Tuesday along with a caption updating fans. The post is found below.
Theresa's son is back home where he belongs
She wrote:
"Back home with his Momma while he heals from surgery. #mysonmyson #mommasboy #longislandmedium #thereasacaputo."
In the picture, Theresa stood up in front of a white couch holding onto a pair of grey crutches. Behind her, Larry wore a black t-shirt and red pants as he sat holding a brown dog.
He also had a black baseball cap on — in the house. The mother-son pair looked relaxed as they both smiled for the camera. They had good reason to be happy.
Theresa has been keeping fans updated about her son's health
Almost two weeks ago, the "Long Island Medium" star revealed that her son had Anterior Cruciate Ligament (ACL) surgery. A picture showed Larry in the hospital with a large black cast on one leg.
In the caption, Theresa included the hashtag "ACL surgery is no joke." She's right. The common but major surgery has many risks and could lead to complications.
It's good to see that Larry came out of it safely and is now back home. Last year, Theresa also had knee surgery which is why she said: "Just like his Momma" in the caption.
All about Theresa's son Larry Jr.
Theresa shares Larry Jr and daughter Victoria with ex-husband Larry Caputo. The pair were married for 28 years before their split last year.
They remained on good terms, and are now able to enjoy their adult children's landmarks as a team. One of Larry Jr.'s first accomplishments was his graduation from the College of Mount Saint Vincent.
He has a bachelor's degree in communication and media studies. Regarding his take on his mother communicating with the dead, Larry Jr. has grown used to it.
His girlfriend also doesn't seem to mind his mother's unique job. Larry Jr. has been dating Leah Munch for years now. The 26-year-old, who strongly resembles his dad, reportedly works at MSG Networks.
All about Theresa's daughter Victoria
Unlike her brother, Victoria Caputo dropped out of college before she could finish, opting to go to beauty school instead. The news upset her parents but Victoria has had success as a makeup artist and hairstylist.
Victoria, 25, has made more headway in matters of the heart. In February, she uploaded a collage of three pictures showing an engagement ring on her finger as she posed with her fiancé, mother, and a cake.
Micahel Mastrandrea is the lucky guy who got a "yes" when he proposed to the blonde beauty whom he called his "best friend." Theresa is already planning her daughter's wedding alongside her ex-husband.
Please fill in your e-mail so we can share with you our top stories!