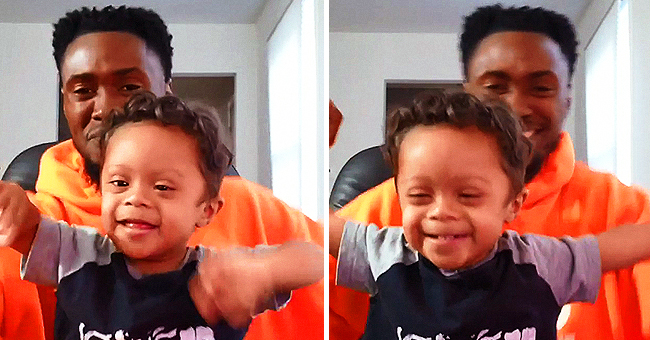 Instagram/kennyclutch_
NJ Toddler Kristian Thomas Dances with Dad to Celebrate 11 Months of Being Cancer-Free & the Video Goes Viral

Two-year-old Kristian makes an adorable dance video with his dad Kenny Clutch celebrating 11 months of being cancer-free, and it has the media going wild.
Kristian has reason to celebrate! After five rounds of chemotherapy, the two-year-old boy was declared cancer-free.
To celebrate the amazing news, Kristian and his dad Kenny made a video of themselves dancing to a song by Lil Mama.
The video goes viral as the dancer and motivational speaker, Kenny took to Instagram to post the clip and captioned it:
"Father Son chemistry, ?? 11 Months Cancer Free!! If we can do it, you can do it!! Live Free!! Drop a ? for Father Son Vibes!!! #cancerfree @lilmama ??? #jerseyclub."
The video was highly inspirational to many and attracted over 29,000 views, tons of likes, and congratulatory comments from followers. Someone said:
"Yes!!!! What a Blessing ♥️??...I am smiling and dancing with Y'all!!!!"
"Omg, how sweet is this!! Makes my heart so happy!! Congratulations to u little angel. You're a warrior, indeed!!✊??❤" another said. "11 months!! That's amazing. Keep on with the positivity, it has paid off. ❤" said another.
"Fam… your son gives me empowerment by simply smiling and exhibiting his happiness. Thank you for these videos." one fan added.
Apparently, little Kristian, like his father, loves to dance. Apart from this video, Kenny has previously posted on Instagram several videos of himself and Kristian dancing and just being happy.
The doting father made these videos with his son to distract him while he was undergoing chemotherapy and to inspire others that may find themselves in similar situations.
Kenny decided not to be a father that grieves and spends the whole day in the hospital with his family. He thought he could do something different and show the world that it's possible to be positive in situations like this.
"I've been doing these videos, and people have been loving them since the first one that I did. I figure why...be the dad that's grieving and complaining about his son being in the hospital and his family being in the hospital all day?" he told PIX11.
"Why don't I change things up a little bit, and let's show people how to be positive in this situation?" Kenny concluded.
Kristian is the fourth child of Kenny and his partner, Josilyne. The young lad was born with down syndrome, and his parents were informed of the likelihood of the condition developing into leukemia.
Unfortunately, when he turned one year old, Kristian was diagnosed with Acute Megakaryoblastic Leukemia.
However, after undergoing several rounds of Chemotherapy, in November last year, he was declared to be cancer-free. Up until now, little Kristian is still very much free from cancer.
Please fill in your e-mail so we can share with you our top stories!