Melanie Griffith of 'Working Girl' Stuns in Two-Piece Lingerie & Heels, Gets Praise from Fans for Her Fit Frame
Melanie Griffith sends pulses racing as she strips down to her lingerie and heels for sexy mirror selfie. Fans can't believe how amazing the "Working Girl" actress looks.
Melanie Griffith looks incredibly fit as she poses for a mirror selfie in her walk in closet, in her Instagram caption she writes:
"So these 2 awesome, creative, incredibly chic stylists…@sweetbabyjamie and @simoneharouche have started this amazing new lingerie line @thekitundergarments ? I love everything they have made and btw want one of each! They also donate a portion of anything you buy to charity. ♥♥♥ FOLLOW THEM!!"
Standing in front of a long mirror inside a walk in closet, Griffith poses in nothing but black lingerie and matching peep-toe heels.
Showing off her perfectly toned figure, she stands with her body turned to the side and her hand on her hip. At 62-years-old she has many of her fans taking notice of her incredible physique, one fan comments:
"You must be super dedicated and work so hard to look so fit. I just don't have the drive. Do you work out every day? I know you won't answer but I'd love to know your workout regime."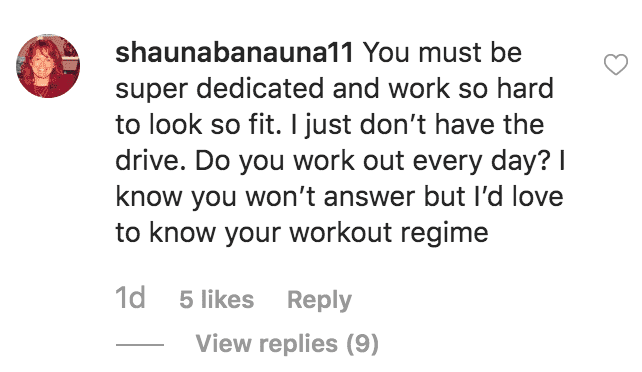 Griffith modeled in the Onyx T-shirt bra which retails at $54 and the $32 high-waist thong.
"She's got a head for business and a bod for sin ? @melaniegriffith," another fan jokes.

She took the sexy selfie to help promote the recently launched, "The Kit Undergarments." The apparel was created by celebrity stylists, Jamie Mizrahi and Simone Harouche.
Since its launch in October, celebrities such as Lena Dunham, Miley Cyrus, Diane Von Furstenberg, Kate Hudson, Jessica Alba and Kourtney Kardashian have modeled their undergarments. 
Earlier in the month, Griffith had heads turning in London when she attended "Global Gift Gala," with Eva Longoria. Sharing a picture from the event, Longoria says:
"So proud to stand beside these fearless, compassionate women! Sisters in our cause to help the world be a better place! Love you @mariarbravo @melaniegriffith @globalgiftfoundation #ggglondon19 #globalgifters."
Longoria and Griffith were at the event as co-chairs for the "Global Gift Gala." Proceeds from the night went towards "The Global Gift Foundation," which aims to support disadvantaged families around the world.
Celebrities such as Amanda Holden, Paloma Faith, Katie Piper, Julien Macdonald and Dame Kelly Hoppen were also in attendance at the gala.