Tiny of Xscap3 Dresses up as Foxy Brown as She Attends Halloween Party with TI after Divorce Rumors
T.I. and Tiny Harris scotched divorce rumors and showed up dressed as Foxy Brown and 'Big Daddy' at a high profile Halloween party.
Tiny and T.I. Harris are being plagued once again with divorce rumors, but they faced the gossips down by showing up at a Halloween bash in the best couples costume ever.
The couple raised eyebrows as Foxy Brown and 'Big Daddy' - and Tiny was a showstopper.
Tiny made a point of sharing several snaps of herself and Tip looking very cozy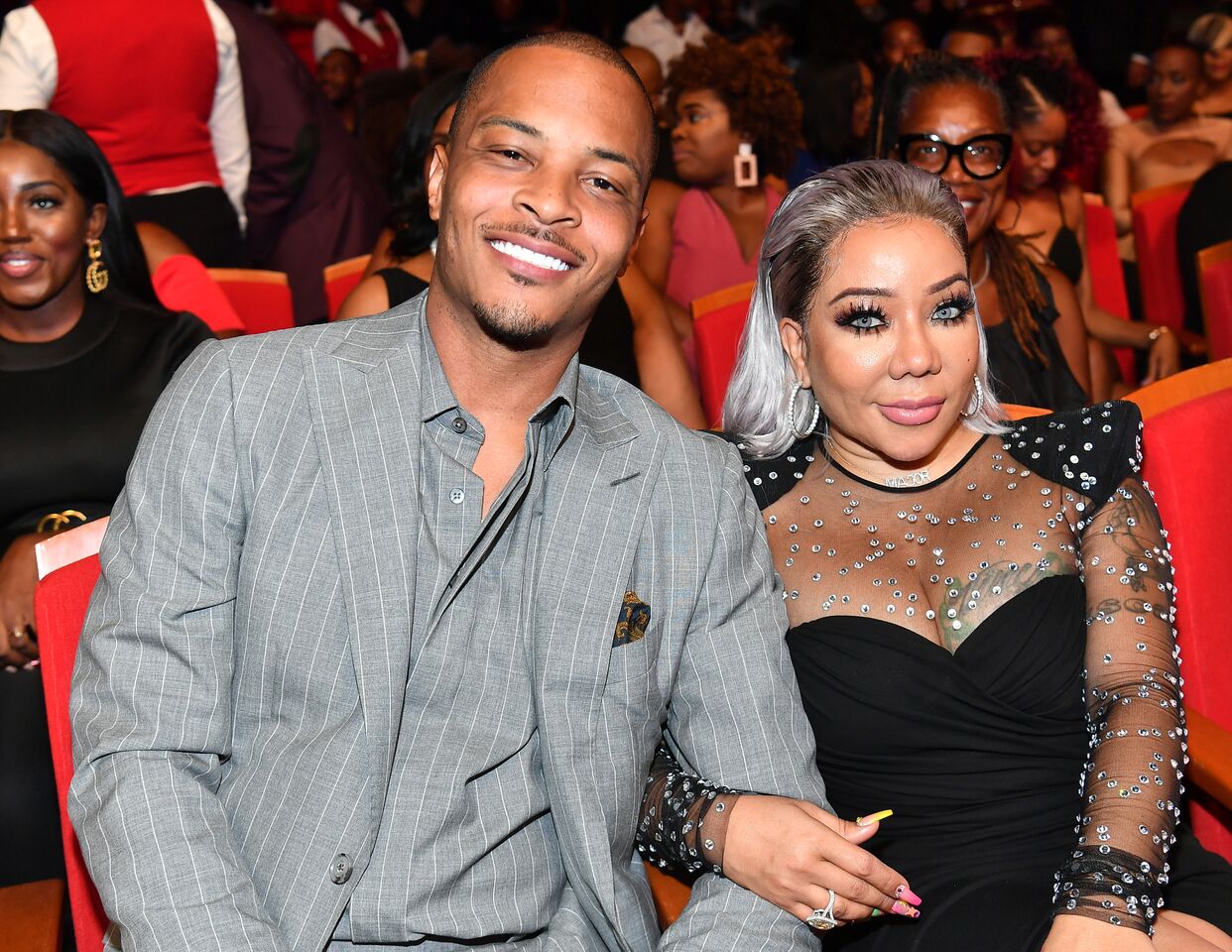 FOXY TINY STEALS THE SHOW
Tiny wore a skin-tight belted black leather dress that left little to the imagination, and a gold jacket with matching thigh-high gold boots.
To complete the look,
she wore a bouffant red afro wig
and giant hoop earrings, and dramatic makeup that set off her stunning turquoise eyes.
T.I. HARRIS CHANNELS "BIG DADDY"
As for T.I., he was practically unrecognizable, The rapper wore a fake beard, a shoulder-length wig, glasses, and a de rigueur pimp fedora. Along with his loud lime-green plaid suit waistcoat, he was "Big Daddy" to the life,
TINY HARRIS SHARES HALLOWEEN SNAPS ON INSTAGRAM
Tiny made a point of sharing several snaps of herself and Tip looking very cozy on Instagram, and captioned one of the photos:
"What's a pimp with out his bottom bih!! On my Foxy Brown ? but we a real life movie tho… @troubleman31 aka Big Daddy & his Trixie? ??!"
TAMRON HALL QUESTIONS STATUS OF HARRIS MARRIAGE
T.I. was a guest on Tamron Hall's show on October 29, and the TV host quizzed him about the status of his marriage, to which he replied:
"Listen, I love my wife and I love my family, I think that goes without saying."
T.I. revealed that even at the height of the divorce crisis in 2016, he and Tiny never separated. 
From what this couple demonstrated on Halloween, their love is solid, and going strong, no matter what the gossips may say.
THE T.I. AND TINY HARRIS DIVORCE SCANDAL
Back in 2016, the Harris marriage was on the rocks. Things had reached the point that Tiny actually hired a private detective to follow her husband - and filed for divorce.
At that time, T.I, was said to have cheated on Tiny with several women - one of them one of her own friends.
T.I. was also linked to Instagram model named Bernice Burgos and caught on video spanking Asia'h Epperson's bottom backstage...
But faced with losing his wife and his family, T.I. has turned over a new leaf, and since then, the couple have been closer than ever.