Kim Kardashian's Daughter North Screams 'Chick-fil-A!' at the End of Dad Kanye West's New Music Video for 'Closed on Sunday'
In Kanye West's new music video, "Closed on Sunday" she features several members of the Kardashian and Jenner clan. North West steals the spotlight with a special scene, where she screams from the mountain top.
Kanye West turned his latest music video into a family affair. The futuristic themed video featured all members of the West family and, Kris Jenner, Kourtney Kardashian and her three children.
All dressed in winter clothes from his Yeezy collection, Kanye and his family are filmed walking on the top of the mountain. At the end of the video his daughter North West yells:
"Chick-fil-A!"
In the video, North has the honor of screaming the final lyrics of the song, which is normally reserved for Kanye. The lyrics of the song say:
"Closed on Sunday, you're my Chick-fil-A

Closed on Sunday, you my Chick-fil-A."
According to Hollywood Life, the lyrics appear to be endorsing the religious practices of the food chain, "Chick-fil-A."
Some people have insisted that the title is directly relating to the food chain because it is open every day of the week, except for Sunday. This is done in observance of Christian practices that promote not working on a Sunday.
Since announcing that he is born again Christian and is focusing his work to serve God, Kanye's music has been heavily influenced by religious undertones. So too has his parenting style he explains:
"I don't think North should wear a crop top after I had her wear a slip dress when she was two years old. I think and feel differently now that I am Christian."
In an interview with Zane Lowe he admitted that he "was literally out there making [North] try to out dress Rihanna."
Since his religious turn, he has made several adjustments to his family life, Kim says he has removed the televisions from his children's bedroom and banned North from wearing make-up.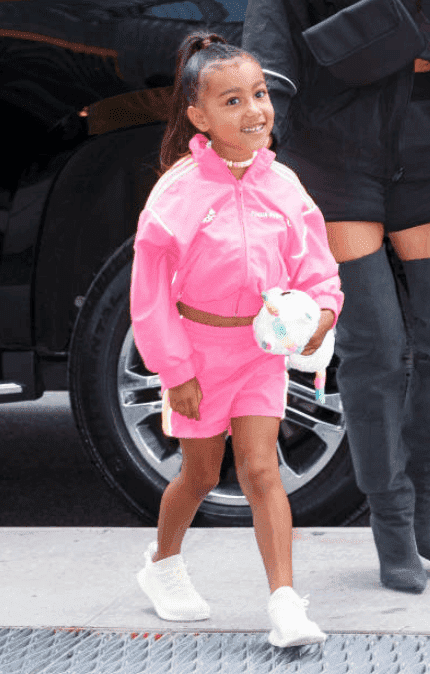 However, Kim has made a compromise for North's sake. With make-up out the window for the six-year-old, she says North has found a new passion for skin care.
She tells Allure that North and her friends really enjoy experimenting with face masks and they are a common feature at all her sleepovers for the kids to enjoy.