Judge Jenny McCarthy of 'The Masked Singer' Jokes about Her Funny TV Moment
"The Masked Singer" reveal on Tuesday was so shocking to Jenny McCarthy that she peed herself on the show. When fans pointed it out, the star reacted. 
Model and actress Jenny McCarthy stole the internet's attention on Tuesday when she leaped out of her chair upon learning The Tree's identity. 
McCarthy, 47, was correctly guessing that "Saturday Night Live" alum Ana Gasteyer was behind the mask for weeks. Still, she went crazy when she found out she was right. The post is found below.
McCarthy's reaction captured 
Several persons posted the shot of McCarthy's reaction after Gasteyer's elimination and reveal. The tv-personality herself shared a GIF of her jumping up and down immediately after. 
One user named Any VonDielingen caught the exact moment when the closed captioning on the television disclosed her words. She said, "Oh! Oh! [Screams] I just peed!"
The judge responds
A bold McCarthy reposted his tweet along with the caption, "Pretty sure most moms can relate. #PeeHappens #TheMaskedSinger." Fans appreciated McCarthy's candidness. 
Pretty sure most moms can relate. #PeeHappens#TheMaskedSinger
😂💃 https://t.co/FmBaJ9cccN

— Jenny McC-Wahlberg (@JennyMcCarthy) December 11, 2019
Some of her followers shared their own stories. One person, who isn't a mom but still has the problem, got a response from McCarthy. Another person called the judge "down to earth."
Latest "Masked Singer" updates
Meanwhile, The Tree sang Lady Gaga's "The Edge of Glory" before leaving. The contestants that remained afterward were The Thingamajib, Flamingo, Leopard, Fox, and Rottweiler.
Last week, viewers and judges were surprised to learn that Destiny's Child member Michelle Williams was The Butterfly after she got eliminated — again, McCarthy had guessed right that time.
Wahlberg's marriage advice
The former Playboy model is married to singer and actor Donnie Wahlberg. The pair have been together for five years now. Recently, they opened up about keeping the spark alive. 
Speaking to Closer Weekly, Wahlberg revealed that both he and McCarthy often remind themselves to show affection just like they did early on in their relationship.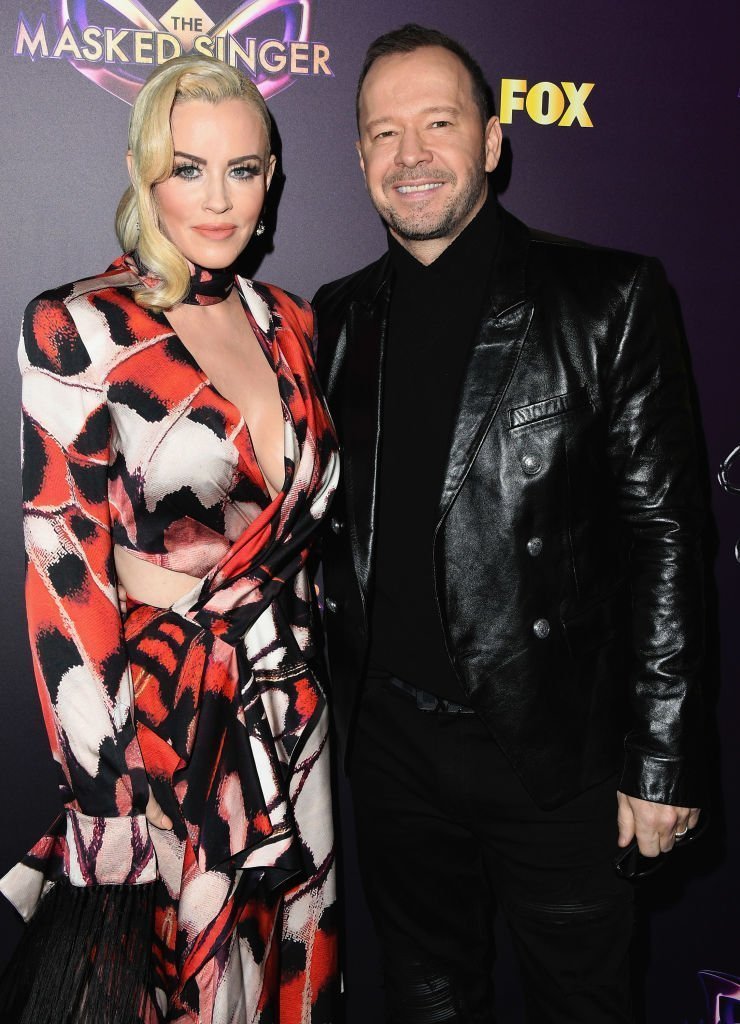 It takes work
Wahlberg, who stars in the CBS hit "Blue Bloods," is also mindful of the busy schedule between him and his wife. It would be easy to think of work rather than each other sometimes.
However, the two make sure to check in regularly no matter what. Wahlberg's advice on keeping the spark alive is to give it oxygen by consistently making an effort. 
Celebrating each other's birthdays
Last month, Wahlberg did his husbandly duties and was sure to honor his wife on her birthday. He took to Instagram to share a gorgeous photo of her along with a touching post. 
McCarthy also did her part back in August when she threw a Versace-themed party for her husband. In between, the two always share lovey-dovey posts to each other, and it's just too sweet.