'I Dream of Jeannie': 15 Facts about the Classic 60s Sitcom Fans Might Not Know
"I Dream of Jeannie" was a popular fantasy sitcom starring Barbara Eden as a 2,000-year-old genie and Larry Hagman playing the astronaut who becomes her master. The show gained a massive fan base.
Produced by Screen Gems, "I Dream of Jeannie" originally aired from September 18, 1965, to May 26, 1970. Then in September 1970, NBC ran season repeats.
In total, the show ran for five seasons and had 139 episodes were produced. However, even the biggest fans of the show might be surprised by these behind-the-scenes secrets.
1. Plot Twist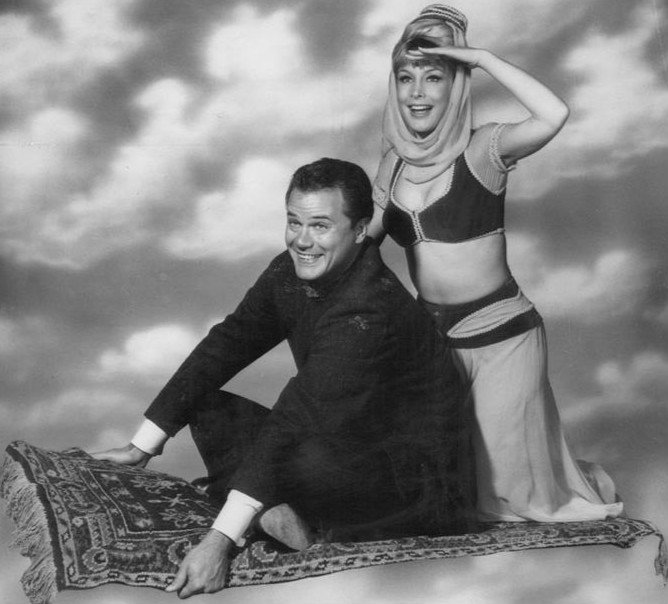 When the series first began, fans were led to believe Jeannie was turned into a genie after she refused to marry the Blue Djinn. Djinn was played by Eden's real-life husband Michael Ansara.
However, in the middle of the series, the plot changed. It was then claimed that Jeannie came from a line of genies instead of being turned into one.
2. Eden Was A Self-Declared Lion Master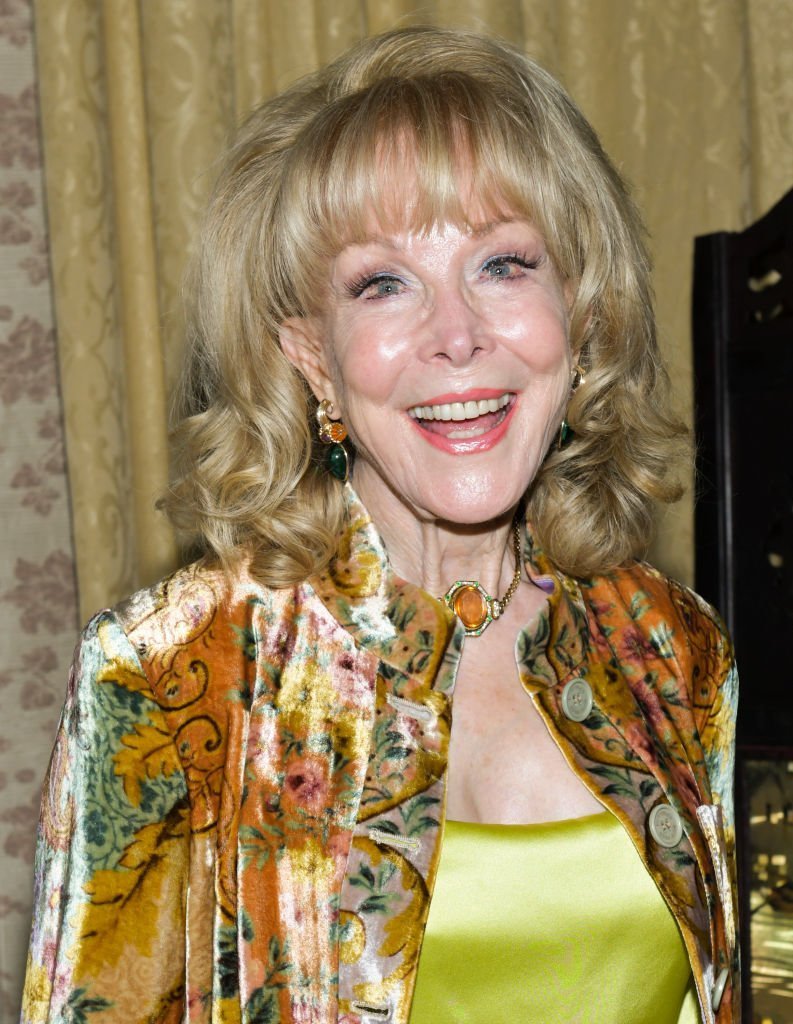 Eden was extremely excited when it was revealed that they would be filming with a lion companion. She already had prior experience working with lions. She even told the story in her memoir, 
Jeannie Out of the Bottle,
calling herself "somewhat of a lion expert," Eden reportedly gave Hagman tips saying:
"You have to stand very still and let the lion smell you. Then, when he's finished doing that, you should lean forward very, very gingerly and stroke him as gently as you can. That way, he'll get to know you and everything will be fine."
So it came as no surprise to people on set when the lion was extremely comfortable with her. However, since Hagman did not take her advice, the lion roared unhappily at him and he fled the set.
3. Cover Up That Belly Button
At the time the show was created,  there were strict television censorship rules in place. As a result, Eden was restricted from showing her belly button on the screen.
However, since her outfit consisted of a crop top and high waisted pants, there was bound to be a slip. However, fans will be shocked to note this only happened once and caused a bit of commotion during the series.
4. Season Two Brought Color And A Song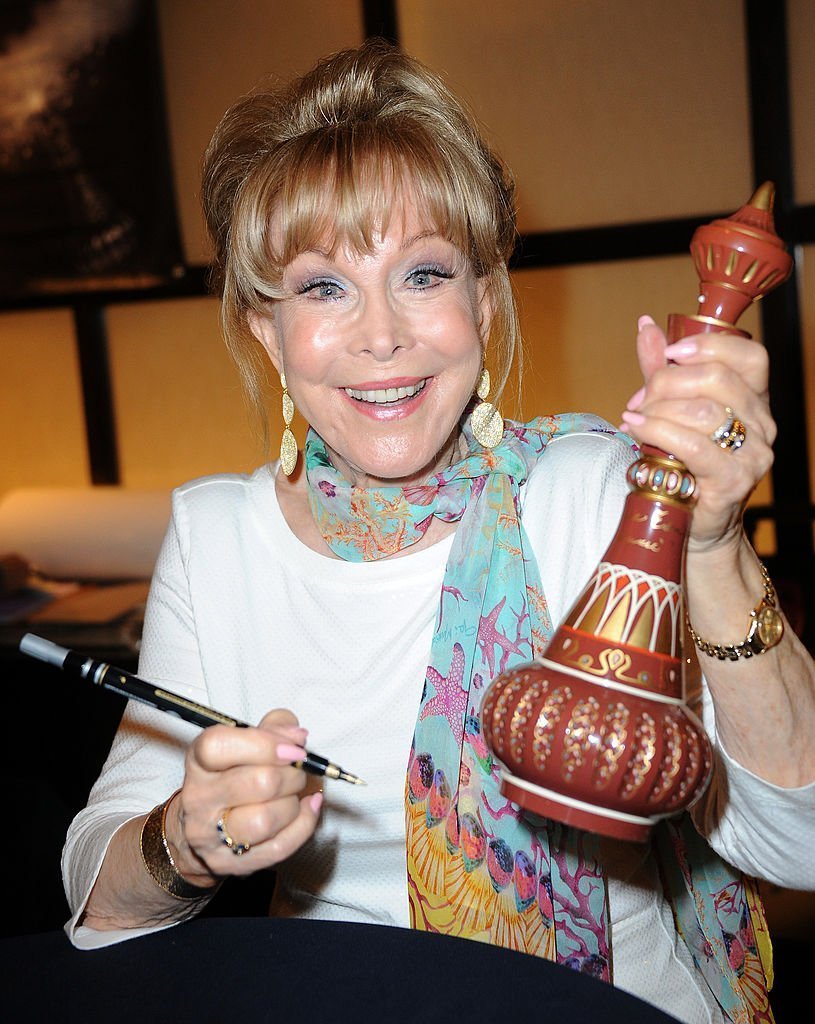 The first season of the show was made entirely in black and white. However, the second season came with a huge change in the industry.
Colorized films and shows slowly became popular. Therefore to keep up with the changing industry from the second season of "I Dream of Jeannie" was made in color. 
5. Took Five Seasons To Become Popular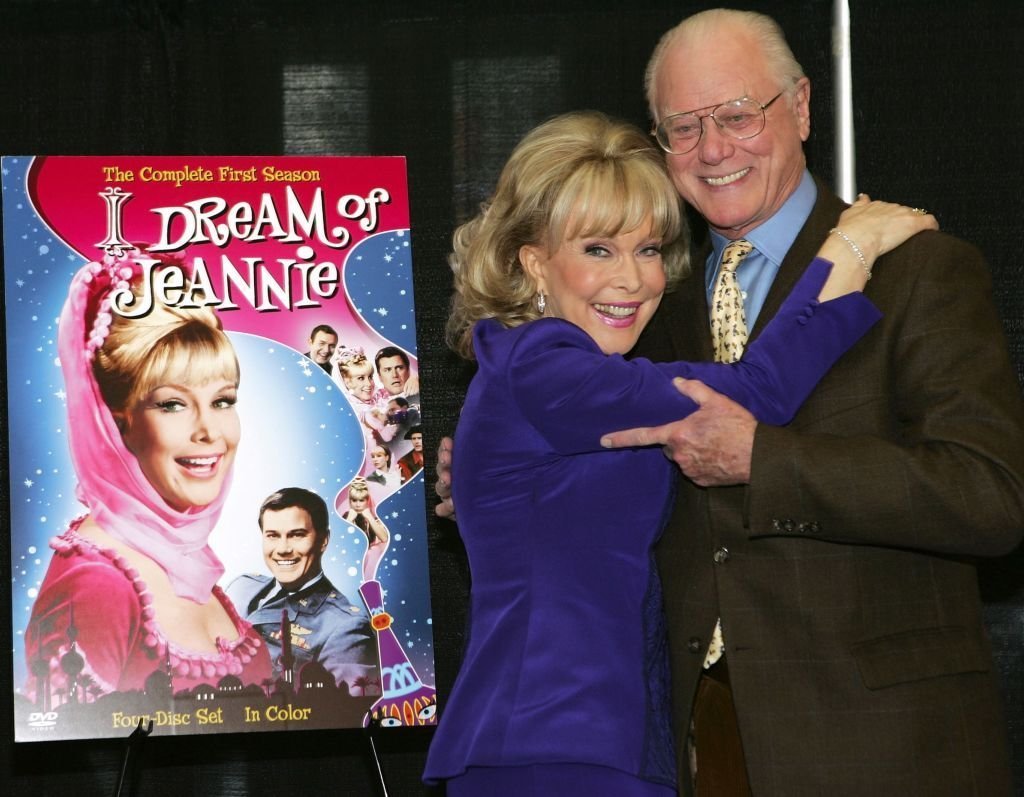 The show might be considered an extremely popular cult classic now, but it was not always appreciated. In fact, it performed relatively poorly at first.
It was on air for five full years before the show made it onto the Nielsen's Top 30. The truth is the show only rose to popularity after it was canceled.
6. Getting Into The Bottle Was Not Easy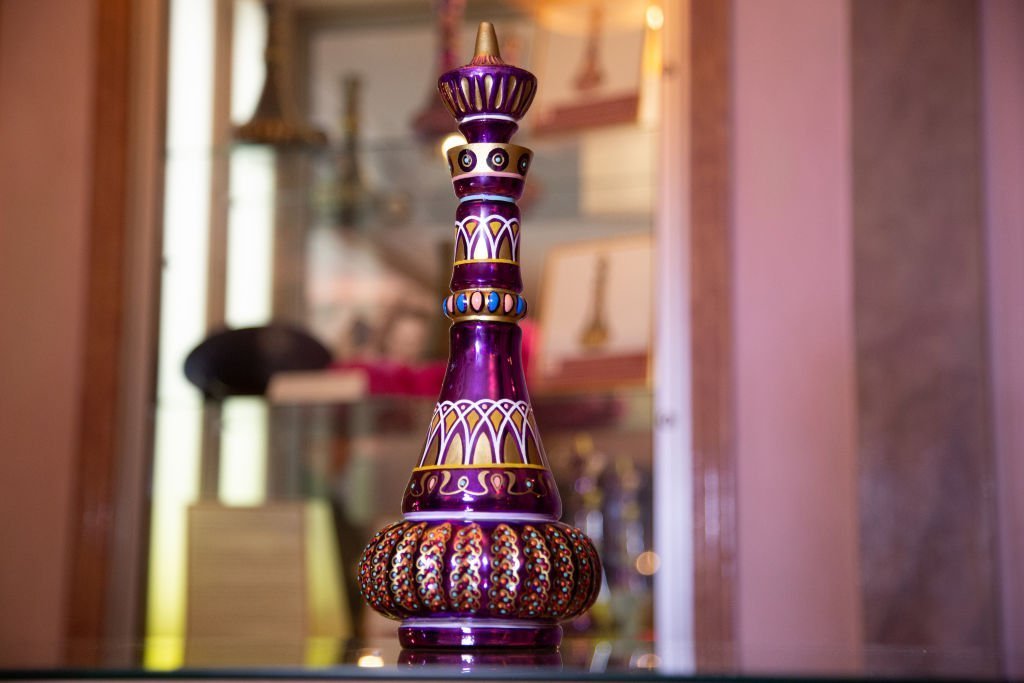 While Jeannie the genie could pop in and out of her bottle in an instant, the reality was very different and required quite a bit of muscle. The set for the bottle was built on a sound stage.
Eden was only able to enter the bottle set via an eight-foot ladder. The task was therefore quite taxing on her especially.
7. Seeing Double?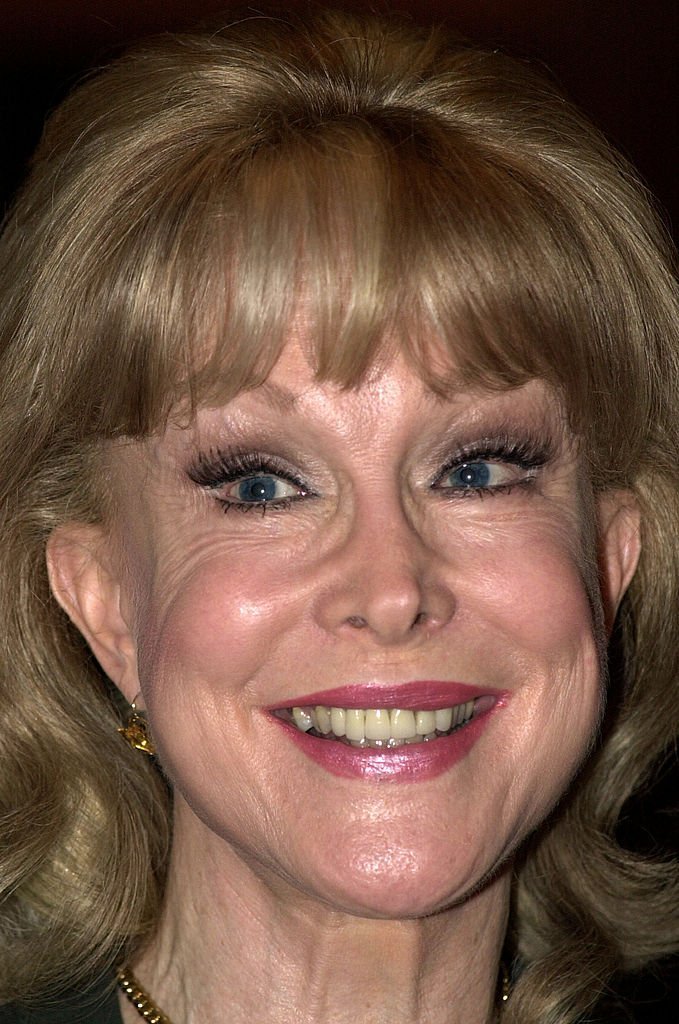 Besides playing the title character Jeannie, Eden also acted as Jeannie's brunette evil sister. Even more confusing was the fact that both characters she played were named Jeannie. 
8. Hagman Struggled With Anxiety
Larry Hagman reportedly often grew frustrated with the show's lack of popularity and slowly growing success. Rumors also claimed he was not impressed that he was playing second best to Eden.
Along with these growing issues, the actor suffered from severe personal anxiety. As a result, he consulted many doctors and was regularly prescribed shocking medications.
The prescriptions only served to fuel his struggle with substance and alcohol abuse. In the end, he was forced to get a liver transplant in the '90s.
9. Network Execs Applauded Jeannie's Marriage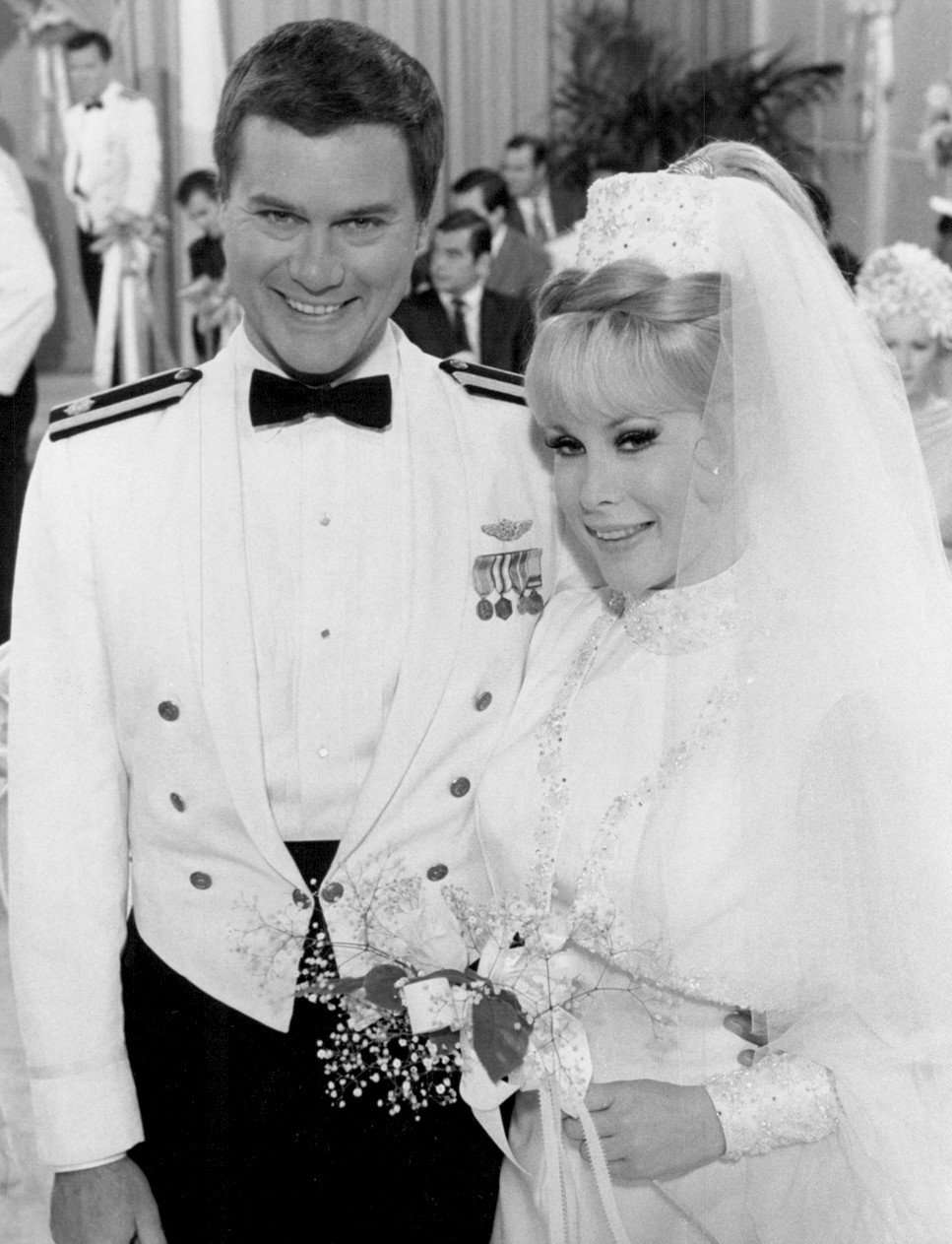 Network executives felt extremely uncomfortable that Jeannie and her "master" were never married in the show. Especially considering the conservative views of their audience at the time.
Thus, when the show was in its final season, executives were extremely happy when the directors decided the pair should tie the knot.
10. Hagman Was Told The Show Was Canceled By Security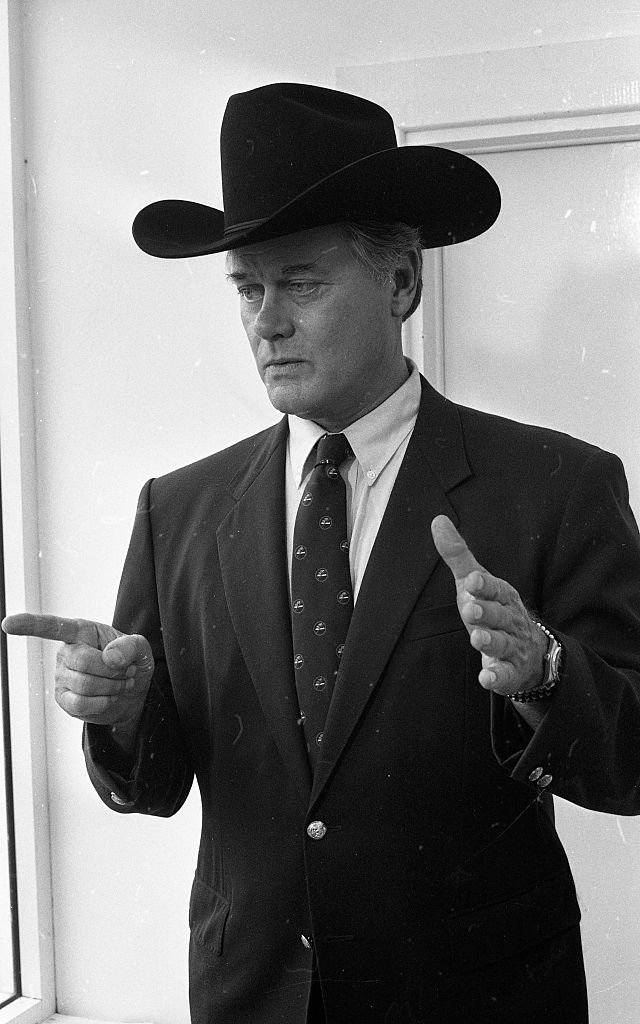 Hagman was away on vacation in South America. When he returned he went to the shows set to get something from his dressing room.
However, during his visit, he made a shocking discovery. He ran into a security guard on set who told him the show had been canceled.
11. Most Of Jeannie's Hair Was Not Eden's
Jeannie's unique hairstyle was iconic but it was not made up of Eden's hair. In fact, hair and makeup stylists would only push her bangs to the front.
The rest of her hair was styled back into a braid. This way they could clip a ponytail into her hair for the signature genie look.
12. Eden Was Disappointed that Jeannie and Tony Married
While network executives were happy to see the two main characters walk down the aisle., Eden was not impressed. In an interview with the Today show's Willie Geist, Eden said:  
"It ruined the show. Because [Jeannie] wasn't human … She thought she was, and [Tony] knew she wasn't … I think it broke credibility."
13.  Theme Song Was Only Created in the Second Season 
"
I Dream of Jeannie
" had an iconic theme song. However, fans might be shocked to note that the song was only introduced in the second season when a new, in-color animated opening sequence was introduced.
The first season actually used a variety of different openers. It experimented with everything from starting with how Jeannie and Tony met to a jazzy animated sequence.
14. Eden Was Pregnant In Season 1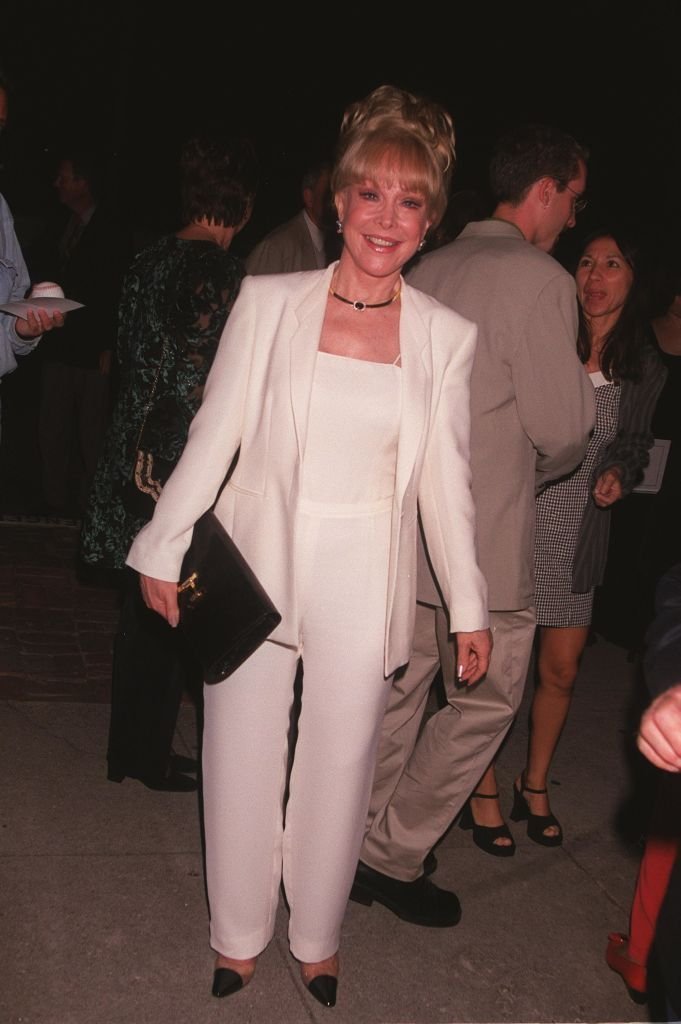 Jeannie's skimpy pink-and-red harem costume left little to the imagination and was an extremely iconic part of the show. However, Eden was significantly covered up during the first 10 episodes of the series.
However, it was because she was pregnant not because of the censorship rules. The producers hid her growing belly using various methods like adding several extra veils to her Jeannie costume. 
15.  Eden and Hagman Paired up again in "Dallas"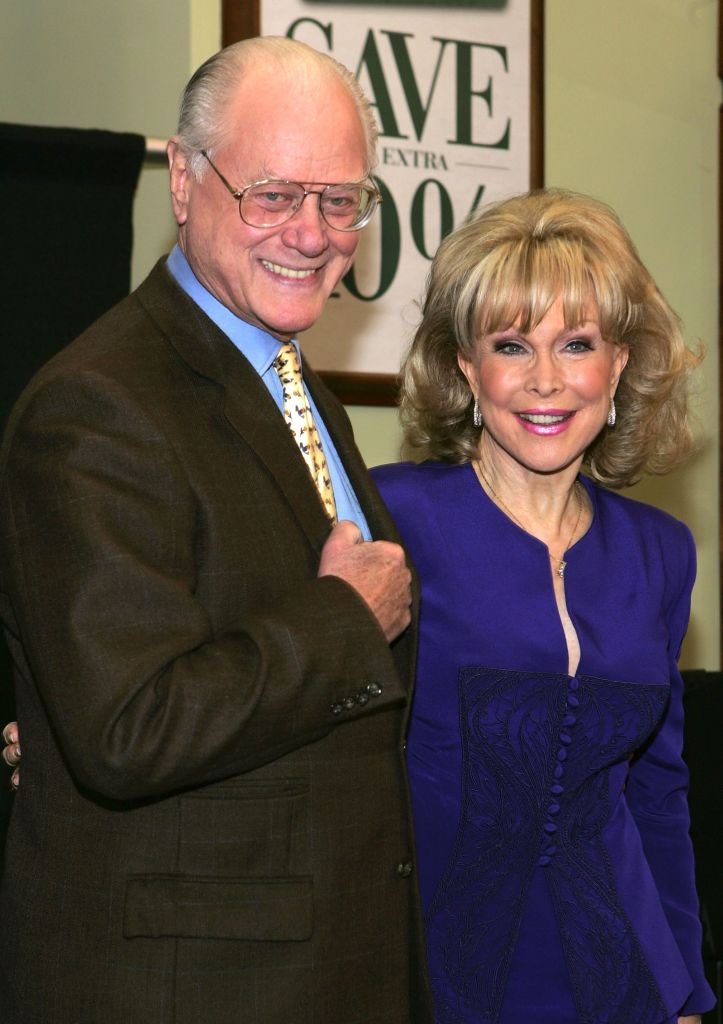 Eden appeared on Hagman's drama series "Dallas" as J.R. Ewing's embittered former lover, Lee Ann De La Vega.