Dr Oz's Daughter Daphne Shares Sweet Christmas Photo with Husband & Kids in Matching Outfits
Daphne Oz took to Instagram on Christmas Eve to share an adorable picture of her family of six with the children wearing matching outfits.
On Christmas Eve, Daphne and her family got all dressed up and went to church to celebrate the season. After the service, they returned home to take a family picture.
Daphne took to her Instagram page to share the photo featuring the family of six in their church clothes. Daphne's little girls are seen wearing cute matching outfits while little Jovan wore a suit like his dad.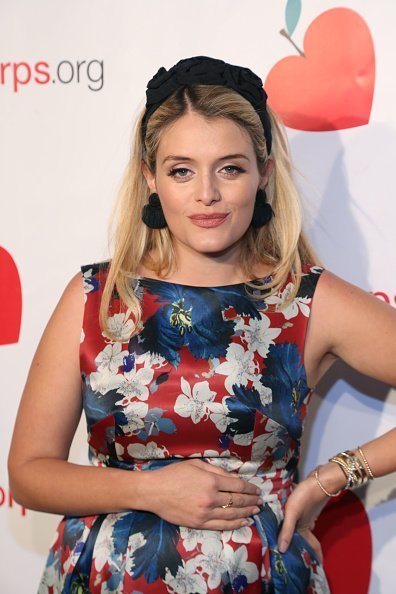 In the photo, Daphne carried Domenica with one hand and held Philomina with the other. John, on the other hand, is seen carrying little Giovanna as Jovan stands right in front of him. They all have a touch of red in their clothing, signifying the festive season.
While standing in front of a nicely decorated Christmas tree and a bunch of wrapped gifts, Daphne and her husband smiled into the camera. The children, however, find more exciting things to look at as neither of them looked into the camera. Daphne captioned the post:
"Merry Christmas Eve!!! We're fresh from church, and my kids are clothed (and matching!), and at least John and I are looking at the camera ?? hope you're having a delicious holiday full of good cheer!! Ok, back to PJs. ❤️"
The post attracted a great deal of response from followers. Having garnered over 21,000 likes, about 215 people took to the comment section to wish the family a merry Christmas.
She said, on the one hand, her body is resilient, and on the other, it's like, "whoa, can you give me a break for a second." She described it as "physically daunting."
For the Jovanovics, this Christmas is especially unique because it's the first Christmas they get to spend with the latest addition to their family. The family of five turned six on August 14 with the birth of Giovanna.
The Jovanovic family is gradually becoming bigger, and Daphne isn't talking about quitting just yet. Apparently, she doesn't mind a large family and always jokes with her husband, John, that she wants seven kids. She once told Closerweekly:
"I always thought we would have a big family. I love the chaos of it. I love the family celebrations, the mealtimes with 20 or 30 relatives around a table."
Although the mother of four loves being surrounded by kids, she admits it's not an easy task. In early August, before Gigi was born, the 33-year-old mother who has been pregnant four times in five years shared with People that her pregnancy with Gigi has been the hardest so far.
She said, on the one hand, her body is resilient, and on the other, it's like, "whoa, can you give me a break for a second." She described it as "physically daunting."
In March, Daphne exclusively revealed to People that she and John were expecting a fourth child. She subsequently announced it on Instagram with a post displaying her baby bump in a green patterned dress.
For her baby's gender reveal, Daphne made use of gender-reveal lasagna. On her dad's show, "The Dish on Oz," she announced her baby's gender by cutting into a pan of lasagna, revealing a pink filling, which signified that she was expecting a girl.