Kimora Lee Simmons' Daughter Aoki Shows off Slim Figure in Swimsuits While Posing on a Yacht
Kimora Lee Simmons' daughter Aoki Lee rang in 2020 with some eye-popping Instagram photos. The college student and budding model also shared some of her New Year resolutions, but we hope she won't be getting grounded this time.
Fans have watched Aoki and her sister, Ming Lee, being raised in the spotlight, and the sisters – 17 and 19 respectively – are growing into gorgeous, ambitious ladies. Aoki's New Year bikini photos are enough proof.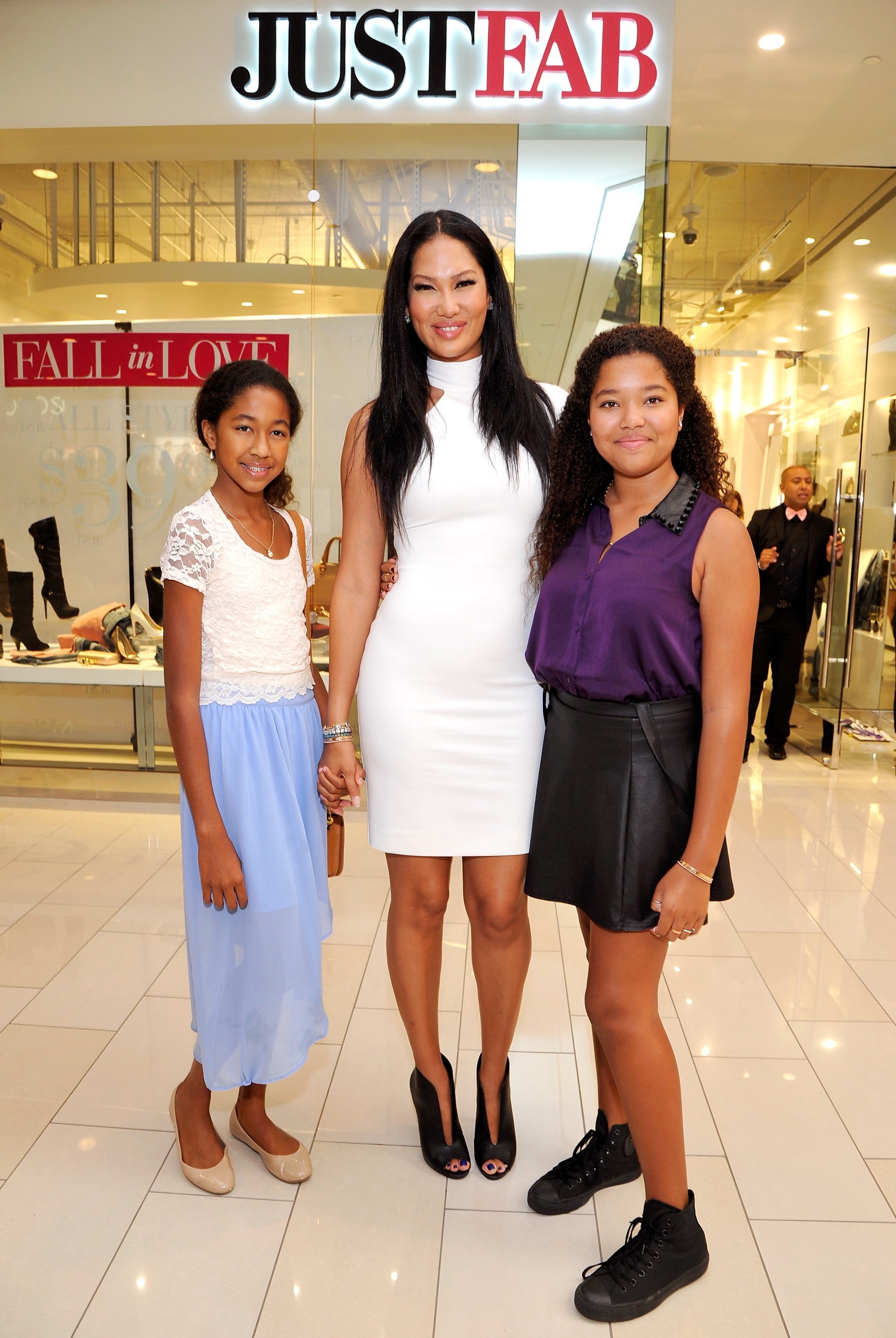 The Harvard student took to Instagram at the start of the year with two photos from what looked like a yacht cruise. Dressed in a striped two-piece swimsuit, Aoki successfully put her lithe frame on full display.
"I've been in fashion for 30 years. But now it's about passing the torch from one to the next."
The fashionable teen accessorized with a bangle and left her curly locks roaming free. In one snapshot, Aoki also posed against a scenic background while playing around with a water hose.
Only a few days before, Aoki had also shared a bikini photo in a Jacuzzi alongside her four-year-old younger brother Wolfe Lee Leissner. That post also included some of the challenges she'd set for 2020.
"365 days of meditation. 365 days of stretching. 365 days of NO TV SHOWS," the picture read. Hopefully, Aoki does not get in trouble this time for posting sizzling swimsuit photos.
Last month, when Aoki shared a racy pic from her Baby Phat relaunch photoshoot, Kimora joked about punishing her second daughter. "[Aoki] is grounded for this one!! And it's all we have left now," she wrote.
While Kimora was joking about having her daughter grounded, the former model is very serious about being proud of her daughters for their hard work on the recent relaunch of her iconic clothing line, Baby Phat.
The brand relaunched fully last December after a capsule collaboration with Forever 21 sold out in 24 hours back in June. "Baby Phat was a movement, and people forget that," Kimora recently said, per Celebrity Insider.
The hip-hop-influenced line relaunched early in December, and Ming Lee and Aoki Lee featured prominently in campaign images that paid tribute in many ways to Baby Phat's iconic cat logo.
Speaking to PEOPLE in March last year, a proud Kimora said:
"Here we are again, 20 years later in 2019, and now [my daughters] are with me taking the reins. This is a woman-owned company, run by me and my daughters. I've been in fashion for 30 years. But now it's about passing the torch from one to the next."
Ming and Aoki also expressed their excitement about being able to be actively involved with a brand initially created by their mother and their father, Russell Simmons, in 1999. "We've spent so much of our lives with this brand," Ming stated.
Although Kimora and Russell have since divorced, the exes remain amicable and have been co-parenting successfully for years. Kimora was also previously married to actor Djimon Hounsou and is currently married to banker Tim Leissner.