Chrissy Teigen Puts Her Slender Legs on Display Posing in Stylish Gucci Tights with John Legend
Chrissy Teigen is feeling herself in a new Instagram post, flaunting her legs in a stylish snap with John Legend. The picture confirms that the two are couple goals, despite having overcome hardships.
Chrissy Teigen and John Legend are a power couple. They know the Internet knows this, and yet they periodically find new opportunities to remind us all that their relationship is a force to be reckoned with. 
In a new Instagram post, Chrissy bestowed upon the world new proof that she and John make a great pair. The two posed on a bed, with Chrissy's legs looking extra wonderful in some black Gucci tights.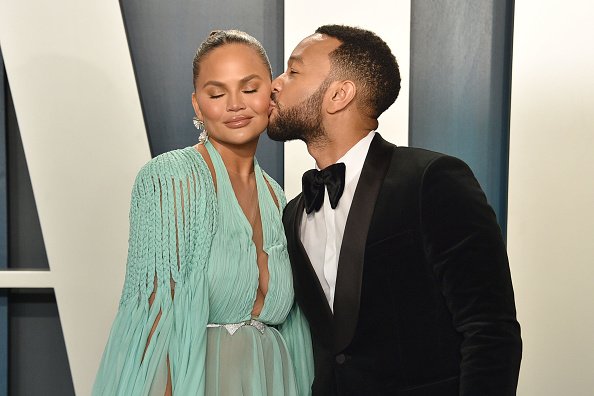 THE COUPLE THAT STYLES TOGETHER STAYS TOGETHER
This is far from the first time Chrissy has flaunted her legs. In another recent Instagram shot, she was draped in a stunning orange gown, strategically allowing one leg to peek out. Of the look, she quipped:
"Fitting for the nothing awards"
Although the two may be all dressed up with nowhere to go, they sure look immaculate in the process. John's gold-patterned sleeves stood out in their latest pic, determined to match Chrissy's stylish energy.  
 A LEGENDARY LOVE 
The pair, who have now been together for more than a decade, have come a long way since first meeting on the set of one of John's music videos back in 2006. Sparks immediately flew. 
In October last year, Chrissy was finally ready to open up about the miscarriage she suffered approximately a month prior.
After overcoming the hurdle of a one-day breakup in 2007, the two have never looked back. By the time 2011 rolled around, their relationship was ready to level up, and John popped the question. 
A HARD JOURNEY TO PARENTHOOD 
Although their children, Luna and Miles, now effortlessly blend into their lives and Instagram posts, there was a time when this famous family didn't look like it would be possible to create. Chrissy revealed: 
"John and I were having trouble. We would have had kids five, six years ago if it had happened," she said. "But my gosh, it's been a process."
The couple decided to power through their fertility issues, eventually welcoming their Luna into the world with the help of IVF. Next came Miles, leading to the family that we know and love today. 
A PROFOUND LOSS IN 2020
Unfortunately, the couple's struggles regarding expanding their family continued. In October last year, Chrissy was finally ready to open up about the miscarriage she suffered approximately a month prior.
She had initially shared the news of this immense loss in an Instagram post, which was drained of all color to reflect her and John's grief. The post was accompanied by a long caption explaining what had occurred. 
Knowing all that the couple has endured makes their happier posts all the more meaningful, and so Chrissy's recent Instagram pictures have been embraced and supported by fans all over the world. 
Hopefully, the family will go from strength to strength in 2021, and will be adorned with many more peaceful moments, even if these moments are as simple as the two just sitting in bed, content.