See Teyana Taylor's Daughter Junie's Adorable Smile in a Video Showing Their Striking Likeness
Teyana Taylor's elder daughter, Junie, flashes her charming smile in a new video that shows the strong resemblance between Teyana and her giggly girl. Teyana had both her daughters in a surprising setting. 
In a heartwarming new video posted via Instagram, Teyana Taylor's elder daughter Iman Tayla Jr., better known as "Junie", was full of smiles and giggles. The video revealed how similar the mother and daughter look. 
Little Junie struck some modeling poses, before erupting into a stream of giggles. The short clip is easy to watch over and over, and has racked up over a million views in just four days.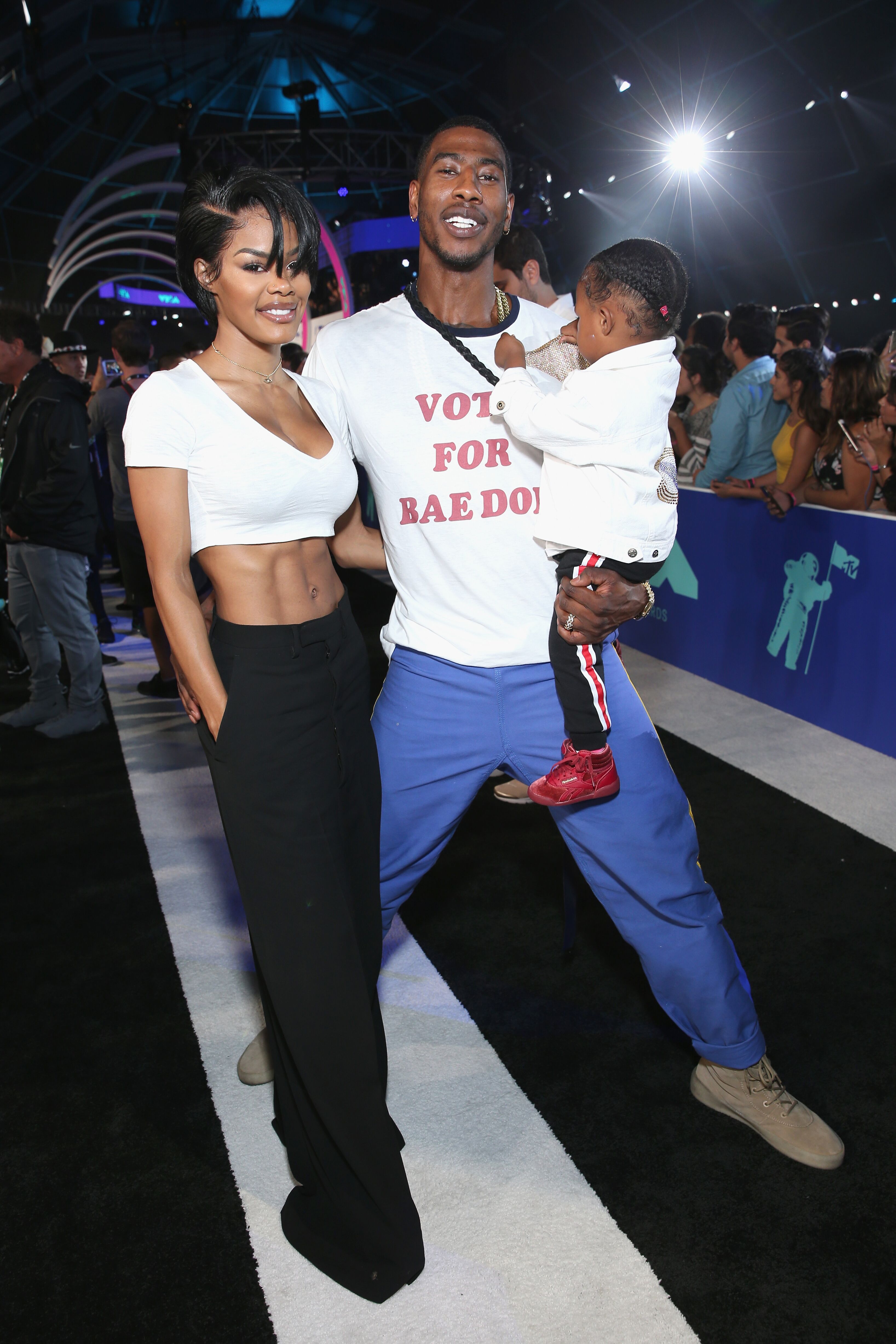 STRANGE BEGINNINGS FOR JUNIE 
In the cute video, Junie sported a shirt from the popular Netflix show, "Stranger Things". Perhaps this is apt, as Junie herself made her world premiere in a strange location: on the bathroom floor. At the time, Teyana gushed: 
"On Dec 16th at 6:42am in our bathroom Junie decided she wanted to take her first breath into this world. She came out as a wonderful surprise to everyone!"
Teyana and her husband, Iman Shumpert, were surprised when Junie made life convenient for them by deciding to exit the womb right next to some bath towels, ready to be bundled up into their arms. 
THINGS GET STRANGER STILL WITH RUE
Remarkably, the circumstances under which Teyana and Iman delivered their second child, 
Rue Rose
, were repeated, as she too was born in the family's bathroom, without any medical assistance around. 
Teyana and Iman gave Junie an opportunity to bond with her sister before she was even born: by giving her a say in the baby name. 
Rue, refusing to be upstaged by her older sister, arrived on Labor Day, and was confirmed to be healthy and alert once she was born last year. The newly-minted parents of two both expressed their gratitude. 
THE BOND OF SISTERHOOD 
Sibling relationships can be very special to observe for new parents. As Junie and Rue grow older, a sisterly bond will begin to form, and it is already doing so. Teyana shared a priceless moment between the two, saying: 
"I literally woke up to this omg, I dead shed alil tear. She was holding Rue & watching her iPad ????????? shes really such a great big sister"
In the pic, Junie carefully multitasks holding baby Rue and watching her iPad. Teyana and Iman gave Junie an opportunity to bond with her sister before she was even born: by giving her a say in the baby name. 
CHERISHING THEIR DAUGHTERS' CHILDHOODS
Only time will tell whether baby Rue will grow up to be the spitting image of her mom and sister. For now, Teyana and Iman will just have to settle for her squishy little face looking out to the world curiously.
Meanwhile, young Junie is still in charge of serving face, as seen in that infectious Instagram video. Perhaps Junie will teach Rue some of those moves in the future, but first, she has to wait for Rue to learn to walk. 
No matter what happens, when it comes to the Shumpert sisters, we know two things: firstly, whatever they do, it's bound to be exciting. And secondly, we know that they will look adorable doing it. 
Teyana and Iman appear to be doing the right thing by documenting their daughters' early years of life. Whether it's a silly dance, or a tender moment shared, these are the little things that make a family.