Snoop Dogg's Grandson Zion Looks Adorable in Photos Sporting Shaggy Hair as He Plays with a Dog
Snoop Dogg's grandson, Zion, melts hearts playing with a canine friend in some snaps posted to his grandmother's Instagram stories. Snoop is an unconventional family man with a big heart. 
Snoop Dogg's first grandchild, Zion Kalvin Broadus, looks absolutely thrilled to be basking in the presence of a fluffy dog, in a couple of photos posted to Shante Broadus' Instagram stories. 
The dog, whose name is Charli, was playing on Zion's lap. Zion seemed extra pleased when Charli lifted their front paws up in the air, but he was also entertained when the cuddly canine licked their nose.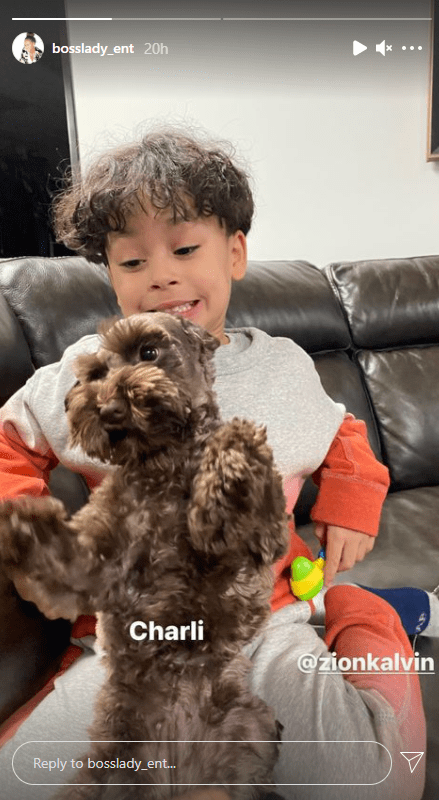 LEADER OF THE PACK 
Zion's birth was a big deal for first-time grandparents Snoop and Shante. They both took to social media to gush about the event, beaming with pride. Shante posted a picture of the tiny bundle, saying: 
"My First Born @1lovesociety Gave Me My First #Zionkalvin ??? #Mamatae"
She tagged Corde Broadus, who is Zion's dad, and the eldest son shared by Snoop and Shante. Snoop was more than ready to welcome the latest addition to the family with open arms, and assume his new role as granddad.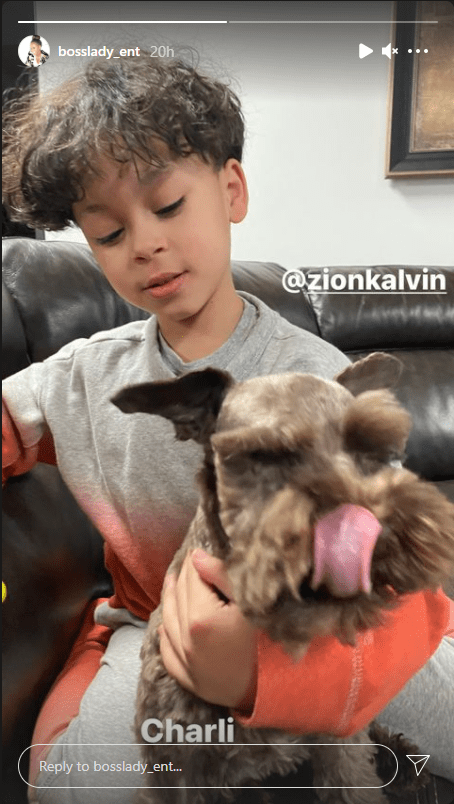 FAMILY MATTERS 
Little Zion doted upon Charli in the pictures, showering the pup with lots of love and attention. His hair was slightly shaggy (Zion's, that is, not the dog's) and he was sporting a gray and orange tracksuit. 
Snoop's early years were pretty hardcore. But after he was acquitted of a murder charge in 1993, Snoop decided to change his tune.
His kind ways with the canine show that Zion could have made a great big brother. At one point in time, he actually was a big brother: to Kai Love Broadus, who sadly passed away after 10 days, in 2019. 
THE BROADUS BUNCH: ODD ONE OUT 
Snoop has three children with Shante, but there's another Broadus brooding in the background: Julian, who is the product of Snoop's entanglement with Laurie Holmond. Julian inherited his dad's musical streak, saying: 
"Everybody plays basketball. And this music stuff is what I love. I'm really glad that God opened those doors for me and showed me... [that this is where he's supposed to go]." 
It's great that Julian is finding his way, considering that he's had a tough time fitting into the family. He often felt excluded from the rest of Snoop's kids, especially when seeing the E! reality show, "Snoop Dogg's Father Hood".
SNOOP'S SENSITIVE SIDE 
Snoop's early years were pretty hardcore. But after he was acquitted of a murder charge in 1993, Snoop decided to change his tune. He realized the power of his pen and wanted to move away from more morbid topics. 
Since refocusing, he has enjoyed a successful career. He also showed his big heart in a touching tribute to Kobe Bryant, the basketball goliath whose life was claimed in a helicopter accident one year ago. 
So it would be safe to assume that Snoop cares dearly for those around him, and especially little Zion, who is clearly receiving just as much love from his family as he doles out to Charli the dog. 
In an AmoMama Exclusive, Zion's mom Jessica Kyzer opened up about being a co-parent to the famous grandkid, gave us a glimpse into the family dynamics, and spoke about her interesting career.