Cardi B Looks Chic Rocking a $2,490 Burberry Dress in a New Episode of 'Cardi Tries'
Cardi B looked like a million bucks rocking a $2,490 Burberry dress in a recent "Cardi Tries" episode. The singer, who has a history of impeccable fashion choices, is now thrilling fans with her new show. 
Cardi B is pretty fearless. She knows how to captivate an audience by trying bold new things, and now has a whole show dedicated to the art of doing just that. It is called "
Cardi Tries
". 
For one of the episodes, she is hugged by a form-fitting Burberry dress, and it has people swooning. She had teased it in her Instagram stories prior to the episode's premiere. It didn't disappoint.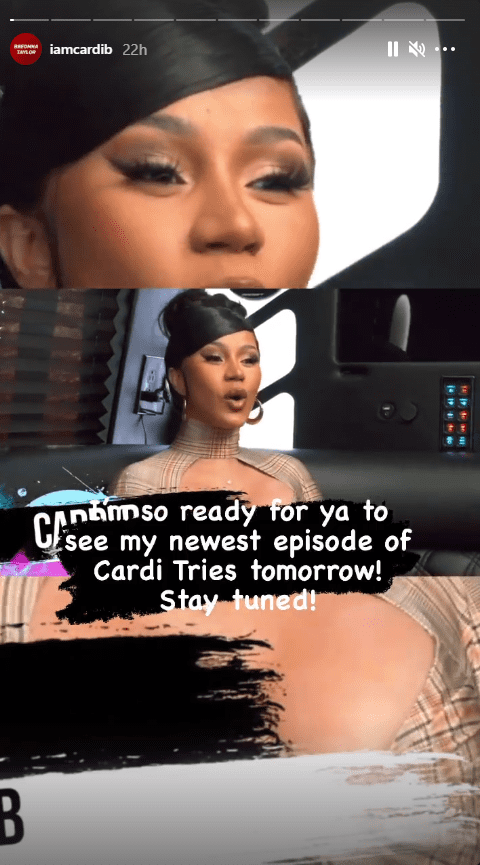 FASHIONABLY FEARLESS
For the episode of "Cardi Tries" in question, Cardi tried her hand at teaching nursery school. The Burberry dress, with its scholarly quality, was her uniform for the gig. Of the episode, she said: 
"I have to salute all of our teachers out there!! Nothing about this was easy ? but it was so worth it!! #carditries"
But whilst Cardi learned that teaching a bunch of kids isn't that easy, the Internet learned that she can truly pull off every look, even as she educates the future generation on the nation's presidents. 
BURBERRY BABY
Cardi's love for Burberry is being passed down onto her daughter, Kulture. Although she is just a tiny tot, Kulture is already being schooled in fashion by her famous mom, often looking more stylish than most adults. 
Now she's in a position where she doesn't need to show her body, but does because she wants to.
On one occasion, Cardi and Kulture were twinning in matching Burberry skits and white shirts. Kardi donned a Burberry beret, whilst little Kulture wore a Burberry cap. That sure is a lot of Burberry. 
THE EMPRESS'S NEW CLOTHES 
Some may recall one of Cardi's most recent yet iconic fashion moments: an optical illusion sheer dress. In a video posted to her Instagram, Cardi flaunted her anime knowledge in the playful moment, teasing: 
"It's Majin Buu here, on my way to go fight Goku."
But alas, it was not Majin Buu, just a humble white knit and sheer dress. Cardi looked sheerly stunning in it, as it revealed every curve that she has been known to celebrate and embrace so fiercely. 
CARDI'S SUCCESS IS NO ILLUSION 
But Cardi didn't have an easy start to her career. She has had to grind to get where she is, and after a few more conventional jobs that just didn't pay the bills, she started to use her assets by stripping. 
Now she's in a position where she doesn't need to show her body, but does because she wants to, and because she wants to celebrate the diversity of bodies out there in the world. Case in point: the sheer dress.   
Cardi's Burberry dress may show that she has expensive taste, but after learning a bit about her, it is fair to say that she's earned the right to wear whatever she likes, no matter how extravagant it may be. 
We just happen to be lucky that Cardi's fashion sense is so diverse: ranging from preppy Burberry teacher's dresses, to outlandish sheer costumes, to anything in between. Cardi can pull it all off.