Courteney Cox Plays 'Drivers License' on a Piano — See Olivia Rodrigo's Reaction to Her Cover
Recently, Courteney Cox showed off her impressive musical side with a gorgeous cover of Olivia Rodrigo's "Drivers License." The song's roots are surprisingly raw and emotional. 
Courteney Cox may be best-known for playing Monica Gellar in the iconic sitcom "Friends," but she also has considerable music talent, which she flaunted in a recent video posted to her Instagram account. 
The video shows Cox jamming out on her piano whilst covering Disney star Olivia Rodrigo's hit song "Drivers License." Cox's friend Joel Taylor accompanied her on the guitar and elevated the cover.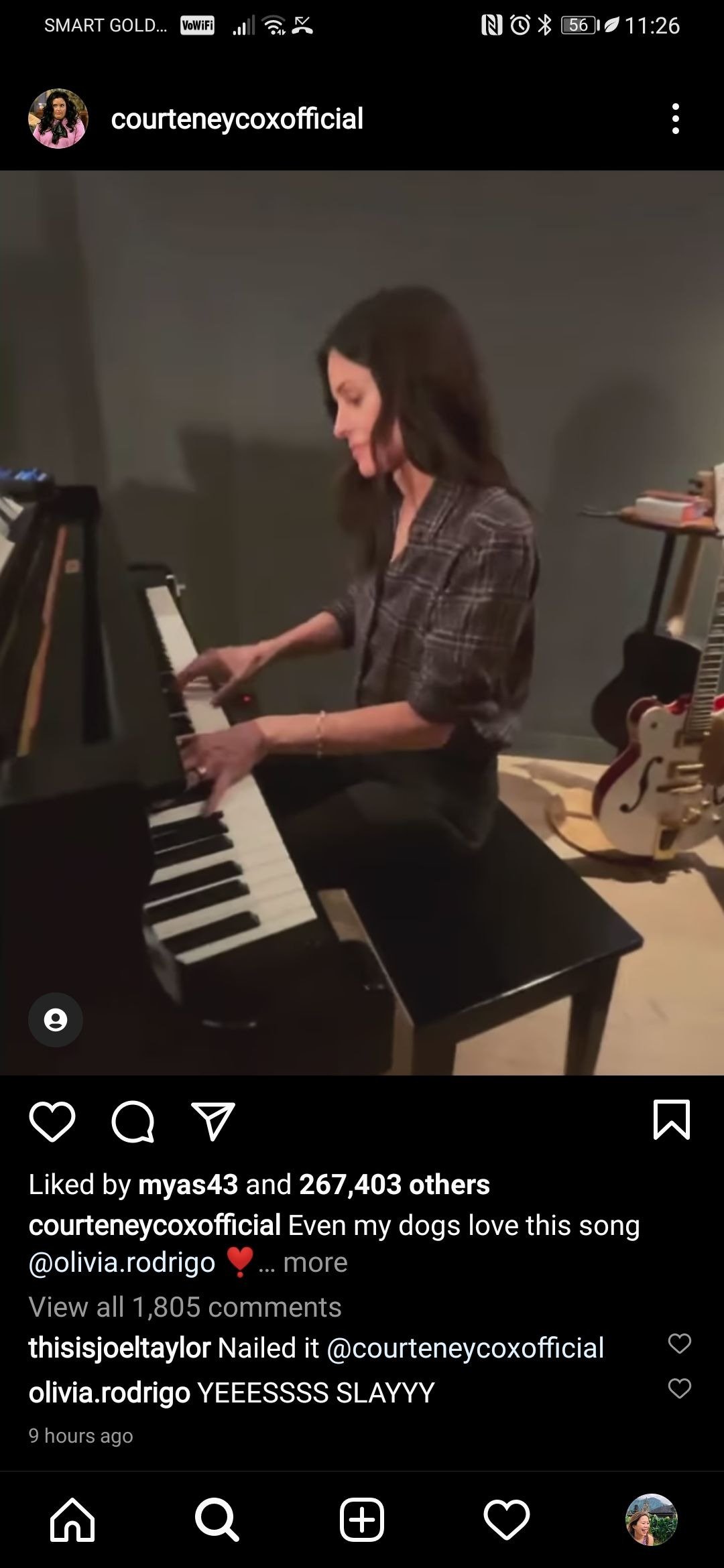 DRIVERS LICENSE RENEWED
Fans chimed in with comments expressing their awe regarding Cox's talent, but there were a few notable superfans. Cox's two dogs were shown in the video enjoying the track. Cox joked: 
"Even my dogs love this song @olivia.rodrigo ❣️"
The fluffy pooches had the privilege of being the live audience for the makeshift gig and seemed to be thoroughly liking what they heard. They were seated calmly on the couch whilst Cox was in session. 
RESPONSE FROM OLIVIA
The pups were not the only fans impressed by Cox's lovely take on Rodrigo's song. Rodrigo herself gave Cox the thumbs up by leaving an enthusiastically supportive comment under the video. 
[M]ost of the song was written whilst Rodrigo was crying. 
Cox's refreshing take on the song clearly went over well with Rodrigo, whom Cox had tagged in the post. If it wasn't Cox's piano fingers that impressed Rodrigo, it could have been the cool vibe Cox exuded. 
THE ORIGINAL SONG
Rodrigo, famous for her involvement in Disney's "High School Musical: The Musical: The Series," has recently seen her song soar on the charts. After performing it live on TV, she expressed: 
"So surreal. Thx a milllion [sic] @jimmyfallon."  
Both the recorded and live versions of Rodrigo's
song
 have resonated with people. Its crooning melody and grief-tinged lyrics make sense, as most of the song was written whilst Rodrigo was crying. 
TOPPING THE CHARTS 
"Drivers License" took the number one slot on several international charts last week, including the "Billboard Global 200" and "Global Excl. U.S." charts. Seriously impressive for the 17-year-old Rodrigo. 
The song is steeped in authenticity. Rodrigo had been driving around and crying in her car when she decided the sad yet relatable activity could be the basis of a melancholy song. Thus, "Drivers License" was born. 
Cox isn't the only talented musician who has covered Rodrigo's heartbreaking hit. Countless people have uploaded their versions of the song to all sorts of social media platforms, including YouTube and TikTok. 
So it's extra impressive that Cox's version has been this well-received, garnering it not only the attention of Rodrigo herself but also reminding the world how musically gifted Cox really is.