Channing Tatum's Daughter Everly Did His Makeup Blindfolded and the Result Is Hilarious
There is nothing that Channing Tatum wouldn't do for his seven-year-old daughter, including being the model for her to practice her make-up skills on. 
Channing Tatum continually surprises his fans with how far he is willing to go to be a good father to his seven-year-old daughter, Everly. He recently took to Instagram to show off Everly's latest attempt at make-up. 
The proud father shared a selfie showing his face covered in lipstick, eye-shadow, and blush, not to forget the red painted nails that he was sporting. Tatum gave his daughter credit for the final product. 
GOING ALL OUT
Testing out her make-up skills on her father seemed a little too boring for Everly. Hence she blindfolded herself and took to using Tatum as the canvas for her artistic abilities. 
The 40-year-old "Magic Mike" star wasn't afraid to embrace the unique look that his daughter had painted onto his face as he shared the result with his 16.8 million Instagram followers, saying: 
"When you let your daughter do your make-up blindfolded..."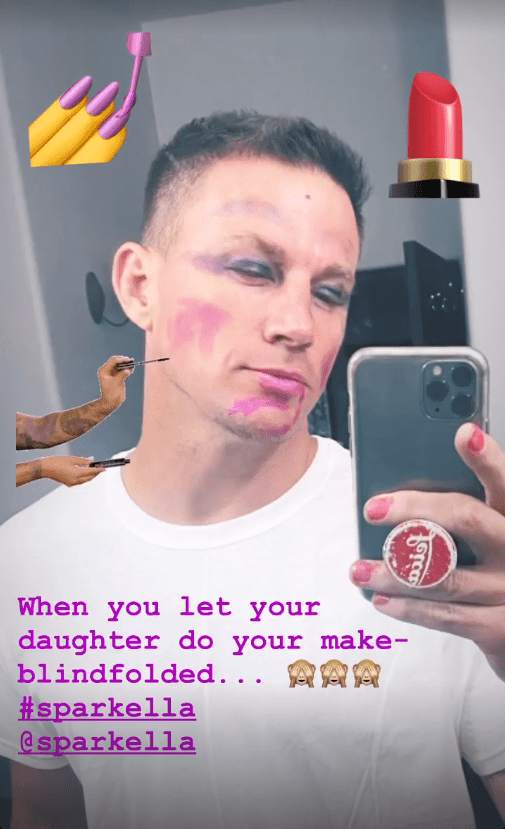 NEW AUTHOR
Tatum also showcased his special bond with his daughter by writing and dedicating a children's book to her titled "The One and Only Sparkella." The book is centered around the importance of self-esteem. 
Tatum chose Kim Barnes to illustrate his children's book which is set to release in May 2021.
The "Step Up" star used his relationship with Everly as inspiration for the book's narrative and added author to his long list of career pursuits alongside actor and dancer. 
GIRLY CONNECTION
Tatum's ability to connect to Everly's girly side is evident in his willingness to dress up in tutus and go all out with the make-up. Still, the actor wasn't always confident that he would be able to share that with Everly. 
When the 40-year-old divorced Everly's mother, Jenna Dewan, he had fears surrounding raising a little girl as a single father. But Tatum overcame his uncertainties as he shared: 
"I had a lot of fear about connecting to Everly in every way that a little girl might want. I didn't wear nail polish or know how to braid hair. But now I do both."
BEING YOURSELF
"The One and Only Sparkella" is a storytelling of a little girl that is teased for her bright and sparkly outfit choices at school and her dad encouraging her to continue wearing exactly what she wants. 
When looking at the snaps of Tatum's daughter on his Instagram page, it's easy to see that he found the inspiration for his lead character in his daughter who also regularly dresses up and loves to play in magical imaginary worlds. 
Tatum chose Kim Barnes to illustrate his children's book, set to release in May 2021. Pre-orders of the book are already open, and it seems as though this will be the first of a series of books. 
Wearing colorful nail polish, dressing up, and indulging in his daughter's magical worlds doesn't seem like a task to Tatum but is rather the father's greatest pleasure.