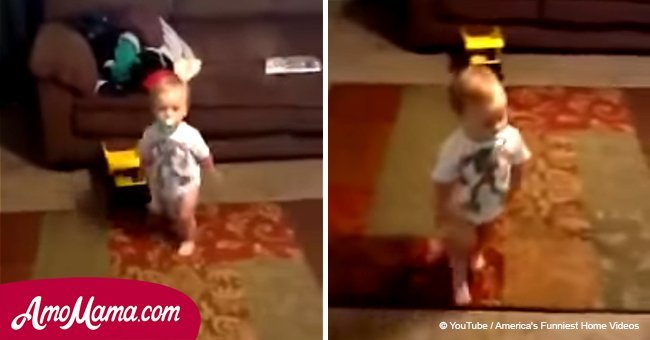 Dad asks son to "walk like mom". Be sure to see what the baby did, and you will not regret it

After watching her pregnant mother walk around the house for several months, this 15-month-old boy had gotten pretty good at doing an impersonation on how she walks.
Toddlers are absolutely hilarious, interpreting things in their own individual way, and making everyone around them laugh whether they are trying to or not.
A kid interacting with their pregnant mothers is one of the most adorable things you can witness. Usually, they're trying to talk to the baby or reacting in some priceless way when they realize they're going to get another baby brother or sister.
When you're baby, your mind is like a sponge, absorbing every bit of information. This is great for a child's growth, soaking up their parental and social surroundings to help them adapt to life as they get older, but other times, it can be just absolutely hilarious.
According to an adorable Ms. Gabby report, this utterly cute 15-month-old toddler has noticed that mommy's growing tummy is not the only thing changing.
As a toddler, life can change rapidly both personally as your grow and develop, and your position within the family hierarchy as there is always the potential of more new babies arriving.
In the video, this baby's mom is 8 months pregnant with her second child and the baby just can't wait to become a big brother. In fact, he's been observing his mom's behavior every step of the way, so much that he can now mimic her pregnancy walk.
He has even managed to perfect a very accurate imitation of his pregnant mom. He does a brilliant impression of her walk by arching his back and puffing out his tummy. This perfectly executed version of mommy is just priceless.
'You should have mentioned momma's eight months pregnant,' the infant's mother says in the background with her hands covering her face, to reassure viewers that he's not merely pretending to be 'fat'.
To date, the video of the baby's 'pregnant walk' has been watched more than 130,000 times since it was uploaded to YouTube. Many viewers have deemed the clip 'cute' and 'super adorable'. But it is not known where the footage was captured.
Please fill in your e-mail so we can share with you our top stories!