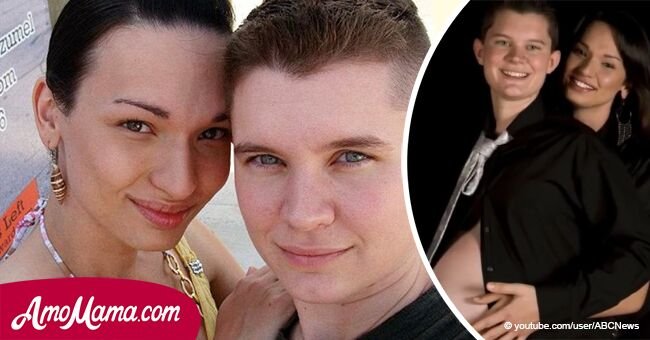 Transgender woman impregnated her transgender husband twice
Everyone would desire to grow up in a supportive and caring family, no matter how unconventional this family can be.
And while Bianca and Nick Bowser may seem like any other ordinary married couple, being the idealized image of a happy family, with their two children, they know what unconventional means better than most people.
According to Viral Thread, they're both transgenders but never underwent surgery to have their sex organs removed, and instead used them to start a family of their own.
One day this couple will have to tell their two sons that it was their father, and not their mother, who gave birth to them with the added detail that it was their mother who impregnated their father.
Thirty-five-year-old Bianca, formerly known as Jason, was born male and her husband, 30-year-old Nick, was known as Nicole when he was younger.
This couple is originally from Kentucky and got married in 2011. Both said that they had no intentions of hiding their identities from their sons, 6-year-old Kai and 4-year-old Pax.
"I mean, that's when we tell them sometimes men have babies, and sometimes mommies can't have babies. We're telling them the truth, and I think that's the most important thing, and in a way that they can understand," Nick said.
Bianca thinks the same about this situation, claiming that they always wanted to tell their children about it, adding that they're not ashamed of who they are or their past.
"We will tell them when they are ready when they start asking questions about me being pregnant and about the old family pictures they may see of me dressed as a girl and Bianca as a boy," Nick added.
They felt different since they were young and quickly realized it was about their gender. Bianca started transitioning a long time ago but only had breast augmentation and laser hair removal in 2003.
Nick, on the other hand, began living as a man soon after he turned 20, claiming that he first "came out as a lesbian," only to discover that it wasn't enough.
Nick also did not undergo surgery to modify his reproductive organs and so was able to fall pregnant with their sons after meeting Bianca in 2009 and deciding to start a family.
Although Nick claims that his brain and body were fighting, as his body turned into "the ultimate version of female," he doesn't regret the decision to carry the children.
Please fill in your e-mail so we can share with you our top stories!