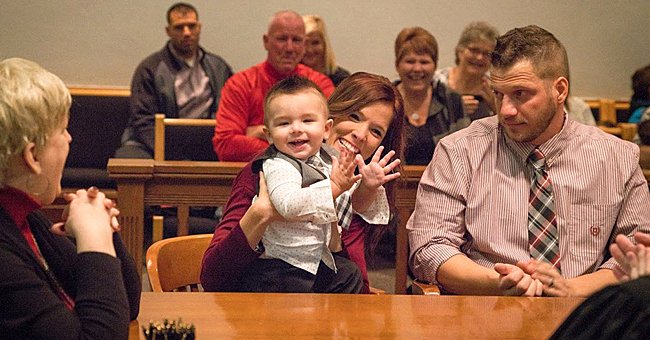 twitter.com/hypervocal
Couple Officially Adopt Their Son after Almost Losing Him to Another Family
The couple who adopted a boy had to live in fear of him getting taken from them by the foster care system. After the court gave them full custody, they were convinced they made the right call.
Parenthood is something nearly all adults aspire to experience, but not everyone will be lucky enough to carry their own kids no matter how hard they try.
Mandi and Tyler Palmer of Perrysburg, Ohio, had known that they would have trouble with having children due to Mandi's Crohn's disease, but that didn't mean they gave up completely. They tried for years to give birth to a child; however, the tests remained negative.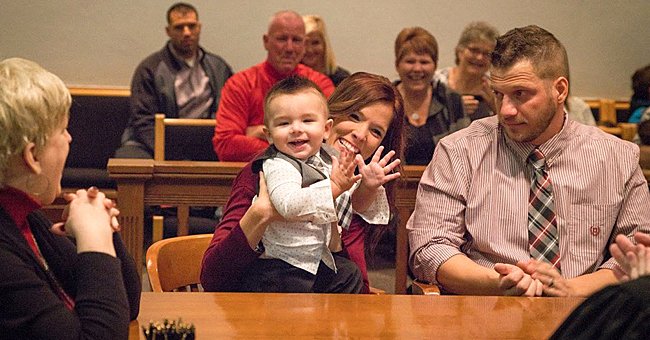 Picture of Mandi and Tyler Palmer at the court during the adoption process of their son, Hunter | Source:twitter.com/hypervocal
Still, doctors held out hope that she would be able to one day carry her own child, and even though Mandi believed them, she didn't think it would be best to subject her body to the "miracle of childbirth."
"That's when we started looking into other options, and we were talking about adoption, and we kept hearing our county's commercial for the need of foster parents in our area," Mandi told People in 2018.
They were a bit worried, and for some time, they considered the thought, praying about it, until they felt approval from God that they could go ahead.
Confident in their decision, the couple registered to be foster parents, and after they got licensed as foster–to–adopt parents, they got the call for Hunter eight days later.
The couple picked him up at child services, which was the beginning of their foster care journey with the cute child.
Needless to say, Mandi and her hubby, who used to fight severe PTSD from his time as a soldier, fell in love with the boy. That automatically got them worried about the fact that another family could take him in before they could.
Of course, it was not easy adjusting to parenthood, and Mandi described the experience as a roller-coaster ride they came to love in the time they fostered him.
After a year with little Hunter, already 17 months old, Mandi and her husband were permitted to become his full adoptive parents after signing the required papers at a courthouse. Mandi said about the affair:
"It was very emotional, in a good way. We had all of our family and friends there."
As the court process ended, the judge announced Hunter's legal name, then the couple read the adoption decree, and after it was all said and done, Hunter looked at Tyler and called him, "Dad."
Mandi revealed that he followed the proclamation with clapping and the heartwarming moment had everyone teary-eyed.
For Mandi, she feels happy that she no longer has to worry about Hunter getting taken by another family after the bond they had established with him as a family.
The lovely couple, who tied the knot in 2014, claims to have loved the boy the moment they set eyes on him, and according to Mandi, it's what every kid deserves.
Please fill in your e-mail so we can share with you our top stories!