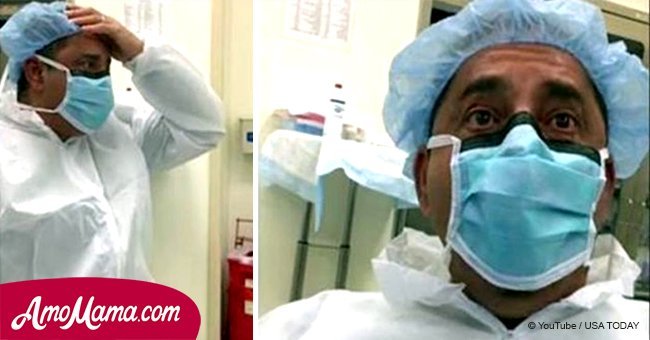 Dad of 5 girls finds out the 6th baby is a boy. He was overjoyed
He decided to wait until the end to find out and when he did, he was overjoyed.
So Share This reported that a father-of-five started to scream in the delivery room when his wife gave birth to their sixth child.
There are some people who do not like surprises. Some want to know everything before it happens, even reading about a movie or a TV show before watching it.
There are others who just love surprises. They would be ready to go through a pregnancy with no idea of the baby's gender.
Making such a choice requires patience and faith that only they are equipped with.
This couple in the video made a decision to keep things unknown for the birth of their sixth child.
As soon as the woman gives birth and doctors tell them the gender of the newborn, the father is overjoyed so much so that he screams out in the delivery room.
The family has five daughters and the sixth child turned out to be a boy.
"Ohhh!" "Oh my God, I love it!" "Yeah, baby! I got a boy!" were some of the reactions from the excited father.
He was overjoyed and quickly started feeling lightheaded and had to take a seat. It is evident from the video that the father was ready for a change.
It is exciting to see the video and to know that a baby was born into such a welcoming family. They seemed to be beyond thrilled to have him.
The video proved that there is a sort of joy in waiting. It also worked out in favor of the man.
Having already known the gender of the boy would not have brought him this much joy. The elation of that first moment he laid eyes on his surprise son far outweighs any preexisting knowledge.
The father, mother, and the five sisters would be extremely pleased by the arrival of the latest member to their family.
Please fill in your e-mail so we can share with you our top stories!