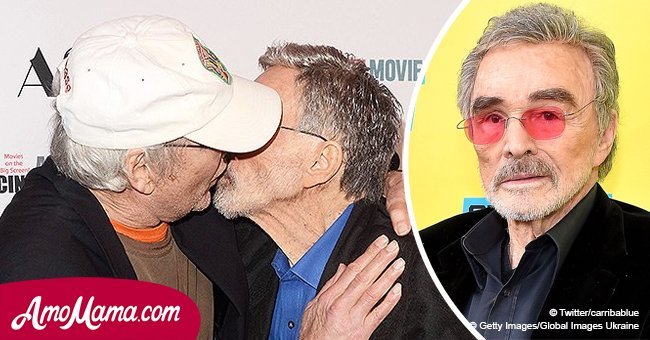 Burt Reynolds, 82, amazes with his passionate kiss with male co-star, Chevy Chase, 74

It is normal to see the actors, who worked in the same movie, attending together the event that officially releases it.
That's the case of Chevy Chase and Burt Reynolds, who were present at a special screening of their latest film, The Last Movie Star, in Los Angeles on March 22, 2018. What happened there was not that common, though.
As Daily Mail reported, Reynolds, 82, and Chase, 74, posed side-to-side in front of the cameras proving how good relationship they have. After a couple of photos, they did something quite unexpected: kissing each other.
The gesture was much appreciated by photographers who took their time to capture the moment from every possible angle to make it public in no time.
The Last Movie Star, which is expected to be released on March 30, addresses the life of an aging movie star (Reynolds' character) forced to accept that his best years are in the past.
His longtime friend (Chase's role) urges him to accept an invitation to accept a Lifetime Achievement Award from a film festival in Nashville, Tennessee. Nothing turned out to be as they expected, though.
Chase's appearance at the event came only a few weeks after it was revealed that he has been taunting his Community co-star, Donald Glover, with racist jokes while they were working together.
According to the source, Chase always tried to disrupt his scenes opposite Glover, 34, and used to make racial 'cracks' between takes. One the comments he made was: 'People think you're funnier because you're black.'
Dan Harmon, the creator of the show, admitted that Chase realized how gifted Glover is and his only way to show his jealousy was by trying to 'throw him off.' Glover, on the other hand, has managed the situation flawlessly.
He admitted that he saw Chase as 'fighting time' and ended up saying that a true artist needs to be okay when his reign finishes. He finally said he couldn't help him if he kept 'thrashing in the water,' but that he knew there was a human inside Chase.
Please fill in your e-mail so we can share with you our top stories!